This article first appeared in The Edge Financial Daily, on September 4, 2018.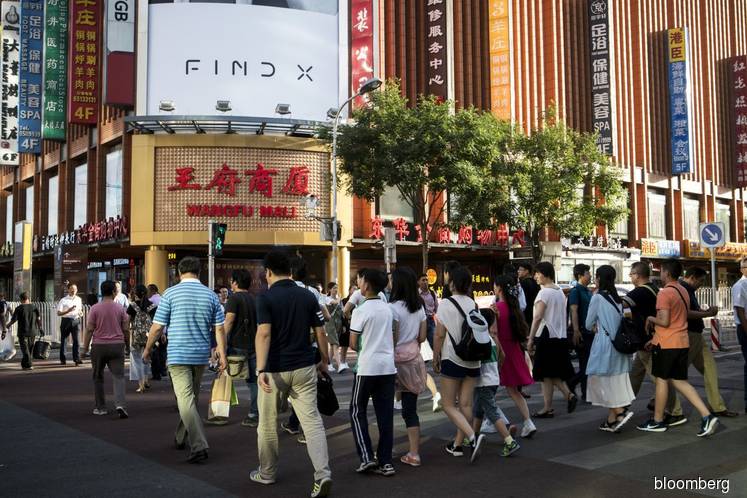 FOR the growth driver that will keep the world's second largest economy on track this year, look beyond Beijing or Shanghai.
Life for many in China's most sophisticated consumer markets is getting harder, with soaring rents gnawing at disposable incomes. As US President Donald Trump's trade war with China begins to threaten the economy in earnest, with tariffs on another US$200 billion (RM826 billion) of goods potentially arriving this week, the resilience of the economy will depend to a large extent on the confidence, or otherwise, of shoppers outside those zones.
Take Fu Ran, a 29-year-old architect in Beijing. His rent already sucked up about half his monthly income when he was told last month that it would increase another 30%, to 4,000 yuan (RM2,431) a month. Though he trained at the prestigious Tsinghua University nearby, Fu now mocks himself as "highly-educated, but broke."
With little funds left each month Fu says he'll have to cut expenses on dining out, socialising and travel. His case resonates with the so-called "consumption downgrade" that has become part of social media chatter. But as consumption including some government spending now contributes more than two thirds of annual output growth, such a development matters for policymakers.
Elsewhere, things are different though, and the massive shift of China's population upward in the wealth stakes is still continuing. While retail sales growth slowed sharply in 2018 to below 9% year-on-year, that may not capture the full picture and, indeed spending as recorded by the government's quarterly household survey has accelerated.
Tourism is indeed holding up, with 71.3 million visits abroad made in the first half of this year, up 15% on the year. But getting a reading on the people's readiness to spend in China is still not easy. There's no closely-watched monthly gauge of consumer sentiment as in the US and high frequency data like retail sales do not cover the full range of spending in a modern economy, such as online shopping and services like travel, education and healthcare.
Slowing Samsonite sales
That leaves executives with an incomplete picture when estimating their chances of success — a bad state of affairs when an extra shock like the tariffs comes along.
In smaller cities, where cost of living pressures are less, people are still upgrading lifestyles.
In Nanjing, more than 1,000km away from the capital in the southeast, 33-year-old Guo Ying has just bought a BMW 520 model. It cost him 420,000 yuan.
The divergence between big cities and smaller ones shows up in surveys. Data analytics company Nielsen's China Consumer Confidence Index, for example, saw second-tier and third-tier cities outperforming first-tier cities, which reported a decline of confidence in the second quarter.
Spending power slowdown
Fu and Guo together make a fuller picture of China's consumption culture. There is evidence that the nation's spending power may weaken in the short term, but a derailment of the nation's broader shift to an economy driven by consumption rather than exports and investment is far fetched.
Wang Tao, head of China economic research at UBS AG in Hong Kong, says that although consumption is likely to slow further into 2019, the underlying trend should continue.
"Continued improvement in household credit access, and the continuation of reforms focusing on supporting job creation and improving the social safety net should support real consumption growing at 6-7% in the next few years, with the downside risk mainly coming from a full-scale trade war and/or a deep property downturn," she said. — Bloomberg