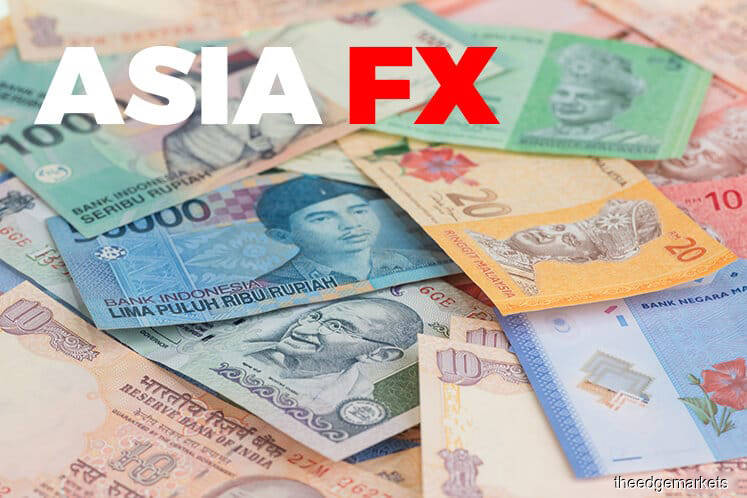 (Sept 3): Most Asian currencies were flat in tight liquidity on Monday, as escalating international trade tensions kept investors away from risky assets, while Indonesia's rupiah plumbed 20-year lows, after the central bank said it was intervening in foreign exchange and bond markets. 
Bank Indonesia's (BI) intervention is in response to an emerging market sell-off that has pushed the rupiah close to levels not seen since the Asian financial crisis.
The rupiah has weakened nearly 9% against the dollar so far this year, among the worst affected in the emerging market sell-off, which was exacerbated by a plummet in the Argentine peso and extreme volatility in the Turkish lira.
"Bank Indonesia's (BI) commitment to maintain economic stability, especially the rupiah, is very firm. Therefore, we have stepped up the intensity of our intervention," Governor Perry Warjiyo told reporters on Friday.
The rupiah traded at 14,777 to the U.S. dollar at 0503 GMT, while 10-year bond yields rose to 8.220%.
Christopher Wong, a senior FX strategist at Maybank said the overall mood was cautious, as emerging assets suffered in Turkey and Argentina, and as trade dispute grew.
Noting U.S. markets are closed for Labor Day on Monday, Wong said added that some traders were away and liquidity in local markets was thin. 
U.S.-Canada trade talks ended on Friday with no deal to revamp the North American Free Trade Agreement, while U.S. President Donald Trump said last week that he was ready to implement the new tariffs on China as soon as a public comment period on the plan ends on Thursday.
Meanwhile, the Malaysian ringgit hit its weakest since November, even as an IHS Markit Purchasing Manager's Index (PMI) reading on Malaysia rose to 51.2 in August versus 49.7 in July, showing new orders expanded for the first time in seven months.
Indian rupee
    
The Indian rupee rebounded from last week's record lows, after data out late on Friday showed India's annual economic growth surged in the June quarter to 8.2%, its highest in more than two years. 
Its local spot rate was 0.3% higher against the dollar at 70.785, after falling to an all-time low on Friday. 
"Supported growth conditions provides room for the RBI (Reserve Bank of India) to defend core inflationary pressures and market volatility through further policy tightening. We retain our call for another hike in FY19," DBS Group's Radhika Rao said in a note.
DBS, however, doubted India could sustain a growth trajectory above 8% for the rest of fiscal 2019.
    
Asian factories wilt in trade war heat
    
Surveys of purchasing managers released on Monday showed persistent pressure on key exporters China, Japan and South Korea. 
China's vast manufacturing sector grew in August at its slowest in more than a year, while export orders also shrank in Japan and South Korea, pointing to increasing protectionism and concerns of reduced Chinese demand weighing on Asia's export-reliant economies.
The won was subdued as Korean stocks suffered, while the Chinese yuan was about 0.1% weaker against the dollar.
CURRENCIES VS U.S. DOLLAR
    
 Change on the day at   0503 GMT                        
 Currency                     Latest bid  Previous day  Pct Move
 Japan yen                    110.920     111.02        +0.09
 Sing dlr                     1.370       1.3719        +0.12
 Taiwan dlr                   30.707      30.731        +0.08
 Korean won                   1113.000    1112.9        -0.01
 Baht                         32.710      32.72         +0.03
 Peso                         53.463      53.475        +0.02
 Rupiah                       14777.000   14725         -0.35
 Rupee                        70.785      70.99         +0.29
 Ringgit                      4.122       4.108         -0.34
 Yuan                         6.836       6.8310        -0.07
                                                        
 Change so far in 2018                                  
 Currency                     Latest bid  End 2017      Pct Move
 Japan yen                    110.920     112.67        +1.58
 Sing dlr                     1.370       1.3373        -2.41
 Taiwan dlr                   30.707      29.848        -2.80
 Korean won                   1113.000    1070.50       -3.82
 Baht                         32.710      32.58         -0.40
 Peso                         53.463      49.93         -6.61
 Rupiah                       14777.000   13565         -8.20
 Rupee                        70.785      63.87         -9.77
 Ringgit                      4.122       4.0440        -1.89
 Yuan                         6.836       6.5069        -4.82