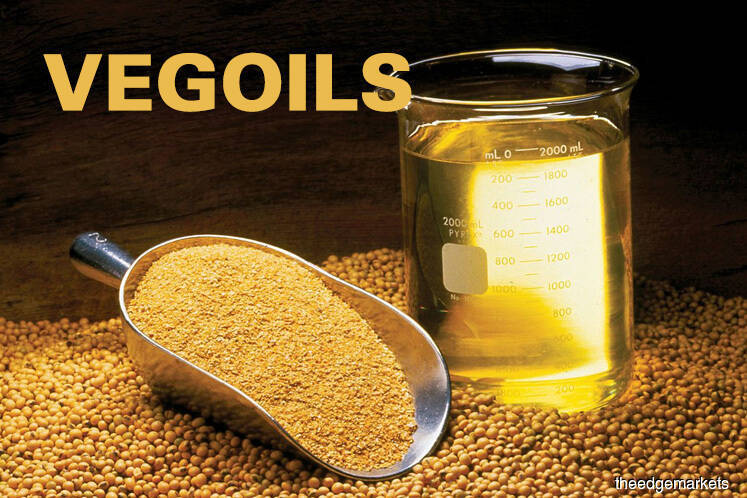 KUALA LUMPUR (Sept 3): Malaysian palm oil futures shed previous session's sharp gains to edge lower in early trade on Monday, but a weaker ringgit curbed further declines in the edible oil.
A weaker ringgit, palm oil's traded currency, usually makes it cheaper for holders of foreign currencies. The ringgit fell 0.3% to 4.1220 against the dollar around noon on Monday, its weakest levels since Nov 22.
The benchmark palm oil contract for November delivery on the Bursa Malaysia Derivatives Exchange was slightly down 0.04% at 2,247 ringgit (US$545.12) a tonne on Monday.
The contract had jumped 1.4% in the previous session, and had gained 1.3% on-week, its strongest weekly gains in three weeks.
Trading volumes stood at 8,629 lots of 25 tonnes each at noon.
"The market is taking a breather, following a sharp rise last week," said a futures trader in Kuala Lumpur, adding the market was quiet in trade and declines were capped due to a weak ringgit. 
Better exports could also support the market, another trader said, as data from cargo surveyors showed that palm oil shipments from Malaysia rose 3%-4% for the full month of August.
Last month, Malaysia lowered its export tax on crude palm oil for September to 0%, which could encourage demand, said the trader.
In other related oils, the January soybean oil contract on China's Dalian Commodity Exchange was trading flat, while the Dalian January palm oil contract was down 0.2%. The U.S. markets are closed on Monday. 
Palm oil prices are impacted by movements of other edible oils, as they compete for a share in the global vegetable oils market.
    
 Palm, soy and crude oil prices at 0457 GMT
| | | | | | | | |
| --- | --- | --- | --- | --- | --- | --- | --- |
| Contract | Month | Last | Change | Low | High | Volume | |
| MY PALM OIL | SEP8 | 2191 | -9.00 | 2187 | 2191 | 28 | |
| MY PALM OIL | OCT8 | 2227 | -4.00 | 2218 | 2230 | 540 | |
| MY PALM OIL | NOV8 | 2247 | -1.00 | 2235 | 2250 | 4828 | |
| CHINA PALM OLEIN | JAN9 | 4884 | -10.00 | 4822 | 4892 | 314080 | |
| CHINA SOYOIL | JAN9 | 5804 | +4.00 | 5730 | 5814 | 300372 | |
| CBOT SOY OIL | DEC8 | 28.77 | +1.30 | 0 | 0 | 0 | |
| INDIA PALM OIL | SEP8 | 600.80 | +1.30 | 599.70 | 600.9 | 240 | |
| INDIA SOYOIL | SEP8 | 738.1 | +2.35 | 736.5 | 739.1 | 640 | |
| NYMEX CRUDE | OCT8 | 69.61 | -0.19 | 69.53 | 70.00 | 23481 | |
 Palm oil prices in Malaysian ringgit per tonne
 CBOT soy oil in U.S. cents per pound
 Dalian soy oil and RBD palm olein in Chinese yuan per tonne
 India soy oil in Indian rupee per 10 kg
 Crude in U.S. dollars per barrel
 
(US$1 = 4.1220 ringgit)
(US$1 = 70.8200 Indian rupees)
(US$1 = 6.8340 Chinese yuan)