This article first appeared in The Edge Financial Daily, on September 3, 2018.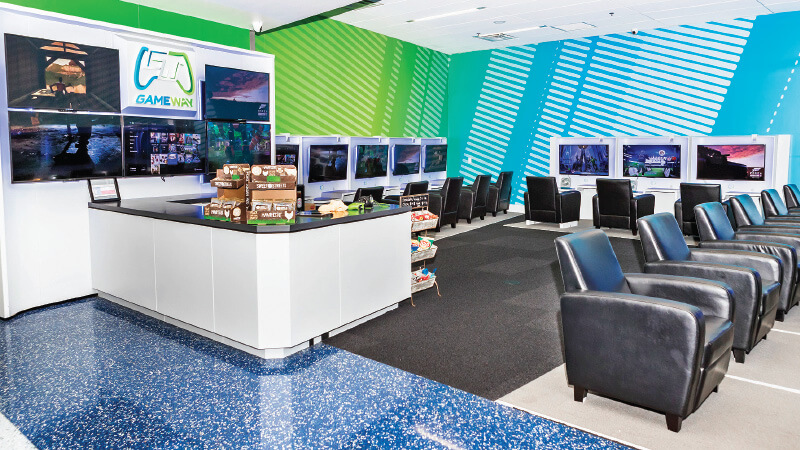 A Gameway lounge at Dallas-Fort Worth International Airport.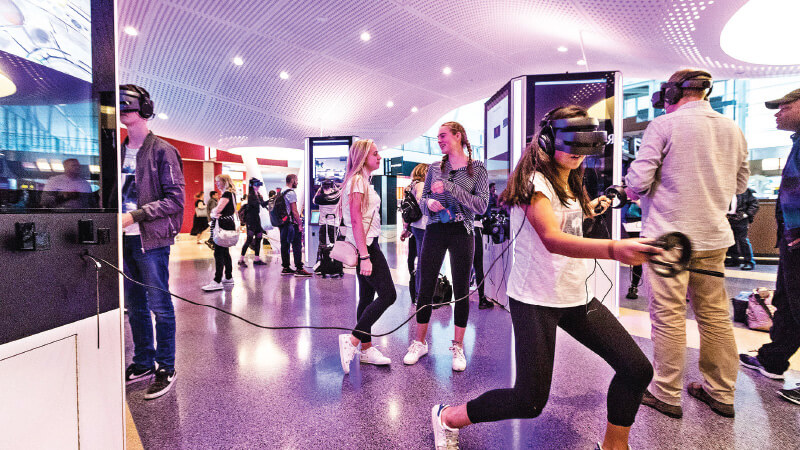 Periscape VR's outpost at John F Kennedy International Airport's Terminal 4 in New York.
As airport time-killers, cocktails will never lose their most-favoured status. But the race for novel concessions inside the terminal is becoming more, well, playful, especially when it comes to mollifying less-than-happy passengers.
Last month, the first US airport video game lounges opened with three dozen Microsoft Corp Xbox rigs at Dallas-Fort Worth International Airport, while John F Kennedy International Airport (JFK) in New York is hosting the first virtual reality (VR) "experience centre" this summer for the 70,000 travellers who traverse Terminal 4 each day.
The goal is a deep desire among fiercely competitive airports to offer harried travellers something different when the TSA sets them free. In a world of endless McDonald's outlets and magazine racks, game lounges may very well stand out. For airports, the period when a passenger is waiting to board, "dwell time" in industry lingo, is a prime selling opportunity.
Beer, burgers and duty-free are stalwarts of the trade, but a chance to market an experience to the anxious, weary masses is rapidly gaining critical mass. And when it comes to video games, there are eager players across Generation Z, millennials and even Generation X.
"I think people are desperate for entertainment — they run towards us," said Lynn Rosenthal, the chief executive of Periscape VR, the start-up that designed the "immersive entertainment" VR installation at JFK. "You have got a bunch of stressed-out, bored people looking for something to do besides eat or drink."
The Los Angeles-based company has fielded more than 300 calls from interested airports, she said. Periscape VR charges US$10 (RM41.10) for 10 minutes with a video headset and offers discounts for longer blocks of time. A full hour costs US$35.
At Dallas-Fort Worth, gamers have a refuge in both Terminal B and Terminal E, where a Portland, Oregon-based company called Gameway Inc is offering an amenity more common at airports in Asia and Europe. These gaming stations include a leather chair, 43-inch TV and noise-cancelling headphones. "We are always looking for ways to surprise our customers," said Cynthia Vega, a spokesman for the airport.
Gameway plans to instal Sony PlayStation machines to complement the Xbox. Prices range from US$10.99 for 30 minutes to US$44.99 for an unlimited session; the average customer spends US$19.99 for an hour of play, said Jordan Walbridge, who founded Gameway with his wife, Emma.
The Entertainment Software Association (ESA), an industry trade group, claims 60% of Americans play video games daily. With those kinds of numbers, setting up airport video game lounges seems like a no-brainer for filling airport coffers. As for who is playing, the ESA said the average video gamer is 34 (an older millennial) and almost evenly split between genders. Some 45% of US gamers are women, with the average female player being 36, according to the trade group.
"Whenever a plane has any kind of delay, we get filled up really quickly," Walbridge said.
Video games are not the only novel mode of your-plane-is-delayed distraction. In three other US airline hubs — Minneapolis, Portland and San Francisco — you can watch short films while waiting; Portland has even installed a high-tech cinema.
"Art is an integral part of the passenger experience to give people a sense of place, a sense of calm as they are going through kind of an otherwise stressful experience," Walter Marchbanks, an executive of Portland International Airport, said in a video detailing the project.
Other airports, including those in Indianapolis and Long Beach, California, are linking physical exercise with phone charging through kiosks built by a Flemish company, WeWatt. They use the architecture of a stationary bike to generate electricity with the sitter's pedalling.
So at least you will be multitasking while you wait. — Bloomberg