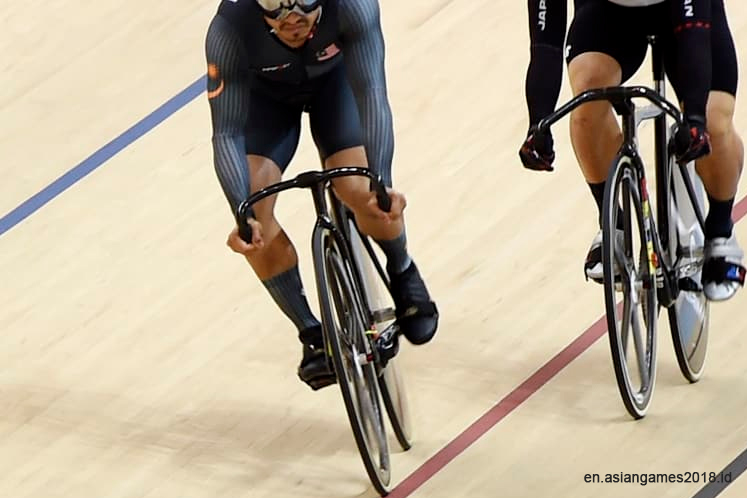 JAKARTA (Aug 30): The Malaysian contingent appears to be on course to meet the seven gold medal target when the country raked in its fifth gold on the 12th day of the 2018 Asian Games Jakarta-Palembang today.
National track cycling ace, Mohd Azizulhasni Awang put up a sterling performance to bag the men's individual sprint at Jakarta International Velodrome and it was the second medal for him after claiming a silver medal in the team sprint on Monday.
It was all the more sweeter for Mohd Azizulhasni when he ended a 16-year medal drought in the event after Josiah Ng last won a silver medal in the same event in the 2002 Asian Games in Busan, South Korea.
Mohd Azizulhasni is scheduled to compete in his favourite event, the keirin tomorrow.
Apart from Mohd Azizulhasni, the national men's hockey squad also squeezed through to the final after  defeating defending champions, India 7-6 in a penalty shootout after both sides drew 2-2 in an action-packed game.             
Malaysia currently has a medal tally of 5 gold, 11 silver and 9 bronze medals.
The national contingent had raked in four gold medals earlier, two from bowling, one from squash and one from sepak takraw.
The eleven silver medals were from bowling (2), track cycling (1), diving (1), equestrian (1), silat (4), sepak takraw (1) and squash contributed one silver.
The nine bronze medals were from archery (1), diving (1), karate (1), silat (four), squash (1) as well as taekwando with one bronze.
In this regard, two new Asian records were created on the 12th day of competition namely in the men's 4x100m relay and women's individual pursuit 3,000m by South Korea's Jumi Lee.
Apart from that, two Games records were also rewritten in the women's 4x100m relay and the women's individual pursuit by Hong Kong Lee Wai Sze.  
Asian Games defending champions, China continues to prevail at the top of the medal tally with 112 gold, 76 silver and 53 bronze medals followed by Japan (59-49-66), and South Korea with a collection of 39-46-56.
The Malaysian contingent is poised to exceed the seven gold medal target tomorrow after several national sailors are now at the top of the group in their respective events especially national Olympian, Khairulnizam Mohd Afendy who became the first Malaysian to qualify for the 2020 Tokyo Olympics. — BERNAMA