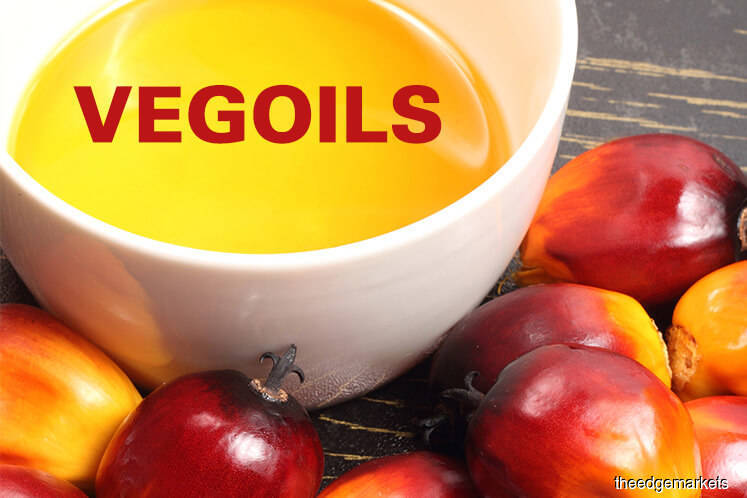 KUALA LUMPUR (Aug 30): Malaysian palm oil futures inched higher on Thursday evening on a weaker ringgit and expectations export figures due early next week, will show monthly gains.
The benchmark palm oil contract for November delivery on the Bursa Malaysia Derivatives Exchange was up 1.4% at 2,248 ringgit (US$547.22) a tonne at Thursday's close.
Trading volumes stood at 42,591 lots of 25 tonnes each at the end of the trading day.
"The weaker ringgit had some impact on the market," said a Singapore-based futures trader. A weaker ringgit, palm oil's currency of trade, usually makes the edible oil cheaper for holders of foreign currencies.
The ringgit is at its weakest levels against the dollar since November, and was last traded at 4.1050 per dollar on Thursday afternoon.
"The market is also expecting higher export figures, plus some covering ahead of a long weekend," said a Kuala Lumpur-based trader, referring to Malaysia's palm oil August shipments data, scheduled to be released by cargo surveyors on Sept 3.
Markets in Malaysia close on Friday for a national holiday.
In other related oils, the Chicago December soybean oil contract was up 0.6%, while the January soybean oil contract on China's Dalian Commodity Exchange declined 0.1%.
The Dalian January palm oil contract was up 0.3%.
Palm oil prices are impacted by movements of other edible oils, as they compete for a share in the global vegetable oils market.
Palm oil may stabilize in a support zone of 2,206-2,215 ringgit per tonne and then retest a resistance at 2,245 ringgit, according to Wang Tao, a Reuters market analyst for commodities and energy technicals.
Palm, soy and crude oil prices at 1045 GMT
| | | | | | | |
| --- | --- | --- | --- | --- | --- | --- |
| Contract | Month | Last | Change | Low | High | Volume |
| MY PALM OIL | SEP8 | 2195 | +23.00 | 2177 | 2199 | 458 |
| MY PALM OIL | OCT8 | 2232 | +32.00 | 2202 | 2234 | 6107 |
| MY PALM OIL | NOV8 | 2245 | +31.00 | 2218 | 2252 | 17786 |
| CHINA PALM OLEIN | JAN9 | 4892 | +16.00 | 4842 | 4894 | 284878 |
| CHINA SOYOIL | JAN9 | 5798 | -6.00 | 5752 | 5802 | 361304 |
| CBOT SOY OIL | DEC8 | 28.6 | +0.17 | 28.38 | 28.64 | 7222 |
| INDIA PALM OIL | AUG8 | 594.10 | +1.70 | 592.50 | 594.4 | 765 |
| INDIA SOYOIL | SEP8 | 731.4 | +3.35 | 726.9 | 732.1 | 8340 |
| NYMEX CRUDE | OCT8 | 70.00 | +0.49 | 69.55 | 70.01 | 84307 |
Palm oil prices in Malaysian ringgit per tonne
CBOT soy oil in U.S. cents per pound
Dalian soy oil and RBD palm olein in Chinese yuan per tonne
India soy oil in Indian rupee per 10 kg
Crude in U.S. dollars per barrel
(US$1 = 4.1080 ringgit)
(US$1 = 70.7800 Indian rupees)
(US$1 = 6.8300 Chinese yuan)