This article first appeared in The Edge Financial Daily, on August 29, 2018.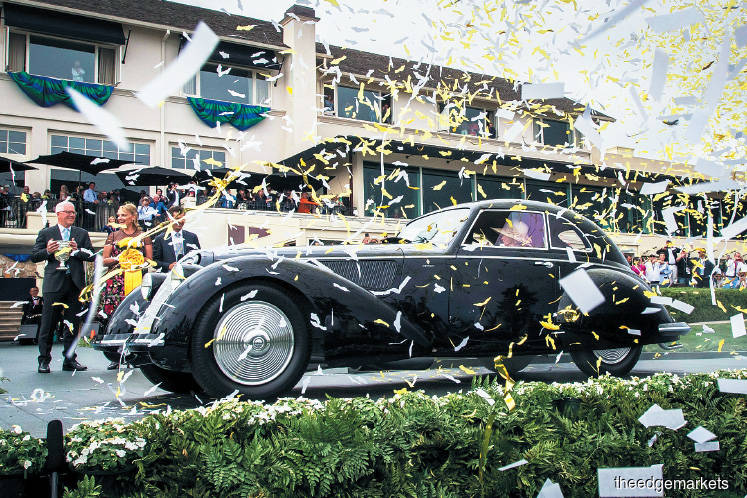 More than 20,000 people descended on the peninsula near Carmel, California, on Aug 26 as car collectors and enthusiasts alike gathered for a spectacle of metal at the Pebble Beach Concours d'Elegance. With an oceanic backdrop, vehicles from decades gone sat alongside new entries in the luxury market, all competing for the automotive world's attention.
The Concours is the climax to a week of major car auctions. This year, according to Hagerty results, preliminary sales reached US$368 million (RM1.51 billion) — a 12% increase from last year. Two record sales dominated the 2018 Monterey auction week: The highest-ever auction price for a car went to the 1962 Ferrari 250 Gran Turismo Omologato (GTO), sold for US$48.4 million at RM Sotheby's. The most expensive American car sold at auction went to a 1935 Duesenberg SSJ Roadster, sold for US$22 million at Gooding & Co.
All said, across three days and six auction houses, 1,341 vehicles sold with a median price of US$95,200 (up US$5,000 from a year earlier) and a sell-through rate of 61% (versus 59% in 2017 — a healthy change). While the total sales are significantly more than last year, beating estimates of US$342 million, it fell short of 2014's high-water mark of US$428 million.
Meanwhile, the likes of Audi, Bugatti and Mercedes-Benz unveiled their visions for the future of vehicular elegance on concept lawns and at VIP parties in the days preceding the event. At the end of the day, after judges had finished evaluating the style, history and accuracy of preservation of each car, a 1937 Alfa Romeo 8C 2900B Touring Berlinetta took the crown as the Pebble Beach Concours d'Elegance 2018 Best of Show. — Bloomberg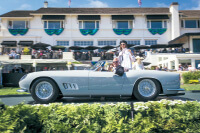 David MacNeil driving his 1958 Ferrari 250 Grand Tourer (GT) LWaB Scaglietti Spyder California across the winners ramp after coming in third place in the Ferrari Grand Touring category. Ferraris from this era are rare and expensive, especially when outfitted by the design house Scaglietti. Prized in their day as the most powerful, stylish cars on the market, they were owned by the world's international playboys and jet set.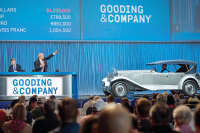 Auctioneer Charles Ross (right) gesturing as he and David Gooding, Gooding & Co president and chief executive officer, sit onstage near a 1930 Packard 734 Speedster Phaeton. Ross is known for his quick, witty auctioneering style, much beloved for years helming the biggest sales on the peninsula.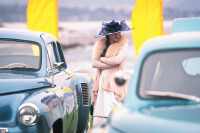 An attendee viewing a Tucker motorcar. Many people at the week's events showed up in fancy hats, colourful suits and artful shoes. George Lucas was on hand, as were Jay Leno and Jerry Seinfeld.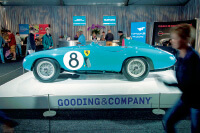 A 1955 Ferrari 500 Mondial Series II vehicle shown before the Gooding & Co auction. Racing Ferraris generally take the highest prices at auction, though this one is different from the 250 GT types typically on display. According to Hagerty, while the top of the Ferrari market appears to be doing well — along with this 500 Mondial, there is the record-breaking US$48 million 250 GTO — the market for those worth US$1 million suffered this year. Six fewer of these vehicles were offered than in 2017, with the sell-through rate falling from 68% to 54%. The average price crept up, but when the GTO sale was excluded, it fell more than US$1 million, to US$1.3 million.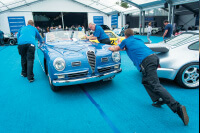 Staff pushing a 1949 Alfa Romeo 6C 2500 Super Sport Cabriolet onto the auction block at the Gooding & Co sale. Although the car shares a brand with the Pebble Beach Concours Best of Show winner, it is worth considerably less.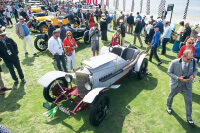 Crowds gathering around a 1923 Steyr Type VI Targa Florio Rennwagen. According to Hagerty, pre-war greats such as this were more numerous this year — 114, up from 90 last year — with the average price almost doubling, to US$899,000. Other major pre-war sales included a 1931 Bugatti Type 51 Grand Prix race car, sold for US$3.74 million at a Gooding auction, and a 1933 Duesenberg Model J Bohman & Schwartz convertible at a Mecum sale for US$3.85 million. Both sold above their high estimates.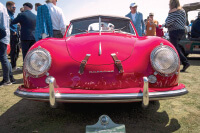 The only Porsche on the lawn this year was a 1952 Type 540 Sport Roadster owned by Jeanie and Bob Ingram. Their son, Cam, and a team of workers spent more than 4,000 hours restoring the car at his North Carolina shop, Road Scholars, which produced two winning cars in previous years. This one finished on the podium as well, placing third in its class. It was one of the earliest Porsche models ever made.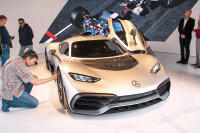 The Mercedes-AMG GmbH Project One plug-in is a hybrid-electric hypercar based on Formula One racers. It produces the equivalent of more than 1,000 horsepower (hp) and costs more than US$2 million. Fewer than 300 units will be made, with production starting next year.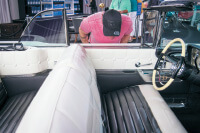 Inside a 1959 Lincoln Continental Mark IV convertible on display. It is vehicles like this that are doing well on the auction block. According to Hagerty spokesman Jonathan Klinger, the current sale market favours the best cars, but there are signs of weakness just below the summit. 'The abundance of pre-war cars risked overwhelming the market, but collectors generally responded to the selection and added vehicles from that era,' he said.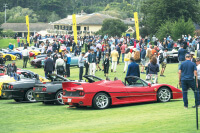 Ferraris are always an exciting marque at Pebble Beach, and this year was no different. Here, a field of dozens of vintage and collectible Ferraris flank the grounds next to the brand's latest offering, the 488 Pista Spider.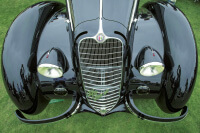 A detail shot of the 1937 Alfa Romeo 8C 2900B Touring Berlinetta that won Best of Show at the 2018 Concours. 'As a Zagato collector, I broke the rules and bought a Touring-bodied car because this Alfa Romeo is very special,' says Sydorick of Beverly Hills. 'It is a piece of automotive architecture mounted on a grand prix chassis with technology that was top of the line for pre-war cars. It is a wonderful combination.' Last year, the 8C was named Most Elegant Closed Car at the Concours, but since Sydorick's acquisition, it has been fully restored and returned to its 1938 Berlin Motor Show specification.