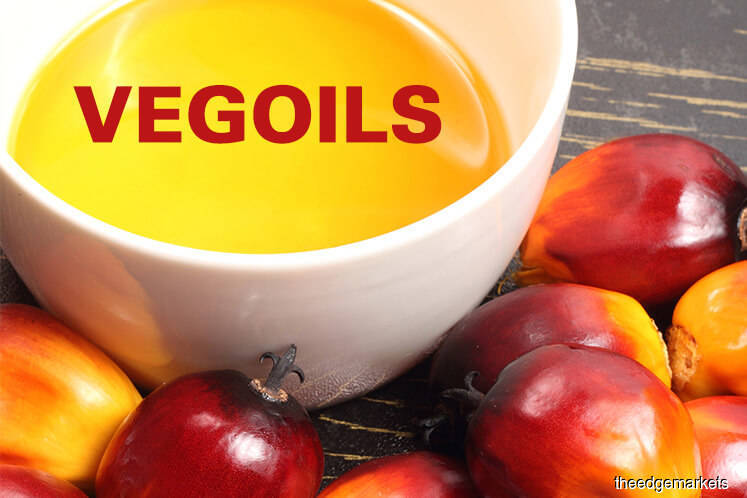 KUALA LUMPUR (Aug 28): Malaysian palm oil futures rose more than 1% to a one-week high on Tuesday evening, supported by a bullish price outlook by an analyst at an industry conference in Kuala Lumpur.
Overnight gains in U.S. soyoil on the Chicago Board of Trade (CBOT) also lent support to palm, said traders. 
The benchmark palm oil contract for November delivery on the Bursa Malaysia Derivatives Exchange was 1.5% higher at 2,232 ringgit (US$543.73) a tonne at the end of the trading day, its strongest daily gain in a month. 
Trading volume stood at 46,743 lots of 25 tonnes each in the evening. 
"The market is up on Mielke's comments," said a futures trader in Kuala Lumpur, referring to key industry analyst Thomas Mielke, who forecast that prices of the edible oil had already reached their lower limit at 2,100 ringgit, and could move up to 2,500 ringgit in the next six months. 
Speaking at an industry conference on Tuesday, Mielke also said he expected Malaysia's palm oil production to dip this year, due to lower yields. However, production is likely to increase in 2019.
Industry players said palm oil output was likely to rise in coming months, in line with the seasonal trend, but could ease on-year, as production normalizes on a recovery from dry weatherconditions due to an El Niño event. 
Malaysia produced 19.92 million tonnes of palm oil in 2017.
Another Kuala Lumpur-based trader added the sharp gains in U.S. CBOT soyoil also supported the market. The Chicago December soybean oil contract rose 0.9% on Monday, and was last up 0.3% on Tuesday. 
In other related oils, the January soybean oil contract on China's Dalian Commodity Exchange was up 0.03%, while the Dalian January palm oil contract rose 0.5%.
Palm oil prices are influenced by the performance of other edible oils, as they compete for a share in the global vegetable oils market.
    
 Palm, soy and crude oil prices at 1104 GMT
| | | | | | | |
| --- | --- | --- | --- | --- | --- | --- |
| Contract | Month | Last | Change | Low | High | Volume |
| MY PALM OIL | SEP8 | 2188 | +23.00 | 2172 | 2196 | 829 |
| MY PALM OIL | OCT8 | 2213 | +32.00 | 2191 | 2218 | 5011 |
| MY PALM OIL | NOV8 | 2233 | +33.00 | 2210 | 2238 | 21408 |
| CHINA PALM OLEIN | JAN9 | 4900 | +24.00 | 4844 | 4900 | 261524 |
| CHINA SOYOIL | JAN9 | 5828 | +2.00 | 5786 | 5836 | 302418 |
| CBOT SOY OIL | DEC8 | 28.85 | +0.08 | 28.7 | 28.93 | 9734 |
| INDIA PALM OIL | AUG8 | 595.00 | +3.80 | 592.00 | 595.7 | 768 |
| INDIA SOYOIL | SEP8 | 730.5 | +0.85 | 727.4 | 733.6 | 12330 |
| NYMEX CRUDE | OCT8 | 68.86 | -0.01 | 68.64 | 69.20 | 90985 |
 Palm oil prices in Malaysian ringgit per tonne
 CBOT soy oil in U.S. cents per pound
 Dalian soy oil and RBD palm olein in Chinese yuan per tonne
 India soy oil in Indian rupee per 10 kg
 Crude in U.S. dollars per barrel
 
(US$1 = 4.1050 ringgit)
(US$1 = 70.0900 Indian rupees)
(US$1 = 6.8740 Chinese yuan)