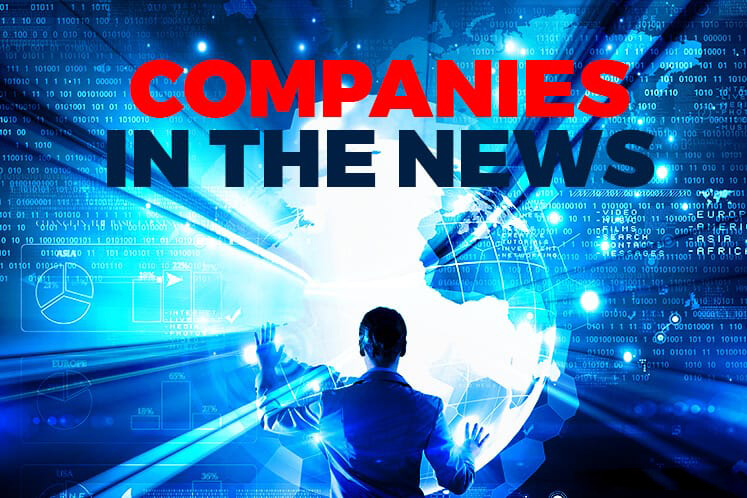 KUALA LUMPUR (Aug 27): Based on corporate announcements and news flow today, stocks in focus on Tuesday (Aug 28) may include Daiman Development Bhd, Gamuda Bhd, Taliworks Corp Bhd, Top Glove Corp Bhd, Matrix Concepts Holdings Bhd, Vertice Bhd, BIMB Holdings Bhd, IOI Properties Group Bhd, Utusan Melayu (Malaysia) Bhd, WCT Holdings Bhd and Watta Holding Bhd.
The major shareholders of Daiman Development Bhd have proposed to undertake a selective capital reduction (SCR) and repayment exercise to take the company private at RM3 a share or RM295.48 million in total.
The property developer said the joints offerors Tay Kia Hong & Sons Sdn Bhd and Daiman Holdings Sdn Bhd, as well as 14 persons acting in concert led by its managing director Tay Thiam Song, collectively hold 112.39 million Daiman's shares, representing an about 53.38% stake in the company.
The proposed SCR will result in a reduction in the issued share capital of Daiman (excluding treasury shares held by Daiman) by up to RM295.48 million, comprising of up to 295.48 million Daiman shares.
Gamuda Bhd has accepted the offer from Pengurusan Air Selangor Sdn Bhd (Air Selangor) to acquire its 40%-owned associate company Syarikat Pengeluar Air Selangor Holdings Bhd (SPLASH).
Taliworks Corp Bhd also announced today that it has decided to accept the settlement offer from Air Selangor, as part of the latter's acquisition of SPLASH.
Top Glove Corp Bhd executive chairman Tan Sri Lim Wee Chai has made a written requisition for an extraordinary general meeting (EGM) to be convened with the intention to remove Low Chin Guan as a director with immediate effect.
Lim is the glove maker's founder and its largest shareholder with a 28.94% stake.
In his letter, Lim called for the EGM to be held as soon as practicable to pass the ordinary resolution to remove Low.
Seremban-based property developer Matrix Concepts Holdings Bhd's founder and major shareholder, Datuk Lee Tian Hock, has been redesignated as the group's executive deputy chairman.
His current position as the group's managing director will be taken over by deputy managing director Ho Kong Soon.
The redesignations will be take effect on Sept 1.
Both Lee, 60, and Ho, 51, have been holding their current positions since 2012.
Meanwhile, the group also reported net profit grew 10.1% to RM50.15 million in the first financial quarter ended June 30, 2018 from RM45.55 million a year ago, on higher revenue recognition of projects under construction worth RM2.3 billion in gross development value.
Earnings per share, however, were lower at 6.67 sen versus 7.89 sen a year ago.
Quarterly revenue was 33.08% higher at RM230.04 million against RM172.86 million in 1QFY18.
The group declared a first interim dividend of 3.25 sen per share, payable on Oct 10.
Vertice Bhd, formerly known as Voir Holdings Bhd, has bagged a RM27.35 million sub-contract work from Kumpulan Liziz Sdn Bhd, who is the main contractor for the proposed Desaru Coast Marina, customs, immigration and quarantine (CIQ) complex and ferry terminal building in Desaru, Johor.
The job encompasses dredging works for marina basing and entrance, construction of breakwater at the entrance of the ferry terminal and design, fabricate, supply and installation of steel pontoon system and dolphin piles.
BIMB Holdings Bhd's net profit rose 10.5% to RM149.91 million in the second quarter ended June 30, 2018 from RM135.67 million a year ago, on higher contribution from Islamic banking and Takaful businesses.
This resulted in higher earnings per share of 8.85 sen compared with 8.28 sen previously.
Quarterly revenue also increased 5.2% to RM992.17 million from RM943.19 million a year ago.
For the cumulative six months, the group's net profit jumped 12.3% to RM322.05 million from RM286.77 million a year ago, while revenue grew 6.9% to RM1.99 billion from RM1.86 billion.
IOI Properties Group Bhd's fourth quarter net profit dropped 21.3% year-on-year to RM264.99 million from RM336.64 million, due to reduced contribution from its overseas property projects.
Earnings per share for the quarter ended June 30, 2018 fell to 4.81 sen from 5.79 sen a year ago, the group said in a filing with Bursa Malaysia.
Quarterly revenue slumped 43.6% to RM673.98 million from RM1.195 billion a year ago.
For the full year, the property developer recorded a 14.9% fall in net profit to RM783.63 million from RM920.87 million in the previous year, with revenue declining 33.3% to RM2.793 billion from RM4.185 billion.
Umno-controlled Utusan Melayu (Malaysia) Bhd, which publishes Utusan Malaysia, Mingguan Malaysia and Kosmo, narrowed its net loss to RM2.65 million in the second quarter ended June 30, 2018 from RM10.68 million a year ago, on contribution from the tablet project.
Loss per share came in lower at 2.39 sen, compared with 9.64 sen previously. Quarterly revenue rose 19% to RM63.87 million, from RM53.83 million a year ago.
The improved quarterly performance resulted in a lower net loss for the cumulative six months to RM8.5 million, compared with RM33.52 million a year ago. Revenue rose 25% to RM119.38 million from RM95.34 million.
Construction firm WCT Holdings Bhd's net profit doubled to RM43.78 million in the second quarter ended June 30, 2018, from RM21.25 million a year ago, mainly due to higher construction billings from local infrastructure projects and lower unrealised foreign exchange loss.
Earnings per share improved to 3.11 sen, from 1.53 sen.
Quarterly revenue rose 75% year-on-year to RM669.90 million from RM382.81 million.
For the cumulative six months, WCT's net profit was up 51.9% to RM82.16 million from RM54.09 million in the same period last year, while revenue rose 41.4% to RM1.21 billion from RM855.7 million.
Loss-making Watta Holdings Bhd has been slapped with an unusual market activity query from Bursa Malaysia on the sharp rise in price of the company's shares recently.