This article first appeared in The Edge Financial Daily, on August 27, 2018.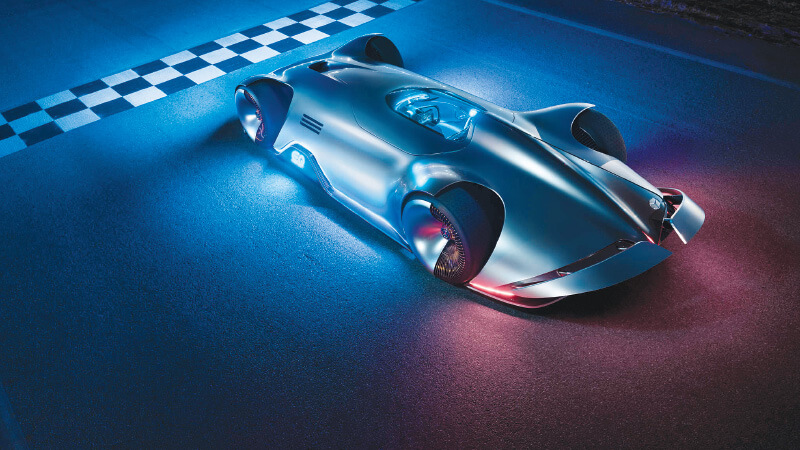 The role model of the EQ Silver Arrow is the W125 12-cylinder, record-breaking car built by Mercedes-Benz in 1937 as a Grand Prix racing car.
IN Monterey, California, late last Friday, Mercedes-Benz unveiled its latest concept car, the EQ Silver Arrow. It is an homage to the brand's original W125 race car, which in 1937 set the record for fastest land-speed vehicles on a public road by travelling nearly 270mph (434.52kph). That record was only broken late last year by the Koenigsegg Agera.
The electric one-seater joins a long list of memorable concepts that Mercedes shows off every year in advance of the Pebble Beach Concours d'Elegance. None of them will reach anything near production, but design chief Gorden Wagener said they are useful to illustrate how the brand's future will look, embodied in one car.
As the name suggests, it is extremely long and thin. The car is more than 17ft (5.18m) long but just 3ft deep, with a carbon-fibre front splitter and side skirts with a lighting strip. Large, recessed EQ lettering heralds the company's EQ brand of battery-electric vehicles, illuminated in blue in front of the rear wheels.
The Alubeam Silver paintwork on the body of the car is similar to the type used on the original Silver Arrow cars. The rear diffuser also looks like those on vintage racers, with an extendable spoiler that acts as an air brake by increasing the wind resistance as the car decelerates.
Inside are grey, suede sidewalls, as well as aluminium-and-walnut trim; the saddle-brown leather is laser-etched with stars. The dashboard is curved in a three-dimensional panoramic screen that can project images from behind the car, and in the centre of the steering wheel is an integrated touchscreen. A lever on the side of the seat adjusts the pedal height to better suit the driver's height.
If the EQ Silver Arrow were to be manufactured for sale, Wagener said, it would have an output of 738 horsepower (hp), thanks to a thin, rechargeable battery of roughly 80kWh and a driving range of more than 250 miles (402.34km). — Bloomberg