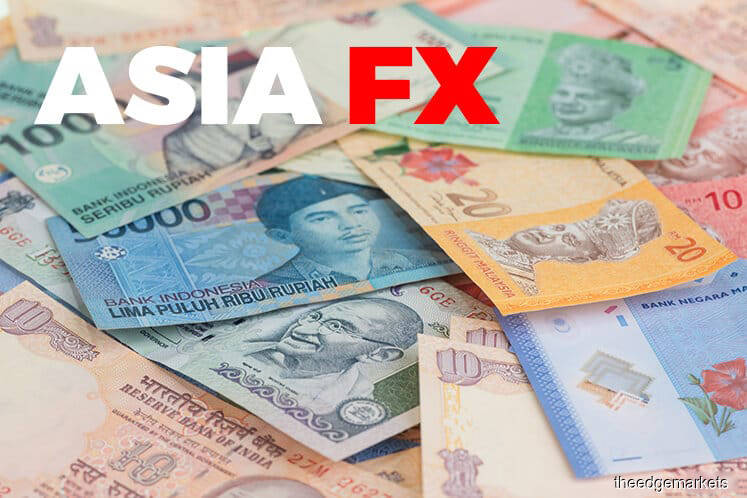 BENGALURU (Aug 24): Asian currencies traded in a tight range on Friday, as caution kicked in ahead of a speech from US Federal Reserve Chair Jerome Powell, which is expected to provide fresh insights into US monetary policy.
Most currencies gave up gains made earlier in the week, and were set to either fall or end flat for the week. The greenback was set to shed more than 0.5%.
Powell's scheduled speech the Jackson Hole meetings kept investors wary amid widespread speculation over a possible fourth US rate hike this year. Concerns over Sino-US trade tensions also weighed on risk appetite.
"Global risk sentiments remain somewhat jittery ahead of Fed chair Powell's speech at the Jackson Hole symposium, with US-Sino trade talks failing to yield any immediate progress as the next tranche of tariffs on US$16 billion kicked in," OCBC said in a research note.
The Indonesian rupiah fell about 0.2% against the dollar. Concerns over Indonesia's economic health have weighed heavily on the rupiah, which was set to lose about 0.3% for the week.
The plunging currency prompted the government to impose tariffs on some imports into Indonesia. The government will release a list of goods on which it plans to impose duties in the next one to two weeks. Raw materials used in production will be excluded.
The Singapore dollar rose slightly after manufacturing output for July came in above forecasts, rising 6% from a year earlier and beating the 5.4% growth seen in a Reuters survey.
The Singapore dollar was set to fall slightly for the week.
The Thai baht, while trading sideways for the day, was set to outperform its peers for the week.
The baht's gains this week were largely underpinned by optimism over Thailand's economy, particularly after data showed sustained economic growth in the second quarter.
The baht is set to gain more than 1% this week, making it the best performer amongst its peers.
INVESTORS TRIM BEARISH BETS
The outlook for Asian currencies looked slightly better as investors trimmed their short positions on Asian currencies over the last two weeks, a Reuters poll showed.
Bearish bets on the Chinese yuan were sharply reduced, while short positions in the Philippine peso narrowed to levels last seen in mid-May.
Export-driven currencies such as the South Korean won and Taiwan dollar saw bearish positions fall to their lowest since May and mid-July, respectively.
The following table shows rates for Asian currencies against the dollar as at 0550 GMT.
CURRENCIES VS US DOLLAR
Change on the day
| | | | |
| --- | --- | --- | --- |
| Currency | Latest bid | Previous day | % move |
| Japan yen | 111.360 | 111.28 | -0.07 |
| Sing dlr | 1.371 | 1.3739 | +0.21 |
| Taiwan dlr | 30.814 | 30.790 | -0.08 |
| Korean won | 1119.400 | 1121.4 | +0.18 |
| Baht | 32.750 | 32.79 | +0.12 |
| Peso | 53.480 | 53.45 | -0.06 |
| Rupiah | 14650.000 | 14625 | -0.17 |
| Rupee | 70.070 | 70.11 | +0.06 |
| Ringgit | 4.107 | 4.103 | -0.10 |
| Yuan | 6.883 | 6.8749 | -0.12 |
Change so far in 2018
| | | | |
| --- | --- | --- | --- |
| Currency | Latest bid | End 2017 | % move |
| Japan yen | 111.360 | 112.67 | +1.18 |
| Sing dlr | 1.371 | 1.3373 | -2.46 |
| Taiwan dlr | 30.814 | 29.848 | -3.13 |
| Korean won | 1119.400 | 1070.50 | -4.37 |
| Baht | 32.750 | 32.58 | -0.52 |
| Peso | 53.480 | 49.93 | -6.64 |
| Rupiah | 14650.000 | 13565 | -7.41 |
| Rupee | 70.070 | 63.87 | -8.85 |
| Ringgit | 4.107 | 4.0440 | -1.53 |
| Yuan | 6.883 | 6.5069 | -5.47 |