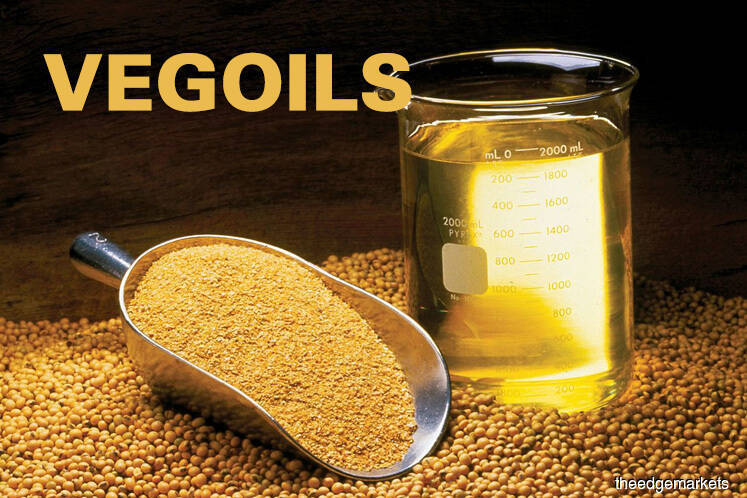 KUALA LUMPUR (Aug 17): Malaysian palm oil futures rose by more than 1% on Friday, tracking strength in related edible oils on the US Chicago Board of Trade and China's Dalian Commodity Exchange.
The benchmark palm oil contract for November delivery on the Bursa Malaysia Derivatives Exchange was 0.7% up at RM2,238 (US$545.19) a tonne at the close of trade. It earlier rose as much as 1.3% to RM2,250, its highest since Aug 10.
The gains, however, were not quite enough to avoid a 0.2% decline for the week.
Trading volumes stood at 37,337 lots of 25 tonnes each on Friday evening.
"External markets are bullish. Overnight it (soyoil) went up, impacting palm," said a Singapore-based trader.
Palm oil prices are affected by movements of other edible oils that compete in the global vegetable oils market.
Chicago soyoil rose in tandem with soybeans, which hit a one-week high on Thursday on support from expectations that China could return to the US market.
The Chicago December soybean oil contract rose 1% on Thursday and was last up 0.5% on Friday.
China said on Thursday that it would hold a fresh round of trade talks with the United States in Washington this month, offering hope for progress in resolving a conflict that has set world markets on edge.
China, a key buyer of soybeans from the United States, had imposed extra tariffs on US soybean imports and shifted its purchases to Brazil after a trade spat between the two nations.
However, two vessels carrying US soybeans have entered China, suggesting that China will still need to import from the United States to cover its needs, traders said.
In related oils, the January soybean oil contract on China's Dalian Commodity Exchange rose 0.9%, while the Dalian January palm oil contract gained 1.2%.
Palm oil could rise into a range of RM2,269-2,277 a tonne, having cleared resistance at RM2,224, said Wang Tao, a Reuters market analyst for commodities and energy technicals.
Palm, soy and crude oil prices at 1049 GMT
| | | | | | | |
| --- | --- | --- | --- | --- | --- | --- |
| Contract | Month | Last | Change | Low | High | Volume |
| MY PALM OIL | SEP8 | 2204 | +13.00 | 2202 | 2213 | 1143 |
| MY PALM OIL | OCT8 | 2218 | +17.00 | 2214 | 2231 | 6280 |
| MY PALM OIL | NOV8 | 2238 | +16.00 | 2233 | 2250 | 17019 |
| CHINA PALM OLEIN | JAN9 | 4922 | +60.00 | 4862 | 4954 | 353578 |
| CHINA SOYOIL | JAN9 | 5882 | +52.00 | 5820 | 5922 | 462838 |
| CBOT SOY OIL | DEC8 | 28.61 | +0.13 | 28.38 | 28.68 | 7374 |
| INDIA PALM OIL | AUG8 | 602.80 | +3.20 | 601.00 | 603.5 | 1093 |
| INDIA SOYOIL | AUG8 | 737 | +2.45 | 734 | 737 | 1470 |
| NYMEX CRUDE | SEP8 | 65.80 | +0.34 | 65.30 | 65.87 | 32960 |
Palm oil prices in Malaysian ringgit per tonne
CBOT soy oil in US cents per pound
Dalian soy oil and RBD palm olein in Chinese yuan per tonne
India soy oil in Indian rupee per 10 kg
Crude in US dollars per barrel
(US$1 = RM4.1050)
(US$1 = 70.0900 Indian rupees)
(US$1 = 6.8785 Chinese yuan)