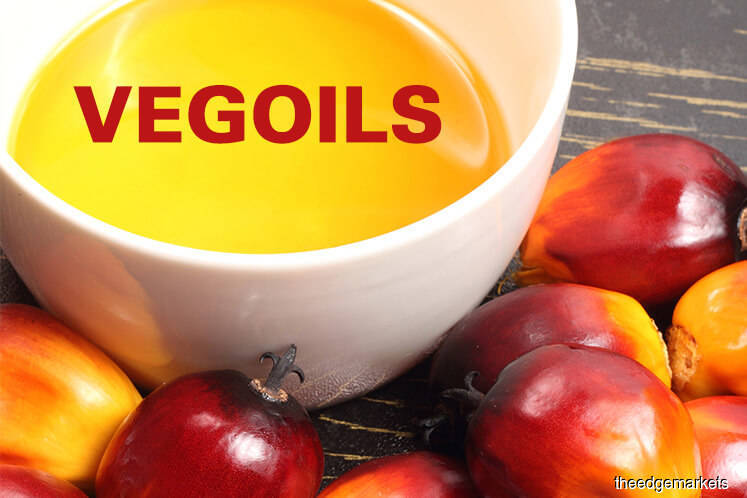 KUALA LUMPUR (Aug 16): Malaysian palm oil futures fell in first-half trade on Thursday, weighed down by weakness in related edible oils on China's Dalian Commodity Exchange and prospects of slowing demand as trade and currency concerns still loom large, said traders.
The benchmark palm oil contract for November delivery on the Bursa Malaysia Derivatives Exchange was down 0.5% at RM2,205 (RM$538.20) a tonne at the midday break.
Trading volumes stood at 20,451 lots of 25 tonnes each at noon.
"Looks like the market is reacting towards trade tension and lower exports," said a Kuala Lumpur-based trader, referring to the ongoing US-China trade spat.
"Until the tension is resolved, the market will be volatile. The prospect of weaker exports is also pressuring the market."
China said on Thursday it would hold a fresh round of trade talks with the United States in Washington later this month, offering hope for progress in resolving a conflict that has set world markets on edge.
Meanwhile, traders are also concerned that palm oil exports will be impacted by sliding emerging-market currencies, as reduced purchasing power cuts into imports into countries like Turkey and India.
Malaysia's palm oil shipments in the first half of August fell from a month earlier, cargo surveyor data showed. Inspection company AmSpec Agri Malaysia reported a 14.6% decline and Societe Generale de Surveillance an 11.1% fall.
The January soybean oil contract on China's Dalian Commodity Exchange fell 0.9%, while the Dalian January palm oil contract slipped 0.7%.
In other related oils, the Chicago December soybean oil contract rose 0.6%.
Palm oil prices are impacted by movements of other edible oils, as they compete for a share in the global vegetable oils market.
Palm oil may fall to RM2,165 per tonne, as an immediate support at RM2,192 does not seem to hold, said Wang Tao, a Reuters market analyst for commodities and energy technicals.
Palm, soy and crude oil prices at 0512 GMT
| | | | | | | |
| --- | --- | --- | --- | --- | --- | --- |
| Contract | Month | Last | Change | Low | High | Volume |
| MY PALM OIL | SEP8 | 2171 | -9.00 | 2167 | 2175 | 626 |
| MY PALM OIL | OCT8 | 2187 | -8.00 | 2181 | 2190 | 6180 |
| MY PALM OIL | NOV8 | 2205 | -11.00 | 2201 | 2210 | 8527 |
| CHINA PALM OLEIN | JAN9 | 4876 | -34.00 | 4800 | 4898 | 289674 |
| CHINA SOYOIL | JAN9 | 5826 | -54.00 | 5778 | 5878 | 381954 |
| CBOT SOY OIL | DEC8 | 28.36 | +0.16 | 28.1 | 28.36 | 4839 |
| INDIA PALM OIL | AUG8 | 594.30 | -1.60 | 593.80 | 595.7 | 22 |
| INDIA SOYOIL | AUG8 | 733 | +0.75 | 730.4 | 733.05 | 90 |
| NYMEX CRUDE | SEP8 | 65.10 | +0.09 | 64.43 | 65.25 | 33091 |
Palm oil prices in Malaysian ringgit per tonne
CBOT soy oil in US cents per pound
Dalian soy oil and RBD palm olein in Chinese yuan per tonne
India soy oil in Indian rupee per 10 kg
Crude in US dollars per barrel
(US$1 = RM4.0970)
(US$1 = 70.2150 Indian rupees)
(US$1 = 6.8918 Chinese yuan)