This article first appeared in The Edge Financial Daily, on August 14, 2018.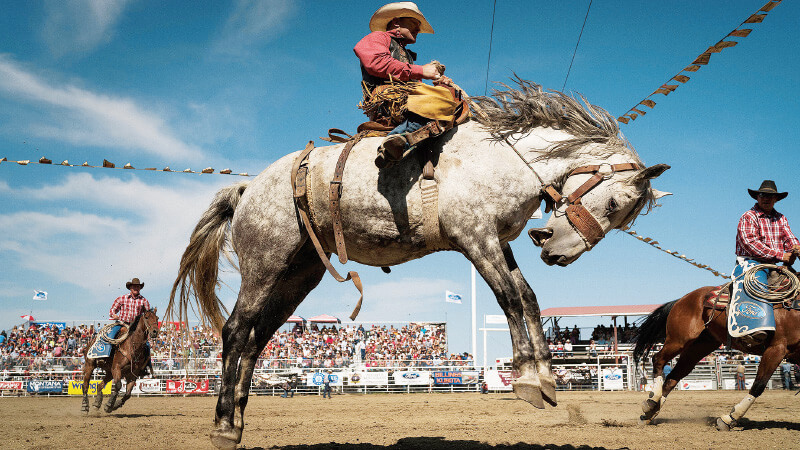 Taken with a Sony Alpha a7R III on July 4, 2018. Images like this from a Montana rodeo would be much more difficult to shoot using DSLR cameras. Photo by Kenneth Jarecke/Contact Press Images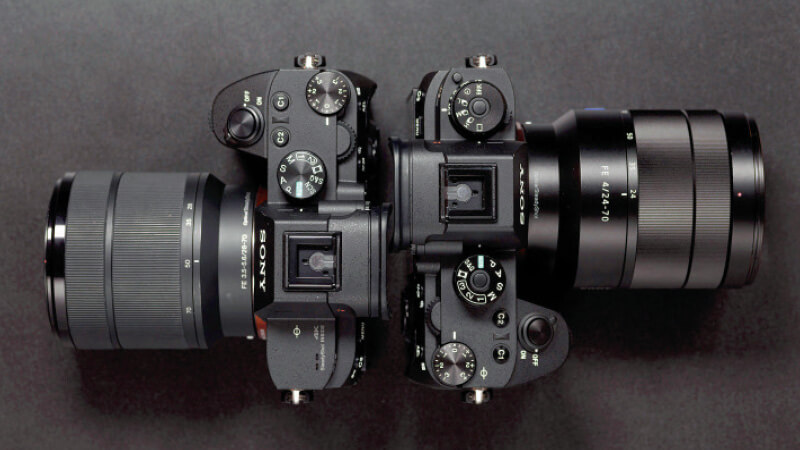 The Sony Alpha a7R III (left) and the Sony Alpha a9 digital cameras. Photos by Bloomberg
Eight seconds. That is how long a cowboy needs to stay on a bucking bronco to qualify for a rodeo score. For photographers, that is barely enough time to take just a few blurry, often unusable pictures.
"In the past, these images would have been made by prefocusing and praying for the best," said Kenneth Jarecke, who made his name shooting photos during the Gulf War. His praying days are over. Jarecke is an early adopter of a new breed of mirrorless cameras made by Sony Corp that excel at capturing crisp shots of fast-moving objects. Unlike digital single-lens reflex (DSLR) cameras, his Sony Alpha a7R III ditches the mirror-and-prism system that shows what is coming through the lens. The Alpha's mirrorless design lets image sensors grab light faster and stay in focus using sophisticated software. It is potentially a tectonic shift that gives Sony a chance to break the pro-photography duopoly Canon Inc and Nikon Corp have enjoyed since the days of 35mm film.
This is not the industry's first major upheaval. In the past 10 years, smartphones with increasingly better cameras have begun eating into digicam shipments, slashing sales by more than 80%. Cameras for pros, such as Nikon's US$6,500 (RM26,585) D5 and Canon's US$5,500 1D Mark II, were considered unassailable until now. At stake is a market worth US$3.2 billion a year. Canon, Nikon and Sony benefit from the branding (and sales) boost that comes with being the main suppliers of high-end cameras and lenses for sports, news and the arts. "Sony is now in a position to try and grab more market share," said Kazunori Ito, an analyst of Morningstar Investment Services.
Sony's incursion into professional photography began decades ago
Sony's incursion into professional photography did not happen overnight. It began with the early development of image sensors decades ago. In the 90s, Cyber-shot cameras were marketed as easy-to-use devices that fit into consumers' pockets. Later, smartphone makers came calling, making Sony the top supplier of camera chips for Apple.
In 2006, Sony bought Konica Minolta's camera business. While the first Alpha was essentially a rebadged Konica Minolta DSLR, the products evolved rapidly. Eight years ago, Sony scrapped the mirror and gave users a digital viewfinder that offered a more accurate representation of the final image. With fewer parts and a more efficient design, they are also smaller and lighter, a key selling point for those who lug them around all day.
"The a9 is really revolutionary," said Michael Kooren, a news agency photographer who has switched to Sony Alphas.
Even so, adoption has been slow. Pro-shooters are a loyal bunch, sticking to familiar gear with proven reliability. Some pros say Sony has not rolled out new lenses fast enough, and have complained that customer support has lagged behind Canon and Nikon. Sony is working to improve both, according to Hiroyuki Matsushita, the manager overseeing product planning at Sony's cameras division.
The incumbents are not sitting still. Nikon is working on its first full-frame mirrorless camera, with more details due to be announced on Aug 23. Meanwhile, Canon has not disclosed any concrete plans — they are "within the scope of development", a company spokesman said.
For the time being, Sony intends to exploit its lead. The Tokyo-based manufacturer has begun marketing Alpha cameras more aggressively. Its flagship US$4,500 a9 model recently took top prizes at three professional camera competitions. Sony also offers more affordable Alpha versions for amateurs and semi-pros. It forecasts that operating profit will climb as much as 40% to almost US$1 billion for the business in three years.
If Sony succeeds in making mirrorless cameras the industry standard, expect press conferences to become a lot quieter without the "shh-cluck" shutter sounds made by DSLRs. That has already made them popular among pro-photographers at golf tournaments and courtrooms. — Bloomberg