This article first appeared in The Edge Financial Daily, on August 2, 2018.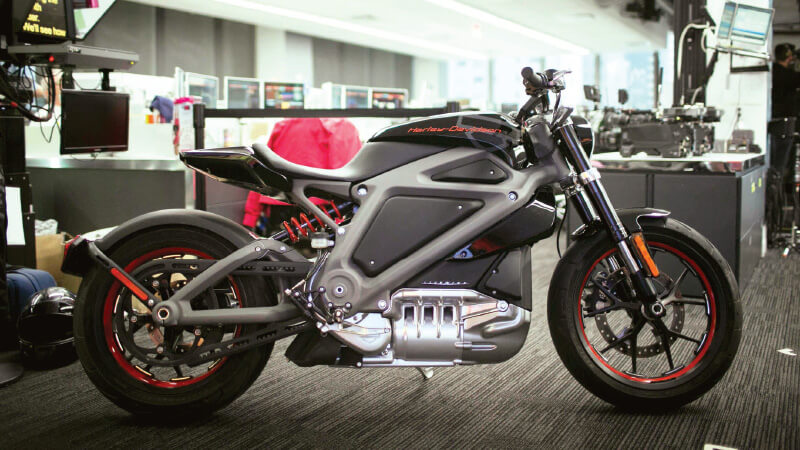 LiveWire was the precursor to the yet-unnamed electric motorcycle Harley-Davidson announced on Tuesday during an earnings call. Photo by Bloomberg
Facing slow sales in the US and rising costs from recent tariffs, Harley-Davidson Inc is sprucing up its global line-up, including the company's first electric motorcycles.
The Milwaukee-based manufacturer will roll out LiveWire, its first electric bike, in August 2019, according to a promotional video. Harley plans to introduce as many as five more electric models — including lightweight, urban bikes — by 2022, according to a slide presentation.
A small motorcycle model will be introduced in India in the next two years through a partnership with an unspecified Asian manufacturer, according to the slides. A series of middleweight bikes will begin production in 2020 to target growing sales in Europe. The company also said it plans to grow in China with an expanded product portfolio and a new distribution centre.
These plans will cost Harley-Davidson as much as US$550 million (RM2.24 billion) in operating investment and US$275 million in capital investment through 2022, it said in the presentation. By then the company forecasts increasing revenue by as much as US$1.5 billion and operating profit by as much as US$250 million.
Meanwhile, Arunima Banerjee reports that Harley-Davidson is launching lightweight motorcycles in Asia and electric bikes globally in the hope of reviving demand, as it faces falling sales in the US and the threat of trade tariffs adding to its costs.
The 115-year-old company, known for its heavy touring motorcycles, is trying to boost overseas sales and scrambling to revamp operations as its mainstay customer base ages.
Harley wants to woo younger buyers, particularly in fast-growing Asian markets including China and India, with nimbler motorcycles that have smaller engines.
As part of a plan it calls "More Roads to Harley-Davidson", the company expects to spend US$675 million to US$825 million over the next four years, chop costs and generate US$5.9 billion to US$6.4 billion in revenue in 2022.
Harley expects the plan will expand its operating margins and add up to US$250 million in operating profit in 2022.
Within two years, the company hopes to unveil a lightweight motorcycle in India through an alliance with an Asian manufacturer, Harley chief executive officer Matt Levatich said in a conference call with analysts.
In a bid to attract customers globally, the company is also revamping stores, partnering with online retailers and launching a 1250cc custom model, Pan America, and a middleweight 975cc Streetfighter model in 2020.
"If nothing else, Harley is acknowledging the ongoing shift in global consumer tastes and sluggish US participation rates, and is willing to make course corrections — and investments — to pursue areas of growth," Raymond James analyst Joseph Altobello said.
Harley has been at the centre of a trade war between the US and the European Union (EU), with the company planning to shift production for European customers overseas to avoid the EU's tariffs, a move that US President Donald Trump has slammed.
"The accelerated strategy will require significant investment to change the trajectory of the business globally, and the company plans to fund it entirely through comprehensive cost reduction and reallocation of previously planned investment and resources," Harley said.
Harley has also been investing in developing electric motorcycles as well as promoting its learn-to-ride academies at showrooms.
Its first electric motorcycle will be launched next year, and more models are planned through 2022.
Industry experts have said electric motorcycles — that have no gears or clutch and are a far cry from Harley's loud, bulky cruising bikes — may not appeal to loyal Harley fans.
Still, the company expects these motorcycles will be profitable and have "quite significant" revenue growth. "It's risky to think that motorcyclists aren't open-minded about other products and other brands," Levatich said.
Harley is betting on "bold new product introductions", William Blair analyst Sharon Zackfia said, adding that the new products are likely to raise questions about whether the means of attracting new customers could alienate Harley's core base. — Reuters