This article first appeared in The Edge Financial Daily, on August 1, 2018.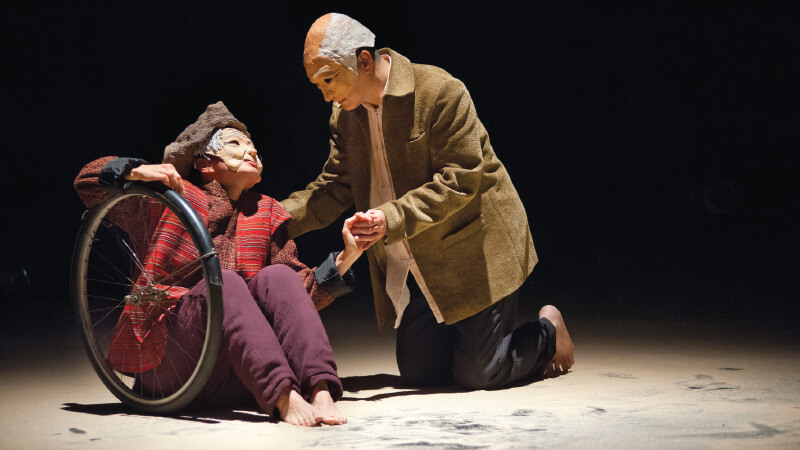 Watch the 74-year-old man takes his 99-year-old mother on a journey across China.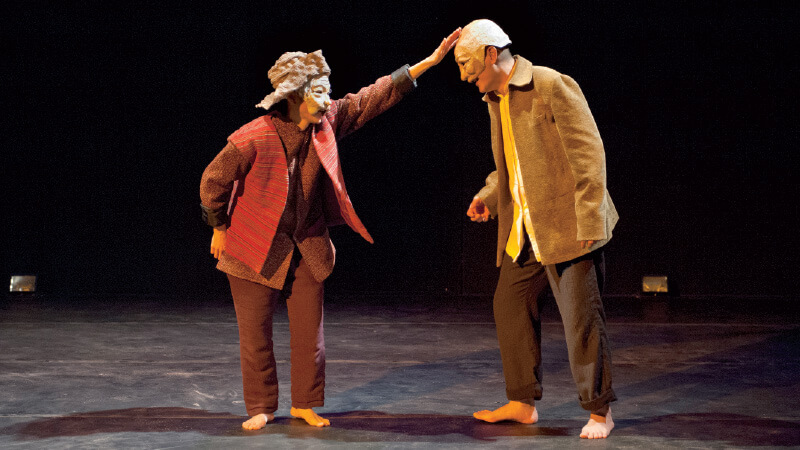 Chan says Travel with Mum hopes to highlight the 'filial piety' that is gradually forgotten by most people.
Presented by The Nonsensemakers from Hong Kong, Travel with Mum was one of the highlights at the 2016 DPAC (Damansara Performing Arts Centre) Festival. It was so popular, tickets were sold out a month before the performance in Singapore in June 2016, and two of the five performances at the DPAC Arts Festival were sold out a month before it started. In fact, it received high praise, plus private letters from audiences asking about the drama.
This year, DPAC will be restaging this passionate performance, beautifully expressed in a masked theatrical play on the virtues of filial piety accompanied by folksy live music, and inspired by the heartfelt story of Wang Yi-Min who spent all his life with his mother in a village in Liaoning, China.
Watch the 74-year-old man takes his 99-year-old mother on a journey across China. Starting in Heilongjiang, they set off for Tibet on a 900-day journey spanning over 30,000km.
His mother, who had toiled her entire life for her family, has never travelled out of her rural hometown. The man is determined to fulfil his mum's wish to see the beauty of the world while she still can. Together, they travel on a rickety tricycle, pedalling through rural villages and fast-paced cities, valleys and over hills. As they ride on, he discovers that staying by his mum's side is the greatest reward he can give to both of them.
Such is the rich tapestry of Yi-Min, an old farmer. Born in 1932, he has spent all his life with his mother, a Manchurian, a sanguine woman who never complained about destiny. Instead, she deals with it with optimism.
Yi-Min's mother is healthy. Even at 99, she is clear-headed with near-perfect sight and hearing, and very much intrigued by the world outside.
When Yi-Min's wife passed away, and with his children all grown up and have families of their own, he started to contemplate the idea of travelling out of his village.
He asked his mother if she wanted to travel with him, and laid out a map. She drew a line on it, saying she would like to visit Tibet, no matter how far away it is, declaring "as long as we keep walking, we will reach our destination".
To fulfil his mother's wish, Yi-Min remodelled a tricycle, gathered his entire savings of 30,000 yuan (RM17,926) and another 10,000 yuan that his children had contributed, and embarked on a journey across China with his mother. He had no idea what would happen, certain only about the start and the ending point of their journey.
At times, they stayed in places at a mere five yuan, and at other times, they spent nights on the streets. They faced immense challenges, but also experienced joy when overcoming obstacles. His mother's words of encouragement fuelled Yi-Min's determination to keep going.
Word of Yi-Min and his mother's journey started to spread across the country, and the mother-and-son duo became the focus of every news media outlet. Riding his tricycle, spurred on by his confidence, determination and filial piety to his mother, he rode 30km everyday, covering a total distance of over 30,000km by the time his three-year journey was completed.
Director Rensen Chan Man Kong said Travel with Mum hopes to highlight the "filial piety" that is gradually forgotten by most people.  
"We always take what we have, take it for granted, and when it is lost, it is irreparable. We also urge everyone to cherish the present," said producer Jo Ngai Yee Shan.
About The Nonsensemakers
A prolific independent professional theatre company in Hong Kong, it has produced more than 70 showcases since 1990, with many of them winning the Hong Kong Drama Award. The troupe is known for creating outstanding works, making theatrical performances an integral part of people's lives.
Date: Sept 20-23
Time: 8pm, Sept 20–22; 3pm, Sept 22-23
Venue: Theatre, Damansara Performing Arts Centre, H-01, Empire Damansara, Jalan PJU8/8, Damansara Perdana, Petaling Jaya, Selangor
Tickets: RM128/RM98
Travel with Mum is performed in Cantonese with English and Chinese subtitles.