This article first appeared in The Edge Financial Daily, on July 9, 2018.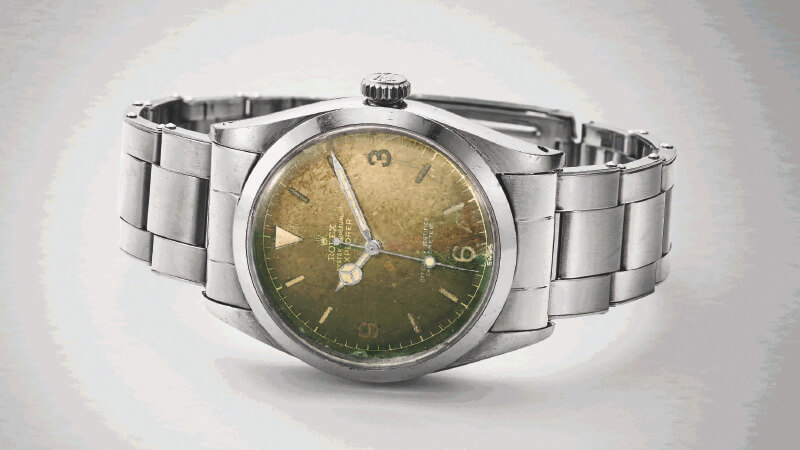 There are various theories about why some dials go 'tropical' like this: faulty paint, temperatures or exposure to sunlight.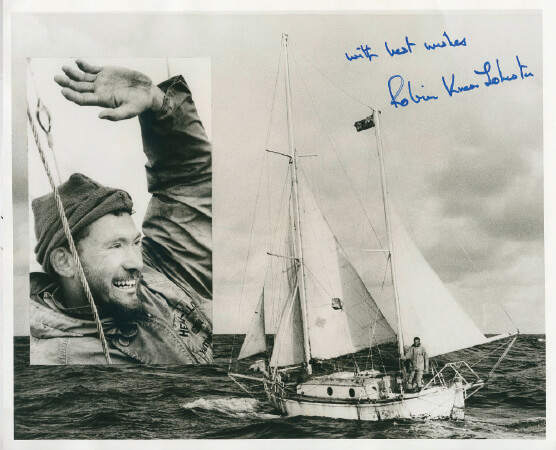 Knox-Johnston aboard 'Suhaili'.
In 1969, Sir Robin Knox-Johnston became the first person to sail single-handedly around the world without stopping. He completed his record-setting, 312-day circumnavigation in April of that year, only three months before another team of voyagers set sail for a different round trip into the unknown. Knox-Johnston's voyage was entirely low-tech, self-funded and entirely analogue. He was, at times, cut off entirely from contact with the rest of the world in a 9.75m sailboat he built himself, navigating by the stars and sun, using a sextant and chronometer. On his wrist? A Rolex Explorer.
A couple of years ago, I wrote a story about the Rolex worn by Sir Francis Chichester, who completed own solo circumnavigation in 1967, with one stopover in Australia. Chichester's accomplishment was groundbreaking but it left one thing yet to be done: sail around alone without stopping. The Sunday Times newspaper announced a race, the "Golden Globe", to see who could do it and offered a £5,000 prize to the winner. Nine sailors entered the race. Six of them retired or lost their boats, one man went mad and jumped into the sea, and one abandoned the race to continue sailing to Indonesia. This left only Knox-Johnston to finish, sailing back to England to become the winner.
For solo circumnavigation in the 1960s, there's no GPS, radar navigation, Gore-tex, carbon fibre, LED headlamps, Red Bull or GoPro. Knox-Johnston built his Bermudan ketch, Suhaili, while living in India in the early 1960s, using locally sourced teak wood. He decided to enter the race when he heard that Frenchman Bernard Moitessier was competing and thought it would be good if an Englishman won.
Knox-Johnston told me that he acquired his Rolex Explorer, reference 6610, in Kuwait in 1961. It would have been a logical choice for a man who needed something sturdy he could set and forget during long trips at sea in the tropics. No date, no fuss and with water resistance to spare. By that time, the Explorer had been in Rolex's line-up for seven years. It was evolved from, and inspired by, the Oyster Perpetual worn on the British expedition to summit Mount Everest in 1953.
The Explorer, along with Suhaili and Knox-Johnston himself, survived tremendous challenges during his 312 days at sea.
Looking at his Rolex Explorer, you can see evidence of its tough life at sea, most noticeably in the dial, which has faded almost entirely from its original black to the point that the Arabic numerals are all but disappearing. There are various theories about why some dials go "tropical" like this: faulty paint, temperatures or exposure to sunlight. Given the time this watch spent on the wrist of a sailor who has spent perhaps more time than anyone on the deck of a boat in hot sun, I'm inclined to side with the ultraviolet light theory. It's a dial effect collectors yearn for, but one that must be earned on the wrist, doing adventurous things. This one now enjoys a dry retirement in Rolex's Geneva archives, still fitted on its original riveted Oyster bracelet.
Interestingly, Knox-Johnston's primary competitor in the Golden Globe, Bernard Moitessier, also wore a Rolex during the race, a reference 1675 GMT-Master, and it could be seen in several photos of him onboard his boat, Joshua. The whereabouts of that watch are currently unknown.
Hodinkee is the pre-eminent resource for modern and vintage wristwatch enthusiasts. Through in-depth reviews, live reports and dynamic videos, Hodinkee is bringing watches to a 21st-century audience. — Bloomberg
---
Originally published on Hodinkee.