This article first appeared in The Edge Financial Daily, on June 21, 2018.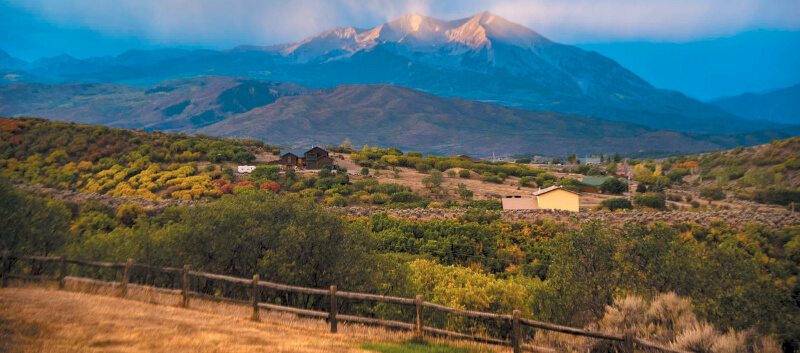 A view of the Rockies from Carbondale.
Barely 48km northwest of Aspen, in the shadow of the majestic Elk Mountains, tiny Carbondale is becoming Colorado's most exciting summer destination. True, the town has more family-owned cattle ranches than Michelin stars, and there are still more farm stands than white tablecloth spots. The restaurant best poised to elevate the town's status doesn't even have a proper dining room.
Instead, at the Guest House, former French Laundry chef Seth O'Donovan serves her experimental farm dinners outdoors, usually next to a horse paddock or in a roomy tree house that surveys 486ha of pristine Colorado pastures. Meals include savoury links of deer sausage served with soft house-made cheese and a mind-bending dessert of carrots with butter and cinnamon, cooked to the point where they almost resemble pie filling. Those who come for her experimental starlit dinners can roll into an assortment of rustic cabins on the property, many of which date back to the 1940s. In two years, O'Donovan aims to turn the main house on her property into a five-star eight-room hotel.
The simple life
A small ranching town with a population of 6,000, Carbondale has been, for many years, Aspen's folksy, less sophisticated little sister. However, as Aspen's image has shifted from glamorous to oversaturated and even out of touch, insiders have been turning to Carbondale as a refreshingly intimate alternative. What it lacks in ski access and five-star resorts, it makes up with raging creative energy and access to artisanal food suppliers — not to mention average homes well below US$6 million (RM24.06 million). (The average home here runs closer to US$800,000.)
Given their proximity, though, Aspen and Carbondale have much in common. Like Aspenites, Carbondale residents claim easy access to high-altitude hiking and whitewater rafting, as well as a world-class art museum. Its food scene has been booming since 2003, when Mark Fischer left his post at Aspen's beloved Little Nell and opened Six89, a now-shuttered fine dining spot known for its herb-roasted Alaskan halibut and home made gnocchi.
Afloat on Roaring Fork River
If Aspen is a wintertime playground, Carbondale is its summer foil. On the Roaring Fork River, flowing through Aspen and Carbondale along Highway 82, there is excellent trout fishing, whitewater rafting and stand-up paddling. It is also scenic: The surrounding wetlands are a protected nature preserve; on your way down river, you will pass herds of elk and colonies of great blue heron.
Frank Scotti, 41-year-old founder of Nomad Inc, is the town's de facto adventure concierge. For years, he has made a name on heli-skiing trips to Chile or surfing itineraries in Costa Rica, but now he is finding just as much success at home in the Carbondale valley. "Helicopter flightseeing tours are huge for us," Scotti says. "We have waterfalls, wildlife and the Marroon Bells, which I've been told are the most photographed peaks in Colorado."
In keeping with the destination's culinary-meets-adventure appeal, Scotti will also plan "white-glove picnics" at such places as Cedar Ridge Ranch, Rock Bottom Ranch, and O'Donovan's Guest House. They are elaborate set-ups created in partnership with local chefs, using ingredients such as native wild greens, homemade pickles and freshly laid eggs — ideal to unwind after a morning full of thrills.
Chefs and farmers unite
In the years since Six89 closed and the Guest House opened, Carbondale has seen steady growth in ambitious chefs and farmers. "You have a lot of people, either on farms or in restaurants, who really care about quality, presentation and hospitality," says Erin Cuseo, 33-year-old proprietress of Erin's Acres Farm on Highway 82, who has built a reputation supplying chefs with such specialty ingredients as edible chrysanthemum, pak choi and romanesco. "It is wonderful, because we are building community around food." One of her clients is Silo, a local institution that purveys the valley's most famous breakfast sandwich. (The "King of Convenience" is a formidable stack of eggs, smoked cheddar, sautéed greens and bacon on a home-made brioche bun.)
A burgeoning hotel scene
Luckily for travellers, Carbondale welcomed its first boutique hotel in 2016: the Marble Distilling Co with four rooms housed in a vodka distillery, with a massive copper tank visible through the bar window. The service is no-frills, but the rooms are surprisingly plush, with remote-controlled fireplaces and minibars with martini shakers.
Avalanche Ranch, meanwhile, is a dreamy farm on the edge of town, where guests can browse antiques in a barn or practise yoga with a view of Mount Sopris. Its 13 log cabins and three novelty covered wagons have an unplugged feel — just what you want after soaking in the property's idyllic thermal pools.
When it opens in 2020, the eight-room Guest House will be Carbondale's most luxurious proposition. O'Donovan describes the aesthetic as "high-design" and "French-inspired", with antiques and polished wood, an open kitchen, and even a glass-walled cheese-making room.
The Guest House is already a destination unto itself. Before mealtime, patrons can take a lesson in yogurt-making, milk the farm's water buffaloes, check on the property beehives, or wander into the on-site blacksmith shops, where the hotel's bed frames will be designed.
Currently, O'Donovan is harvesting 92% of her own ingredients, including tomatoes that she ferments into vinegar and an ancient grain called kernza — the basis of extra-springy cavatelli, served with nettle pesto. — Bloomberg