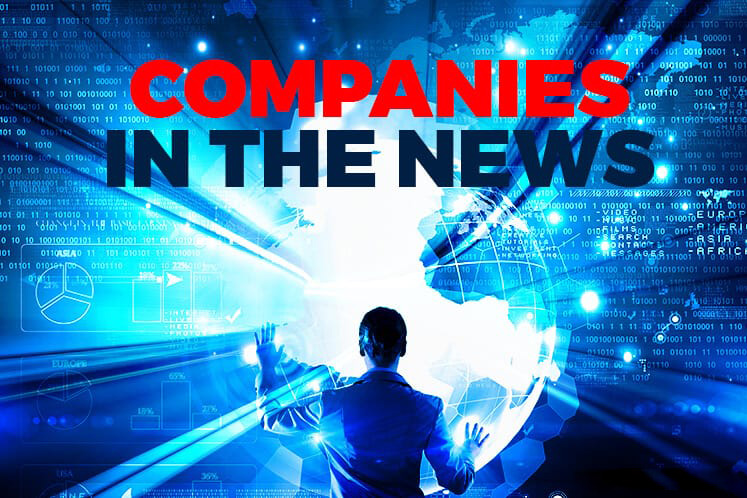 KUALA LUMPUR (June 7): Based on corporate announcements and news flow today, companies in focus on Friday (June 8) may include: Astro Malaysia Holdings Bhd, Straits Inter Logistics Bhd, Utusan Melayu (Malaysia) Bhd, Kretam Holdings Bhd, Aluminium Company of Malaysia Bhd, Johan Holdings Bhd, Hartalega Holdings Bhd, Axis Real Estate Investment Trust, Telekom Malaysia Bhd, CCM Duopharma Biotech Bhd, Vsolar Group Bhd and PUC Bhd
Astro Malaysia Holdings Bhd's group CEO Datuk Rohana Rozhan has given notice of her resignation, which will take effect from Jan 31, 2019.
Astro said Rohana's resignation notice was due to her intention "to pursue other goals".
The group said she will remain on the board as a non-executive director.
In line with the group's succession plan, the board has approved the appointment of Henry Tan as Rohana's successor.
Straits Inter Logistics Bhd is acquiring a 55% stake in Tumpuan Megah Development Sdn Bhd, which has similar core business activities as Straits, for RM35.75 million.
Straits said the acquisition will be satisfied via a combination of RM7.8 million in cash and RM27.95 million via an issuance of 116.46 million new shares at an issue price of 24 sen per share.
Straits signed a conditional share sale agreement with Raja Ismail Raja Mohamed for the proposed acquisition, which is expected to be completed by the fourth quarter of 2018.
Loss-making Utusan Melayu (Malaysia) Bhd has appointed Umno politician Datuk Abdul Aziz Sheikh Fadzir as its executive chairman effective immediately.
Abdul Aziz's appointment comes more than two weeks after the voluntary resignation of four directors — chairman Tan Sri Mohamad Fatmi Che Salleh, Datuk Seri Tengku Sariffuddin Tengku Ahmad, Jamalul Kiram Mohd Zakaria and Mohd Yusof Abu Othman.
Abdul Aziz, 55, is also Kretam Holdings Bhd executive chairman.
Aluminium Company of Malaysia Bhd (Alcom) sees aluminium prices staying above US$2,000 per tonne for the next six months.
Aluminium prices are fluctuating more than fundamentally justified, its chief executive officer-cum-president Heon Chee Shyong said, adding that "it is rather geo-political influenced at the moment".
For its prospects, the aluminium sheet and foil products maker expects a strong year for its financial year ending Dec 31, 2018 despite geopolitical risks and external headwinds.
Johan Holdings Bhd slipped into the red in its first quarter ended April 30, 2018 with a net loss of RM4.49 million compared to a net profit RM9.13 million a year earlier, mainly due to lower fair value gain derived from investment securities.
Revenue for the quarter fell 15.4% year-on-year to RM26.35 million from RM31.13 million.
The group attributed overall losses to lower fair value gain derived from investment securities, and lower revenue from its hospitality and card services businesses.
Hartalega Holdings Bhd said it has invested over US$10 million (about RM39.76 million) to develop its antimicrobial gloves and expects to make further investments for future enhancements to the product.
Nitrile glove producer Hartalega said that the "non-leaching antimicrobial glove" was developed in collaboration with Chemical Intelligence UK. Hartalega said the antimicrobial glove has built-in antimicrobial technology, proven to kill microorganisms in order to prevent the spread of infections.
Hartalega said the product is set to be available in hospitals around the world and is being produced at a low cost, in order to reduce barriers to access.
Axis REIT Managers Bhd, the manager of Axis Real Estate Investment Trust, is acquiring two freehold industrial properties in Iskandar Malaysia, Johor for RM38.7 million.
The properties, with land area of 1.8344ha and 0.494ha, both comprise single-storey detached factories, mezzanine offices and ancillary buildings.
Priced at RM31.5 million and RM7.2 million respectively, they are located at i-Park, Indahpura, a gated and guarded industrial park at one of the main development corridors of Iskandar Malaysia.
The target completion of the property is by the third quarter of 2018.
Telekom Malaysia Bhd (TM) has established a wholly-owned subsidiary in Dubai to focus on regional sales in the Gulf nations of United Arab Emirates, Qatar, Bahrain, Kuwait and Oman.
Registered as Telekom Malaysia DMCC, TM said the new subsidiary is based in the Dubai Multi Commodities Centre (DMCC), a free trade zone.
TM, which provides fixed line services, said Telekom Malaysia DMCC has an issued capital of 50,000 UAE dirhams (RM54,100).
CCM Duopharma Biotech Bhd has secured a revolving credit-i murabahah of US$20 million from Oversea-Chinese Banking Corp (OCBC) to finance its acquisition of a 8.39% equity interest in South Korea-based PanGen Biotech Inc.
CCM Duopharma said apart from financing the proposed acquisition, the revolving credit facility will be utilised for general working capital requirement and other investments.   
The rationale for the proposed acquisition is to gain rights to market biosimilar products developed by PanGen Malaysia, Brunei and Singapore, with the first right of refusal to extend it to other Asean countries.
The external auditor of Vsolar Group Bhd has voluntarily resigned due to its stretched resources and inability to cope with the group's stringent reporting timeline.
Vsolar said the resignation of Siew BoonYeong & Associates (SBY) will take effect 21 days from today.
Vsolar is in the midst of identifying new auditors.
PUC Bhd has proposed a private placement to raise about RM29.1 million, the bulk of which will be used for its intended investment in Celcom Planet Sdn Bhd (11Street Malaysia).
The amount to be raised is based on an indicative issue price of 18.3 sen per placement share and 159.2 million placement shares.
Upon completion of the placement, the enlarged capital base is expected to strengthen the financial position and widen its shareholders' base.
The placement will be submitted within one month and is expected to be completed by the fourth quarter of this year, subject to the relevant approvals obtained.