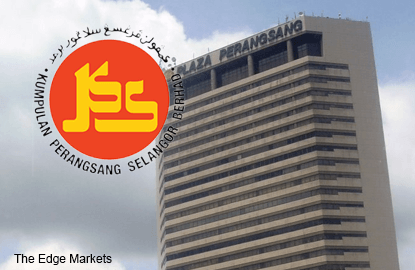 KUALA LUMPUR (Aug 11): Kumpulan Perangsang Selangor Bhd (KPS) plans to take Century Bond Bhd private for RM210 million or RM1.75 per share.
In a filing with Bursa Malaysia today, KPS said its unit, Perangsang Packaging Sdn Bhd, is acquiring 85.73 million shares or a 71.44% stake in Century Bond, for RM150.03 million.
Perangsang Packaging is acquiring the shares from Century Bond's major shareholder, CB Equities Sdn Bhd, and its affiliate. The share sale, however, is conditional upon KPS obtaining approval of its shareholders at its forthcoming general meeting.
Upon completion, KPS will launch a mandatory general offer (MGO) on the major player in the industrial packaging and contract manufacturing sector in Southeast Asia.
The MGO entails the acquisition of the remaining shares in Century Bond, amounting to 34.27 million or a 28.56% stake which it does not own for RM59.97 million or RM1.75 per share.
The offer price of RM1.75 represents a four sen or 2.3% premium to Century Bond's latest closing price of RM1.71 today.
KPS said it does not intend to maintain listing status of Century Bond.
"KPS continuously evaluates business opportunities to further bolster its financial performance. In pursuing opportunities that position KPS for sustainable growth and value creation, we believe that the proposed acquisition will fit into its business strategy in the long term and create value for its stakeholders," KPS said.
It added that the proposals are expected to provide KPS with an additional revenue stream from Century Bond's business, and will potentially enable it to take advantage of opportunities as economic conditions improve.
In a separate statement today, KPS chief executive officer Ahmad Fariz Hassan said the latest acquisition marks the group's third proposed acquisition this year.
According to Fariz, Century Bond has shown steady financial performance, with healthy margins as well as cash reserves, and thus has the ability to pay out dividends.
"In addition, its position as market leader, coupled with further growth potential regionally, integrates seamlessly with our investment strategy, moving forward," he added.
Meanwhile, Century Bond managing director Tan Siew Kim said the offer from KPS will allow it to reward its shareholders for their loyalty over the years.
"I believe that the successful completion of this deal will result in a highly beneficial outcome for all parties concerned. I look forward to handing over the reins to KPS and their team," he added.
"It has been a long and challenging journey for the management team at the group, building our business into what it has become today... Much effort was put in to not only grow our business, but also meet the expectations of our stakeholders who have stuck by us through thick and thin," Tan said in a separate statement.
Century Bond has a proven track record of revenue generation, despite challenging market conditions, which has firmly established their reputation for quality in the industry.
Its paper bag products currently lead its top-line growth, however over the years, capital expenditure has been invested to produce flexible plastic packaging products, as well as corrugated carton boxes.
Consequently, Century Bond has achieved a financial track record of sustained profits, achieving a consistent net audited profit of approximately RM15 million each year, during the same period, resulting in double digit earnings before interest, tax, depreciation and amortisation margins of around 15%.
Both Century Bond and KPS were suspended from trading in the afternoon trading session, pending the material announcement.
Century Bond shares last closed up three sen or 1.79% at RM1.71 today, for a market value of RM205.2 million. Shares in KPS, meanwhile, closed up one sen or 0.91% at RM1.11, giving it a market capitalisation of RM548.9 million.