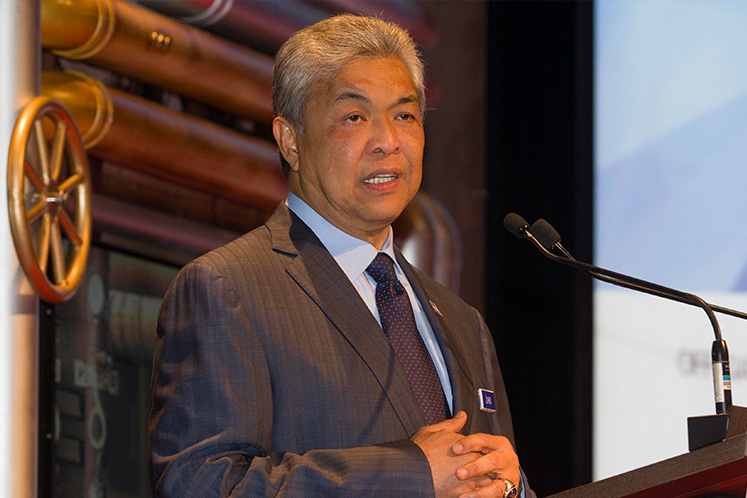 PUTRAJAYA (Oct 11): UMNO president Datuk Seri Dr Ahmad Zahid Hamidi will again go to the Malaysian Anti-Corruption Commission (MACC) here tomorrow to give statements for the fifth time to assist in the investigation into the funds of a foundation.
Ahmad Zahid, who was the former Deputy Prime Minister, said he would come much earlier to give the statement.
"Tomorrow I will come again, probably much earlier at about 9 am.
"I thank the friends from the media who had taken the trouble to wait from morning, and I deeply appreciate the loyalty of friends from the media for covering the case," he told reporters after having completed giving his statement after almost nine hours today.
Ahmad Zahid, who was also a former Home Minister, arrived at 9.15 am today and left the premises at about 6.10pm
At the same time, a statement was also taken from Ahmad Zahid's son-in-law, Datuk Saiful Nizam Mohd Yusoff, to assist investigations into the same case.
Also present was Ahmad Zahid's daughter, Datuk Nurulhidayah who was accompanying her father.
Scores of local and international journalists had gathered at the grounds of the MACC headquarters as early as 8am to cover the case.
Last Monday, Ahmad Zahid via his official Twitter website said he would give full cooperation to the MACC.
Yesterday, the UMNO president went to the same place to give a statement for the third time which lasted eight hours to assist investigation on the same case.
In July, Ahmad Zahid had given statements to the MACC twice regarding the same case.