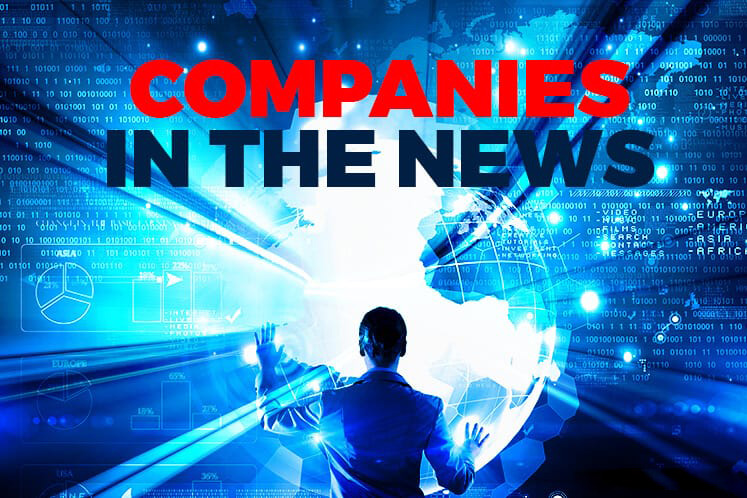 KUALA LUMPUR (Mar 27): Based on corporate announcements and news flow today, stocks in focus for Wednesday (Mar 28) may include the following: Yinson Holdings Bhd, CIMB Group Holdings Bhd, LPI Capital Bhd, Sime Darby Bhd, Country View Bhd, UEM Sunrise Bhd, Tenaga Nasional Bhd, Malaysia Airports Holdings Bhd, Dagang NeXchange Bhd, MCE Holdings Bhd and Harn Len Corp Bhd.
Yinson Holdings Bhd's scheduled work on an FPSO facility for the Ca Rong Do Field Development — Block 07/03 (CRD), located off Vietnam, has been temporarily halted due to a force majeure event.
The group said its joint venture company PTSC Ca Rong Do Ltd had received a notice dated March 25 from PetroVietnam Technical Services Corporation (PTSC) under the Bareboat Charter Contract on the matter.
CIMB Group Holdings Bhd expects strong growth momentum to continue for the group this year on the back of rising global optimism, according to CIMB's 2017 annual report.
In a message to shareholders, group chairman Datuk Seri Nazir Razak said there is more sense of optimism now than at any time since the global financial crisis, fuelled by the International Monetary Fund raising its global growth forecast to 3.9% for 2018 and 2019 (2017: 3.7%), riding on synchronised global recovery, buoyant trade and financial markets and US tax reforms.
This year, CIMB expects ASEAN to grow by 5.1%, with Malaysia, the group's biggest market at 5.2%, and its second biggest market, Indonesia, at 5.3%.
LPI Capital Bhd said it expects the impact from Bank Negara Malaysia's phased liberalisation framework not to significantly weigh on the group's performance.
"While underwriting margins will be compressed due to competition, we are confident that with our strategic plans in place, the impact on our overall performance may not be too significant," said co-chairman Tee Choon Yeow, while addressing questions raised at the group's annual general meeting here today.
Sime Darby Bhd's indirect unit Sime Darby Engineering Sdn Bhd (SDE) was ordered to pay Malaysia Marine and Heavy Engineering Sdn Bhd (MMHE) damages for claims in relation to a dispute over two fabrication yards. No specific sum was mentioned.
Sime Darby Bhd said SDE had on March 19, received a notification from the Asian International Arbitration Centre that its Arbitral Tribunal had issued its award to MMHE. SDE is in the process of reviewing the award.
Country View Bhd is acquiring a plot of 163.92-acre land in Iskandar Putri, Johor from UEM Sunrise Bhd for RM310 million to undertake a commercial development. The acquisition will be partially funded by the disposal of two plots of land in Kedah for a total of RM119.9 million.
The group expects to generate a gross development value of RM1.26 billion from the development which would comprise 463 resort-linked villas, 182 shop-offices and two commercial plots of land.
Work is expected to commence in 2020 after approvals from the relevant authorities have been obtained, and the entire project is scheduled to be completed in seven years.
Tenaga Nasional Bhd (TNB) has signed six large-scale solar photovoltaic power purchase agreements (PPAs) with special purpose companies (SPCs) that won bids organised by the Energy Commission in the first quarter of 2017.
TNB said each SPC will design, construct, own, operate and maintain a solar photovoltaic energy-generating facility with the approved capacity at its proposed location.
The SPCs include Kenyir Gunkul Solar Sdn Bhd's 29.99-megawatt capacity (Mwac) facility in Dungun, Terengganu, with a scheduled commercial operation date of Dec 31, 2019.
Others are Idiwan Solar Sdn Bhd (30 Mwac) in Machang, Kelantan (Sept 30, 2020), BGMC BRAS Power Sdn Bhd (30 Mwac) in Kuala Muda, Kedah (Sept 30, 2020), Viva Sola Sdn Bhd (30 Mwac) in Sik, Kedah (Dec 31, 2020), Cypark Estuary Solar Sdn Bhd (30 Mwac) in Empangan Terip, Negeri Sembilan (Dec 31, 2020), and Cove Suria Sdn Bhd (30 Mwac) in Empangan Kelinchi, Negeri Sembilan (Dec 31, 2020).
Malaysia Airports Holdings Bhd (MAHB) is exiting the airport business in the Maldives via the disposal of its entire 23% stake in GMR Male International Airport Ltd (GMIAL) for US$7.3 million (RM28.5 million).
MAHB expects to realise a gain of US$7.3 million from the sale as the total carrying value of GMIAL in the airport operator's book has been fully impaired in 2014.
The airport operator had invested a total equity of US$6.9 million for the 23% shares in GMIAL, which holds a 25-year concession to operate the Ibrahim Nasir International Airport in Maldives.
Dagang NeXchange Bhd (DNeX) will work with the Department of Education Region V and Naga City of the Philippines to jointly develop a halal park there.
DNeX, through its wholly-owned subsidiary Global Market eCommerce Sdn Bhd, had recently signed two Memoranda of Understanding (MoUs) with the parties to jointly develop the halal park.
Under the MoUs, DNeX is given the exclusive right to undertake several initiatives for the halal park including research and development and certification of product and services within the park.
MCE Holdings Bhd has secured contracts to supply various electronics and mechatronic components and parts for new Proton car models.
MCE said the supply of these parts by its wholly-owned unit, Multi-Code Electronics Industries (M) Bhd, is for 10 years, commencing in the first quarter of its next financial year ending July 31, 2019 (FY19).
The projects could generate a total revenue of RM62 million for the group over the 10-year period, said MCE. There will be no material impact on its earnings for FY18. Total investment cost is estimated at RM4.8 million.
Harn Len Corp Bhd has proposed to take over as the exclusive contractor for five of its plantation units, allowing it to develop and manage their oil palm plantations for 25 years.
Under related party agreements signed today, Harn Len would assume an estimated cost of RM46 million in exchange for the share of fresh fruit bunch (FFB) production.
The group said the cost would be settled via a cash payment of RM19 million on a deferred basis, and FFB entitlement sharing agreed between Harn Len and the respective companies.