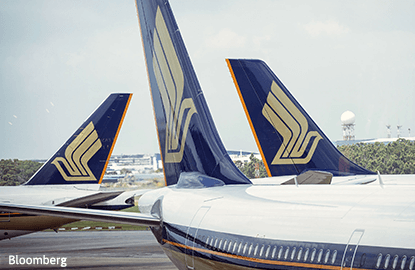 SINGAPORE (Oct 18): Credit Suisse says competitive pressure will remain on Singapore Airlines' passenger yield although the investment bank likes its strategy of portfolio of airlines and multi-hub strategy.
"We think the 2Q FY17 operating statistics point to a tough competitive environment and will present traffic and yield pressures to SIA in the near term," says lead analyst Christopher Siow in an Oct 18 report.
SIA last night reported operating statistics for 2Q17, where load factors fell across SIA's portfolio airlines on weaker passenger demand and strong competition.
Passenger traffic declined 4.6% from a year ago and load factor fell 3.3 percentage points for the parent airline, with the greatest drop in load factor (3-5 percentage points) on its long-haul regions (Europe/South West Pacific/Americas).
Cathay Pacific recently announced that expectations of a better 2H16 group profit than 1H16 do not hold, due to a deteriorating outlook.
"While we think CX faces greater competitive pressures from Chinese carriers and headwinds from its hedging policy, this suggests a muted outlook for 2H CY16 for SIA too," says Siow.
Credit Suisse is cutting earnings estimates 7-20% on lower yield and traffic expectations, and downgrade SIA to "Neutral" with a new target price of S$10.10 on 0.9x P/B, equivalent to 1 SD below the post-GFC historical average.
Shares of SIA are down 10 cents at S$10.22.