This article first appeared in The Edge Malaysia Weekly, on November 27, 2017 - December 03, 2017.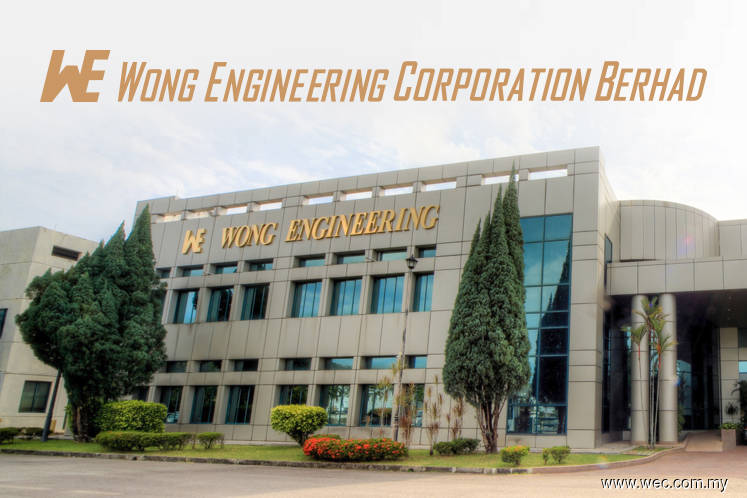 WONG Engineering Corp Bhd (WEC), a Kedah-based manufacturer of high-precision metal stamped parts, last paid dividends in 2010, but aims to resume payments as its financials improve.
Over the last seven financial years, WEC fell into the red four times — including the three consecutive years from financial year ended Oct 31, 2013 (FY2013) — with losses adding up to over RM14 million.
This was partly attributed to the implementation of minimum wage, removal of oil subsidies and weakening of the ringgit against major currencies, which increased production costs and overheads.
However, things have been getting better for WEC since Ong Yoong Nyock — founder and managing director of Tiong Nam Logistics Holdings Bhd — and his brother-in-law Yong Loy Huat emerged as substantial shareholders in late August last year.
Despite the drawbacks and the challenging environment, Yong, 62, who was appointed managing director of WEC last November, managed to mitigate increasing costs through various cost-reduction initiatives as well as maintain prudent policies throughout the company's supply chain.
As a result, WEC saw its net profit more than quadruple to RM3.6 million in the nine months ended July 31, 2017 (9MFY2017) from RM844,000 a year ago.
In Yong's first exclusive media interview since he took the helm, he reveals that the WEC board is considering a final dividend for the last quarter of FY2017.
"If everything goes well, this is going to be the company's first dividend in seven to eight years. Today, we have the ability to pay dividends again because our financial performance has improved and our gearing remains low," he tells The Edge.
The dividend to be proposed, however, is still subject to shareholders' approval at the company's annual general meeting early next year.
"We have been working relentlessly over the past year, so it is time to reward ourselves. We have spent a lot of time, money and effort on the company. I think the shareholders will scold me if we don't pay dividend soon," he says, half in jest.
The company last paid a first and final tax-exempt dividend of one sen for FY2009 on May 10, 2010.
Yong, who was redesignated CEO of WEC in March, has more than 36 years of experience in general construction and development of projects in the industrial, commercial and residential markets nationwide. A notable example is a RM100 million project involving the conversion of the 23-storey Plaza Atrium in Kuala Lumpur into 163 units of serviced apartments.
WEC, headquartered at Kulim High Technology Park, designs and manufactures high-precision metal stamped parts and sheet metals. It also supplies complex welded frames structure, related modules and system.
Yong highlights that WEC's clients are mainly multinational corporations and corporate giants that are listed on the New York Stock Exchange, Nasdaq and the Stock Exchange of Singapore.
"About 70% of our group's revenue is contributed by clients from the semiconductor industry. Their market caps range from US$10 billion to US$20 billion," he says.
To recap, Tiong Nam Logistics' major shareholders, namely TNTT Realty Sdn Bhd and Ong, made an unconditional mandatory takeover offer for WEC at 65 sen per share last August.
The takeover offer was launched after TNTT Realty, together with Ong and parties acting in concert, collectively acquired a 53.56% stake in WEC.
The share purchase had sparked speculation that Ong and Yong might inject their privately-owned property development and construction businesses into WEC.
Asked about the possible asset injection, Yong replies, "At the moment, we don't intend to inject our private businesses into WEC. We want to make it a clean and transparent company. We want this company to build its own track record."
Yong acknowledges that although he and Ong are not familiar with high-precision metal works engineering, they see the potential in WEC's manufacturing business.
"Business has picked up quite well since we took over the company a year ago. We have improved the efficiency in production with the existing team. The fixed cost is there, so if we can hit a certain threshold [in sales and production], we should be able to make good profits in the coming years," he says, confidently.
On the prowl for mergers and acquisitions
Yong says that as WEC has a clean balance sheet with low gearing, it is open to mergers and acquisitions (M&A), especially with non-listed companies that are involved in high-precision metal engineering.
"This is the fastest way to grow our company. The potential M&A targets have to be financially healthy. We need to create synergy and complement each other," he stresses.
WEC saw its gearing reduce to 2% in 9MFY2017 from 7.7% in FY2015 and 4.6% in FY2016.
"We decided on day one that to revive this company, we would not make a cash call. Instead, we would bring in new revenue and profits," he adds.
Yong reiterates that while WEC is on the lookout for M&A, the company has no plan to dispose of its manufacturing business, as high-precision metal stamped parts will remain its core business for now.
"We just bought a laser machine for RM2 million in end-August, that shows just how committed we are to revive the manufacturing business. The upcoming machine will also cost us another few million. We are still working out our future capital expenditure and we will continue to improve efficiency," he says.
It is worth noting that in July, WEC announced that it plans to sell freehold tracts in Butterworth, Penang, together with a four-storey light industrial office and factory erected thereon for RM5.05 million.
According to Yong, WEC is expected to realise a one-off extraordinary gain of over RM2 million, which will be reflected in its books for the first quarter of FY2018.
"More importantly, our cash flow will improve significantly. We should be able to collect the payment by the end of this month or early next month," he says.
Year to date, WEC's share price has risen 63% to close at RM1.06 last Wednesday, giving it a market capitalisation of RM97 million. The counter is trading at a trailing 12-month price-earnings ratio of 28 times.
Yong attributes the share price rally to WEC's better earnings, as well as its recent contract win for its very first construction job.
"Our venture into construction has to be selective. We will make sure that we only undertake projects for developers who are good paymasters. We won't bite off more than we can chew," he explains.
In late October, WEC bagged an RM87.5 million contract to build two blocks of affordable housing apartments together with related facilities at the Kuchai Entrepreneurs Park.
The apartment blocks will comprise 556 units. The contract — which will be completed by May 15, 2020 — also includes the construction of a 31-unit hawker centre and an eight-storey car park podium.
"Barring any unforeseen circumstances, our profits next year should be better than this year. We can't speculate how much further our market cap could grow, but all I can say is, we are just getting started," Yong concludes.