This article first appeared in The Edge Financial Daily, on January 7, 2019.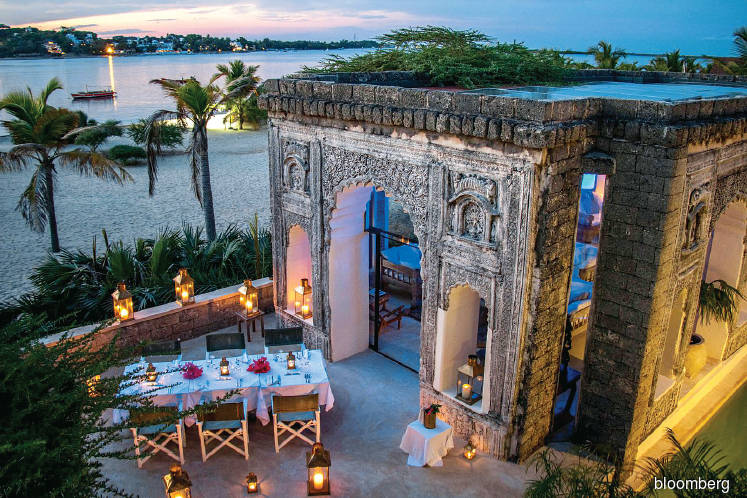 The Majlis hotel in Lamu, Kenya.
Chile's Atacama Desert, where a total solar eclipse will be visible in July.
Sailing through the Pantanal, in Central-West Brazil.
Silversands resort in Grenada.
Penguins in the Falkland Islands.
This year, treat your travel bucket list like your office to-do list and tackle the timeliest items first. That means sailing through Brazil's jaguar-filled (and newly luxurious) Pantanal while everyone else heads down the Amazon, and skipping overdeveloped Bali in favour of Bodrum, where a five-star-resort renaissance is under way.
Those are just two of 20-plus destinations to prioritise, all chosen by our trend-spotting editors and global correspondents for their so-hot-right-now status. Their draws include skyrocketing cultural cachet, major hotel openings, and new restaurants worth travelling for. We have accompanied each recommendation with exclusive data from Google and tips from our favourite travel specialists. As we have learned before, the ideal time to travel is not always related to cost.
Kenya
If you do not have the flexibility for a long trip but have always wanted to watch 1.7 million wildebeests thunder across the Maasai Mara, you can realise your wildest dream. A new non-stop route on Kenya Airways from New York's JFK to Nairobi makes the country's charms — witnessing the Great Migration, shopping for elaborate beaded jewellery, and riding camels in the desert more accessible to East Coasters than ever. The 14-hour flight lands in the capital in the morning, so you can make it to your safari camp in time for lunch and an afternoon game drive.
An hour by plane from Nairobi, you can be at the new Sanctuary Olonana, whose 14 glass-walled suites have wide decks facing the Mara River, or Beyond's recently rebuilt Bateleur Camp, where you can watch elephants graze while you bask in a crescent-shaped infinity pool. Alternatively, skip the savannah and head for Kenya's beaches, which are less developed than Zanzibar's or Mozambique's. Lamu — an island with a Unesco-protected, 14th century Swahili village and colourful sailboats lining its harbour — is an underrated favourite and well worth the extra (short?) trip. Get there fast: Just like Nairobi, the beach destination is benefitting from increased and affordable air travel, and crowds are sure to follow.   
Northern Chile
This summer, tackle two big bucket list items on one vacation. On July 2 a total solar eclipse will dazzle northern Chile, whose clear skies and lack of urban light make it one of the world's best stargazing regions. View the show from the Elqui Valley, where the boho-chic CasaMolle hotel recently opened, and local wineries include Tabali and Falernia. From there it's just a 90-minute flight to the otherworldly Atacama Desert.
Boutique travel company Upscape is offering a five-day itinerary that includes eclipse  viewing from a deluxe tented camp in Elqui, combined with an overnight in Santiago. Members-only travel club Prior has a two-week trip that runs from Patagonia up to Atacama, with a stop for skywatching at a mobile camp in the Araucania lakes region. And the high-end group tour specialist Intrepid has introduced an 11-day journey with "star" astronomer John Mason. Book quickly; opportunities like these may come once in a lifetime.
The Pantanal, Brazil
It is not as well-known as the Amazon, but the Pantanal, the world's largest wetland, harbours the greatest density of fauna in South America within its network of verdant marshes and river trails. The more than 1,000 species, including stalking jaguars, flamingo-like spoonbills, and mohawked tapirs, are concentrated in an area in Central-West Brazil the size of Kansas. Before now, limited transportation infrastructure made them difficult to come and see.
On new itineraries from Red Savannah, though, travellers can sail through the tributaries of the Paraguay River on the region's first luxury expedition ship. The MV Peralta has 10 glass-fronted suites, an upper-deck plunge pool, and Zodiac rafts for deeper explorations throughout the floodplain. Travellers can also touch down on a 28-seat private jet courtesy of TCS World Travel, which is adding the region to a trip designed to hit Brazil's many highlights.
Grenada
Grenada's run as an overlooked Caribbean destination comes to an end with the arrival of two game-changing resorts, both on powdery Grand Anse beach. The just-opened Silversands provides the island's first injection of St Barth-level sophistication. Its 52 rooms, suites, and villas are done in a minimalist, organic style, with pale wood floors and decks, white marble fixtures, and floor-to-ceiling windows. A dramatic 100m infinity pool cuts from the lobby all the way to the shore, while the two restaurants showcase the island's famous spices.
The resort will gain competition from an all-inclusive Royalton and Kimpton's Kawana Bay Resort, a glass-fronted, jungle-wrapped follow-up to the company's red-hot hotel in Grand Cayman. Plus, getting there just got easier as American Airlines has direct flights to Grenada from Miami, and Air Canada is making the five-hour trip from Toronto.
Falkland Islands
There are more penguins than people in this remote British territory near Antarctica. Still, the archipelago is better known as the site of a 1982 war between the UK and Argentina, which continues to claim sovereignty and calls the islands the Malvinas instead. With tensions between the governments easing, the Falklands are slated to become more accessible.
Rather than arrive on a cruise liner  you will soon be able to fly in on Latam Airlines via Sao Paulo. Also making it easier to explore the windswept islands are nature-focused, land-based tours from Intrepid Travel. Visitors stay in comfortable lodge-style accommodations in the capital of Stanley, a onetime cargo service centre that has become a surprisingly robust adventure hub. Surrounding the town are rugged landscapes for trekking, wide grasslands for four-by-four rides, and unexplored beaches filled with elephant seals and all those cute, waddling birds.
Chad
Your window for visiting Africa's next great frontier has only just opened, and already it is about to close. Chad, whose national parks had been blighted by poachers, is now the model for successful conservation. Nowhere is that more evident than Zakouma National Park. Between 2002 and 2010, all but 5% of the area's elephants had been gunned down for their ivory; now it is teeming not just with enormous herds of pachyderms, but with all the Big Five species. (Even the elusive black rhino has been reintroduced.)
Credit goes to African Parks, the trailblazing conservation organisation presided over by Prince Harry, which has worked with the local population to transform the area. The organisation runs the only two lodges in the park, a basic proposition called Tinga Camp and the far more swanky Camp Nomade. Booking the latter's six canvas-walled, zero-footprint tents makes for total seclusion: Guests wake up to the sound of roaring lions, survey the plains with expert guides, never see another safari vehicle, and enjoy elaborate meals by night. Come 2020 African Parks will begin limiting reservations to those travellers making substantial philanthropic commitments, raising the exclusivity of this epic experience while ensuring its protection for years to come.
Poland
Everywhere from Krakow to Lodz, Poland's next generation is embracing a wild streak of avant-garde creativity — largely a rebuttal to the nationalist government's far-right rhetoric. Get a front-row seat to the action by staying at Puro Hotels, a boutique brand that is growing fast and promoting local artists in each of its destinations.
In the seaside town of Gdansk, Puro's 211-room property welcomes guests with a mural by Polish painter Seikon in its eight-storey high atrium; in its forthcoming Krakow hotel, rooms will be decorated with works by five local illustrators who were commissioned to have an "emotional reflection" on their home town.
Focus your attention on the capital of Warsaw; it is emerging as a cultural hotbed with up-all-night beach clubs along the Vistula River and coffeeshop-lined boulevards near the city's modern art museum. A Puro opens there in April, but if you are taking your bubbe on an ancestral pilgrimage, put her up at the Raffles instead: The palatial property, fresh off a years-long renovation, has a gilded, midcentury aesthetic in its rooms, suites, and spa.
Kuala Lumpur
Travellers en route to Malaysia's idyllic islands usually bemoan a pit stop in the chaotic capital; now, with Kuala Lumpur upping its hospitality game to rival those of Singapore and Hong Kong, a layover here is part of the fun. The evolution started with some much-needed contemporary luxury hotels, including the city's first Four Seasons (the third tallest hotel in the world). Equally impressive is the 253-room RuMa Hotel and Residences, which opened in December with a cantilevered deck and infinity pool that offer one of the best views of the Petronas Towers.
This year Kuala Lumpur welcomes Exchange 106, slated to be the tallest building in Southeast Asia, as part of the emerging Tun Razak Exchange financial district. The culinary scene, once dominated by hawker stalls, has been elevated, too. Saint Pierre, a popular French restaurant from Singapore, serves Asian-accented bistro classics such as pan-fried foie gras with lychee and apricot. And Dewakan is driving traffic to an unassuming university campus for slow-cooked red snapper with temu (a root spice) and other dishes that spotlight indigenous Malaysian ingredients. — Bloomberg