THE average rental rates for some landed homes across Seberang Perai, Penang have increased by 10% and above, based on data from the National Property Information Centre's Property Market Report 2016.
Leading the list of residential areas in Seberang Perai with the highest rental increments in the landed homes segment were double-storey terraced homes in Taman Central (Central Park) in Seberang Perai Utara with an 18.8% rental rise, followed by 1-storey terraced homes in Taman Sungai Rambai, Seberang Perai Tengah with a 17.6% rental growth.
The other housing areas that made up the top 10 areas where their landed homes had experienced the highest rental change in 2016 from 2015 were Taman Limbungan Indah (16.1%), two in Bandar Putra Bertam (13.7% and 12.5%) and Taman Segar Indah (11.7%) in Seberang Perai Utara; Bandar Tasek Mutiara (13.3%) in Seberang Perai Selatan; and Taman Bukit Minyak Utama (13.1%), Bandar Perda (11.8%) and Taman Impian Ria (11.7%) in Seberang Perai Tengah.
Of these 10 areas, five are in Seberang Perai Utara, four in Seberang Perai Tengah and only one in Seberang Perai Selatan.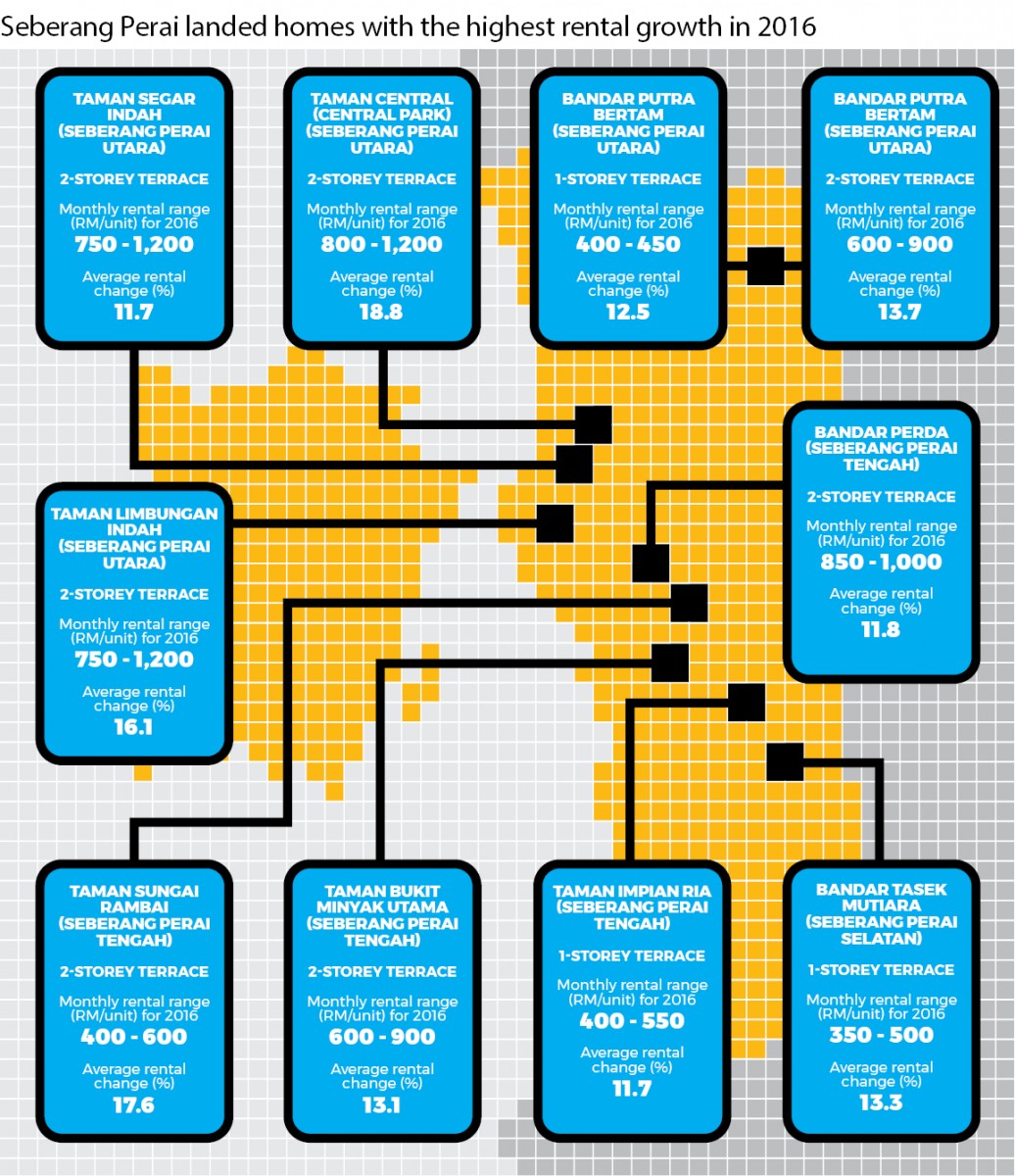 According to the Seberang Perai Municipal Council (MPSP) on its website, population growth on the mainland is an average of 2.2% annually, with the greatest growth in the northern and central parts of Seberang Perai.
As of 2017, the central district, which is the most populated district on the mainland, has about 445,180 residents while the northern and southern districts have 378,280 and 215,540 residents, respectively. By 2020, the population of Seberang Perai is estimated to reach over 1.1 million.
Henry Butcher Seberang Perai associate director Fook Tone Huat says one of the reasons for high rental growth on the mainland is high property prices, leading some to rent first.
The appreciation of property prices on the mainland has also driven up rental rates, says PA International Property Consultants (Penang) Sdn Bhd executive director Michael Loo.
"For instance, a 2-storey terraced house in Taman Central Park, sold at RM333,000 in 2011, was transacted at RM650,000 in 2016. Based on a yield of 2.5%, the rental rate would have grown from RM800 per month in 2011 to RM1,350 in 2016," he says.

According to On Realty real estate negotiator Chris Huah, the areas in Seberang Perai Utara registered the highest rental growth because Butterworth, the largest town on the mainland, is located here.
"Of the three districts — Seberang Perai Utara, Tengah and Selatan — the development of the northern district precedes the other two districts, so it has the most amenities and established infrastructure which drive rental growth," he tells EdgeProp.my.
Fook concurs, saying the development in Seberang Perai Selatan is slower because it is located slightly further away from the major townships of Butterworth, Perai and Bukit Mertajam.
"However, since the completion of the second bridge — Sultan Abdul Halim Mu'adzam Shah Bridge — the development in Seberang Perai Selatan has picked up especially in Simpang Ampat and Batu Kawan," he adds.
Industrial, commercial and education factors
According to Fook, the popular areas for housing rental in Seberang Perai are Perai, Seberang Jaya and Butterworth.
"Perai and Seberang Jaya are near industrial estates such as the Seberang Jaya Industrial Park and Prai Industrial Estate and near to town areas such as Butterworth and Bandar Sunway, Perai. They also contain myriad amenities and facilities such as public transport, government offices and shopping malls," he highlights.
PA International's Loo says industrial parks also generate high demand for foreign labour's accommodation in nearby housing areas.
"Most of the factory operators prefer to rent non-strata houses for their foreign workers because they are not restricted by any house rules. The housing schemes located near industrial areas usually draw better rental demands and enjoy good rental rates. For instance, Taman Imbungan Indah and Taman Segar Indah are housing schemes located 2km away from industrial parks.
"Bandar Putra Bertam and Bandar Tasek Mutiara are two new suburban neighbourhoods in Seberang Perai with some new commercial and industrial developments. These developments will create job opportunities, resulting in the rise in population and housing demand," he says.
Meanwhile, over in Seberang Tengah, the housing rental market in Taman Sungai Rambai is strong thanks to Jit Sin Independent High School and SMJK Jit Sin, according to On Realty's Huah.
"Jit Sin is one of the most prestigious Chinese schools in Penang, hence many parents will rent a home in that area — if they can't afford to buy — to put their kids to school. So the schools are the main draw for people to rent here," he says.
What about non-landed homes?
The rental performance for non-landed homes in Seberang Perai, however, did not fare as well as the landed homes. Only two projects managed to achieve more than 10% rental growth in 2016 — Pangsapuri Casa Prima (10.5%) and Pangsapuri Sri Pantai (Affina Bay) (10.7%).
According to Huah, Pangsapuri Casa Prima and Affina Bay have strong rental demand as tenants are attracted to their locations and unit built-up sizes.
"Pangsapuri Casa Prima is built on a bumi lot and has many nice facilities. The project is surrounded by government offices such as the Employees Provident Fund, Tenaga Nasional Bhd, MPSP and Universiti Teknologi Mara.
"Many government officers who are transferred to Butterworth will think of renting here. Besides, it has easy access to the North-South Expressway," he says.
As for Affina Bay, it is popular due to its large yet affordable units, offers Huah.
"Unit built-ups are up to 1,500 sq ft but rents are only RM1,500 or RM1 psf per month.
Tenants are paying less for a big space, compared to similar projects in the area.
"However, sales demand for Affina Bay is low as its facilities are only average," he adds.
Fook attributes the slow rental growth of non-landed homes to oversupply. "On the other hand, the supply for landed homes is limited while demand is high."
The situation is likely to remain unchanged in future as more non-landed homes are coming up. "High land cost has caused developers to build more non-landed homes instead," he says.
Catalysts on the mainland
Seberang Perai Selatan holds certain potential thanks to Aspen Vision City by Aspen Group, IKEA furniture store, KDU Penang University College and other upcoming developments in Batu Kawan, says Loo in PA International's Penang's Property Market Outlook in 2H17.
Beyond Batu Kawan, Tambun Indah Land Bhd is also developing a 1,140-acre Pearl City in Simpang Ampat.
Meanwhile in Seberang Tengah, MPSP has reported that it will be working with the Japan International Cooperation Agency and Yokohama City University to restore and rejuvenate Bukit Mertajam.
Over at the northern district, MPSP is also collaborating with Khazanah Nasional's wholly-owned urban regeneration organisation Think City to rejuvenate Butterworth under the partnership's New Butterworth Image Plan. Think City was established in 2009 to revitalise George Town's Unesco World Heritage Site.
"Think City has been helping to preserve George Town's cultural history while also creating an economically and socially vibrant city, so we know that the Butterworth town will not remain the same as before. The rejuvenation plan will eventually bring some excitement to this sleepy town and achieve a positive urban outcome," says Loo.
Another major catalyst for Seberang Perai Utara would be Penang Sentral, a transit-oriented development by Malaysian Resources Corp Bhd where phase 1 of the project is expected to complete by this year.
Outlook for home rental market
Overall, Huah and Fook foresee rentals for landed homes in Seberang Perai to continue being relatively stable, with monthly rents of between RM1,000 and RM1,500.
"Sought-after locations include Raja Uda, Butterworth, Perai and Seberang Jaya. When house prices increase, the rents would increase as well but at a slightly lower rate than price appreciation," Fook says.
Meanwhile, Loo says most locals in Penang prefer to own a house rather than rent. "They will eventually buy a house especially when they get married.
"Rental demand is mainly from foreign workers, expatriates and internal migrants, hence the rental market in Seberang Perai will not be as attractive as the market in Kuala Lumpur or Selangor, which have higher migration rates.
"Nevertheless, the Migration Report 2016 shows that Penang has the second-highest net migration after Selangor with a net migration of 12,000 persons in the 2015-2016 period. So the rental market may be more vibrant if the migration rate continues to increase," he opines.
This story first appeared in EdgeProp.my pullout on Oct 13, 2017. Download EdgeProp.my pullout here for free.