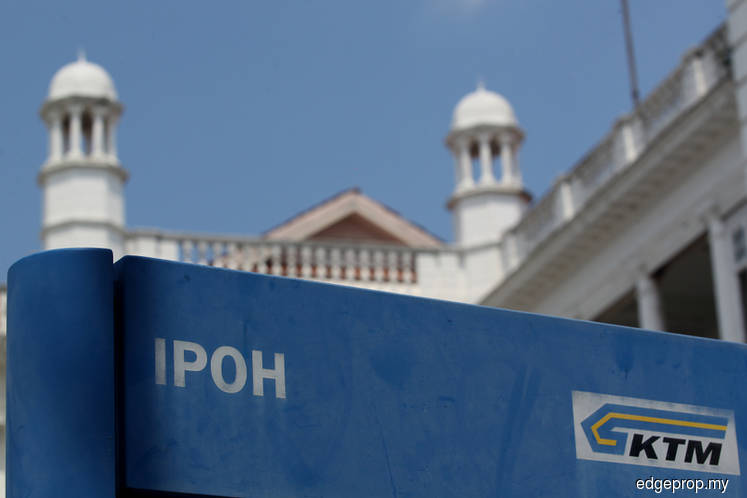 PETALING JAYA (Aug 8): The Perak Menteri Besar's (MB) Residence along Jalan Raja Dihilir, Ipoh could probably command between RM120 – RM150 psf based on previous transactions on the same street, the size of the land and its prime location.
Based on past real estate transactions along Jalan Raja Dihilir and another major road in the vicinity, vacant lands transacted in 2017 and earlier this year were merely a few acres in size and they were transacted at around RM180 to RM190 psf.
A bungalow house on an almost one-acre plot on Jalan Raja Dihilir was sold at around RM100 psf in April last year.
"Jalan Raja Dihilir is one of the two main roads in Ipoh's town center. It is a very prime location and land here is always in demand. It is very rare to have such as big piece of land for sale on that road," CBRE l WTW Ipoh director Heng Kiang Hai told EdgeProp.my.
He was responding to the state government's announcement that it will sell the Perak MB's official residence.
Perak MB Ahmad Faizal Azumu said the residence will be put up for sale as it is no longer suitable to be the official residence, citing safety and security reasons.
Talk is that the 5.3ha or 566,280 sq ft site on which the MB's residence sits on has been valued as high as RM80 million. That would translate to around RM140 psf which Heng said is a fair price for the property given its size and the slow-moving property market in Ipoh.
Heng said the official residence is within a commercial zone. "Given the land size, the site may be suitable for a mixed development".
He added that there are many high-rise projects surrounding the property which was one of the reasons the residence was deemed not suitable for the Mentri Besar to live in due to security considerations.
There are offices, hotel, shopping mall and a small office home office (SoHo) development surrounding the Menteri Besar's residence.
However, getting a buyer may take some time due to the current property market slowdown in the country.
"It is very difficult... Ipoh like everywhere else in Malaysia, the property market has been weak recently, ... especially if it involves a large deal like this," Heng notes.
Another Ipoh-based real estate consultant said it is "impossible" to get a taker during current market conditions.
"There may probably be a buyer if the property was put up for sale three to four years ago. But now it is impossible. Perhaps if the price is really low, we can get a taker," he commented.
He noted that the Perak property market generally lags behind other major cities such as Penang, Kuala Lumpur and Johor due to a lack of economic vibrancy.
"Penang has its semi-conductor industry and other factories, KL is a finance and commercial hub, Johor has Singapore. Perak only has mining and it is a sunset industry. Our tourism is not strong enough to push the local property market forward either," he said.
Past transactions in the Jalan Raja Dihilir vicinity
| | | | | | |
| --- | --- | --- | --- | --- | --- |
| Location | Property type | Land size (sq ft) | Transaction price (RM) | Transaction price psf (RM) | Transaction date |
| Jalan Gopeng, Jalan Raja Dr Nazrin Shah | Vacant land | 73,834 | 13.7 million | 185.55 | April 2018 |
| Jalan Raja Dihilir | Vacant land | 46,960 | 8.9 million | 189.52 | July 2017 |
| Jalan Raja Dihilir | House | 39,051 | 4 million | 102.43 | April 2017 |
| Jalan Raja Dr Nazrin Shah | Mixed development | 43,044 | 8.9 million | 206.76 | Nov 2015 |
| Jalan Raja Dr Nazrin Shah | House | 43,314 | 5 million | 115.43 | June 2015 |
Source: CBRE l WTW Ipoh