This article first appeared in The Edge Financial Daily, on August 20, 2018.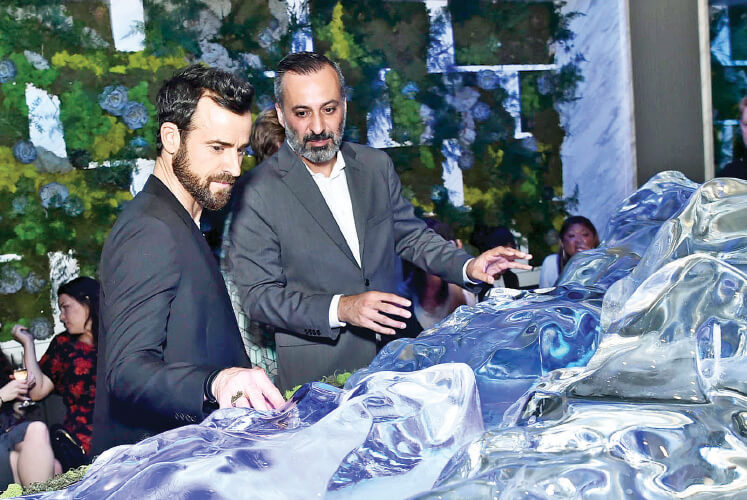 Actor Justin Theroux (left) and Mazdack Rassi, co-founder of Milk Studios, attending the opening party for Lexus Intersect. Photo by AFP
Attracting people who would not ordinarily spend their free time at a car dealership
This week in New York, Lexus opened a gleaming, expensive new building that is … a bit ironic.
Intersect, a 16,500 sq ft boutique in Manhattan's meatpacking district, is meant to allow people to "experience" the carmaker's brand without setting foot inside a car.
This is, in theory, a good idea, considering the lacklustre cars the Toyota Motor Co division has been making. If only the space were better put together.
The launch was delayed for a year after the boutique's planned opening in 2017, and was pushed back yet again from this month to September — notwithstanding a celebrity-studded event in the unfinished space on Aug 14. Frankly, the overall impression given by Lexus's multimillion-dollar compound is one of confusion and disarray.
Lexus is far from the first big brand to try to arrange public "hangouts" with a younger, affluent audience. In 2016, Samsung opened a 55,000 sq ft, three-floor location on Washington Street in Manhattan's meatpacking district as a "cultural playground" for downtown kids to see such bands as the XX perform on its underground stage. That year, PepsiCo Inc opened the Kola House, its "experimental" bar and workspace, in the same neighbourhood.
So did Cadillac. Cadillac House, a coffee shop and showroom for art installations from the likes of Visionaire and Daniel Arsham, is located just north of Tribeca.
The goal behind such ventures is to attract people who would not ordinarily spend their free time at a car dealership — or in an ordinary cell phone store. They are meant to show off brand values in a non-threatening atmosphere that is as close as possible to actually being cool. It is an arguably impossible feat for any corporation when "cool", by casual definition, is the opposite of corporate. But the automakers are trying: They typically do not show a single new car in these spaces, except during special events. The implication is that trying to sell you something would be decidedly uncool.
"We have tried to tell people what you're supposed to feel from the Cadillac brand, but what we hadn't quite fully established was an environment that you could walk into," Cadillac brand director Melody Lee said at the time. "That's why we opened Cadillac House."
Samsung says its measures success like any other marketing initiative, setting key performance indicators (KPIs) around the number of visitors, device interactions and brand perceptions.
"The biggest opportunity for us is following the customer and finding the value in our interactions with them at Samsung 837 when the point of purchase is not onsite," said Zach Overton, vice-president of brand experience at Samsung Electronics America. "We take the lifetime value of a customer very seriously and think about how their visit to 837 is not only an opportunity to show them how to better use their devices and features, but also to introduce them to the full Samsung ecosystem of products and services —  enabling us to hit all of our KPIs."
Elsewhere, the goal is to reap intangible benefits like increasing brand awareness among the golden goose target: Millennials.
Kevin Bethune, a member of the board of directors at the Design Management Institute, says the value of such spaces is often less about social media impressions and press hits  and more about "the quality and insightfulness of the type of network" they attract.
"I could see future brands and experiences being birthed from the Kola House's learnings," says Bethune, the founder and chief operating officer of the creative design firm, Dreams Design Life. "If [creative people] keep returning to Kola House to engage in different experiences, entertainment and special events — and I feel that networking standing by the Kola House over the long run — then that's a success to me."
There is also an aspect of design experimentalism here that can prove valuable for a brand. A spokesperson for Pepsi described Kola House as a successful testing ground for exploring the company's heritage and future goals.
Auto brands show varied results
Cadillac is probably the only luxury automaker whose most expensive car — the Escalade — is owned by its youngest demographic. The average age of an Escalade buyer is under 50, significantly below the age of the average Cadillac customer, which is 60. That is not quite millennial, but it is a start. The brand sees much more opportunity in youth.
On the other hand, Cadillac recently underwent a C-suite shake-up as longtime automotive executive Johan De Nysschen left due to "philosophical differences" over a US$12 billion (RM49.32 billion) turnaround plan. That is never a good sign. What is more, apart from the Escalade and the unsexy CTS-V, Cadillac's other products fall short against competitors in their segments when it comes to both design and performance.
On Aug 14, roughly 200 guests viewed a three-storey showroom, a still-under-construction coffee shop, an LED-light gallery, a Star Trek-ian round bar and lounge, and what will storey eventually become a restaurant. But ultimately, being a successful automaker requires making good cars. Do that, and you do not have to do a whole lot else. — Bloomberg