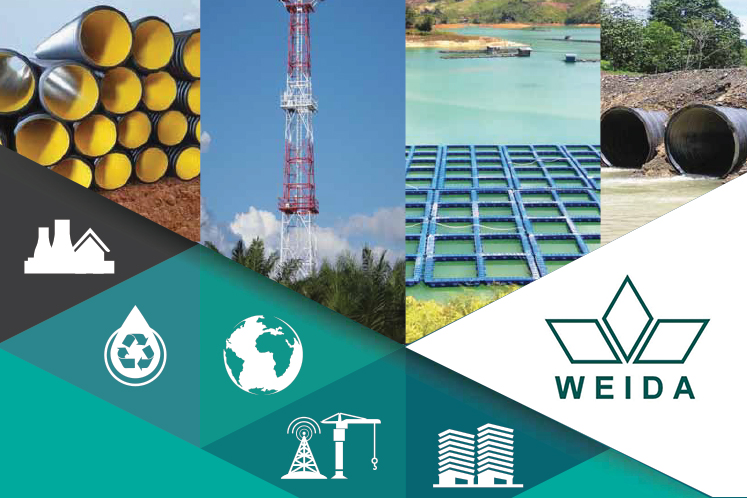 KUALA LUMPUR (Feb 13): Weida (M) Bhd more than doubled its net profit in the third quarter ended Dec 31, 2017 (3QFY18) to RM8.61 million from RM4.3 million a year ago, thanks to higher revenue with lower overheads incurred from all its operating arms — save for the property development division.
Quarterly revenue rose 10.02% to RM66.45 million from RM60.4 million in 3QFY17.
For its nine-month period ended Dec 31, 2017 (9MFY18), Weida posted a 10.65% decrease in net profit to RM17.88 million from RM20.01 million in 9MFY17, dragged by a 23.42% drop in revenue to RM183.72 million, from RM239.92 million.
"[The group achieved] lower revenue mainly due to lower contribution from both the works segment and property development segment, as the projects were at the tail end of completion but the impact was softened by higher revenue contributed from the manufacturing segment," said Weida.
"Despite lower revenue, the group's profit margin improved, contributed [by] both [the] manufacturing and works segments for the current financial period," it added.
Particularly, Weida's manufacturing arm benefited from higher demand in polyethylene engineering products, as well as a "favourable mix of products and customers".
Meanwhile, it said the property development unit only recognised revenue of RM3.8 million in 9MFY18, from the sales of remaining units in Urbana Residences — with losses incurred comprising preparation expenses for the already proposed developments in Mont Kiara and Cheras, Selangor.
"In view of the current soft property market sentiment, the group is therefore taking a cautious approach in launching other projects in our pipeline," it said.
Moving forward, Weida said its manufacturing arm is seeing higher acceptance of polyethylene culverts by both the government sector in road construction projects and the private sector in oil palm plantations for drainage infrastructure.
On its engineering work segment prospects, Weida is seeking opportunities in Budget 2018 to improve on public infrastructure, especially internet access in Sabah and Sarawak.
"The growing emphasis on environmental sustainability and green technology also bodes well for the group," it said, adding that it will continue to play the role as the provider of environmental engineering solutions, including in the field of water and wastewater treatment, septic sludge treatment, and renewable energy.
However, it said its operational cost will be affected by the recent overnight policy rate (OPR) hike of 25 basis points to 3.25%, which increased Malaysian commercial lending rates. As at Dec 31, 2017, Weida had short- and long-term borrowings amounting to RM32.72 million and RM12.18 million, respectively.
"Also, the strengthening of US dollar against Malaysian ringgit will affect our raw material cost," it added.
Shares of Weida closed 1 sen or 0.45% higher at RM2.24, giving the group a market capitalisation of RM298.67 million.