This article first appeared in The Edge Malaysia Weekly, on August 20, 2018 - August 26, 2018.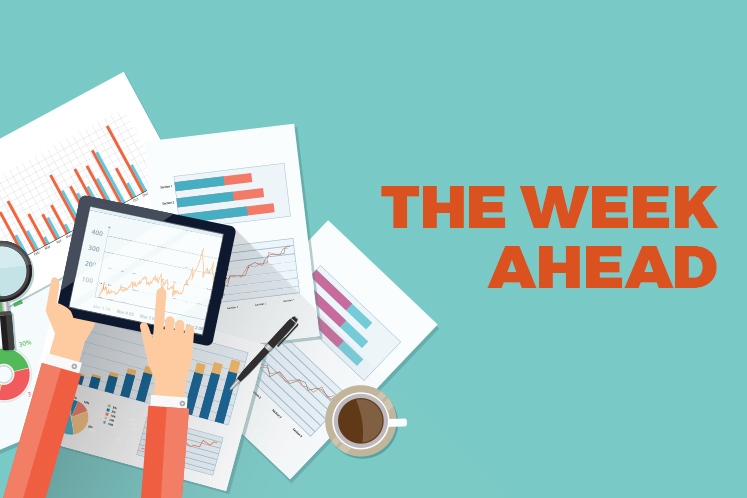 The spotlight this week will be firmly on the outcome of Prime Minister Tun Dr Mahathir Mohamad's first official visit to China from Aug 17 to 21.
The trip will be closely watched for many reasons, one of which is to gauge the fate of controversial Malaysian mega projects with state-backed Chinese participation that Mahathir has lambasted.
The prime minister has pledged to cancel several big-ticket infrastructure projects that have lopsided terms against Malaysia. Whether that is posturing to soften the ground for hard negotiations remains to be seen. This week will also provide more clarity on the new government's attitude to China and its growing assertiveness in the region.
Here at home, the second-quarter gross domestic product data release by Bank Negara Malaysia on Aug 17 will be followed by the Consumer Price Index (CPI) update for July on Aug 24.
The economy's 4.5% year-on-year expansion in the second quarter surprised economists as the consensus forecast polled by Bloomberg was 5.4%.
Despite strong growth in private consumption and investment, the central bank attributed the slower growth in the second quarter to supply disruptions.
"On the supply side, growth was affected by commodity-specific shocks. Growth in the mining sector contracted, due mainly to unplanned supply outages, while the agriculture sector was affected by production constraints and adverse weather conditions," Bank Negara said.
Net export growth slowed while public investments contracted as well, the central bank added.
The slower GDP expansion in the second quarter prompted Bank Negara to revise its full-year growth forecast to about 5%, from 5.5% to 6%. The street consensus was 5.3%.
In a note late last Friday afternoon, Nomura Global Markets Research warned of the same to its full-year forecast as it sees downside risks ahead. Nomura had initially forecast a 4.7% expansion in the second quarter, the lowest among Bloomberg-tracked economists.
"We see some downside risks to our full-year GDP growth forecast of 5.1% in 2018, which would represent a slowdown from 5.9% in 2017," Nomura said.
As for the July CPI, the consensus forecast for inflation is 0.9%, based on Bloomberg's survey of six economists. If the forecast proves accurate, it would be a sharp drop from 3.2% recorded in July last year. It will, however, be a slight uptick from June's 0.8% — the first time in 40 months that inflation has fallen below 1%.
The low inflation seen in June was due to the zero-rating of the Goods and Services Tax, which took effect that month. The GST legislation has since been repealed and is set to be replaced by the Sales and Services Tax from Sept 1. The Sales and Services Tax Bill 2018 was passed in parliament in early August.
Apart from the July CPI data, the Department of Statistics is releasing leading, coincident and lagging economic indicators on Aug 20.
A number of companies are expecting shareholders to convene this week. On Aug 21, Genetec Technology Bhd and Eastern & Oriental Bhd are holding their annual general meetings and A-Rank Bhd will convene an extraordinary general meeting.
A-Rank shareholders will vote on the proposed establishment of an employees' share option scheme. Also up for approval is the proposed allocation of ESOS options to several board directors.
On Aug 23, Thriven Global Bhd will hold its EGM in Kuala Lumpur. On the agenda, among others, is a proposed bonus issue of up to 180.82 million shares, which will include a proposed capitalisation of RM7.18 million from its share premium account.
Scomi Group Bhd will hold its AGM on Aug 24, as will Scomi Energy Services Bhd, Hartalega Holdings Bhd and Nationwide Express Holdings Bhd.
Shareholders of loss-making Scomi Group will get to meet new chief, Sammy Tse Kwok Fai — a 55-year-old UK national who hails from Hong Kong and on whose shoulders the company's revival appears to rest. Tse was appointed executive director on July 24 this year.
The company's then-CEO, Shah Hakim @ Shahzanmin Zain, stepped down on Aug 2 to focus on other business commitments, according to a filing with Bursa Malaysia. In a statement on Aug 2, Scomi Group said Tse would take over as its new CEO.
Save by subscribing to us for your print and/or digital copy.
P/S: The Edge is also available on Apple's AppStore and Androids' Google Play.