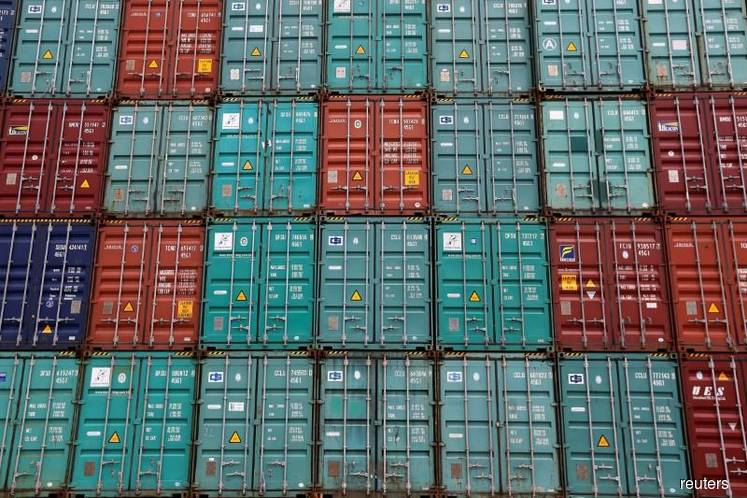 WASHINGTON (Sept 5): The US trade deficit rose to a five-month high in July as exports of soybeans and civilian aircraft declined and imports hit a record high, suggesting the Trump administration's protectionist policy was so far not having an impact.
The administration's "America First" policies have left the United States embroiled in tit-for-tat tariffs with the European Union, Canada and Mexico as well as an escalating trade war with China. The goods trade deficit with China surged to a record high in July.
The Commerce Department said on Wednesday the trade gap jumped 9.5% to US$50.1 billion, increasing for a second straight month, suggesting that trade could be a drag on economic growth in the third quarter. Data for June was revised to show the trade deficit rising to US$45.7 billion, instead of the previously reported US$46.3 billion.
Economists polled by Reuters had forecast the trade deficit swelling to US$50.3 billion in July. President Donald Trump has defended the duties on steel, aluminum imports and a range of Chinese goods as necessary to protect American industries from what he says is unfair foreign competition.
The administration says eliminating the trade deficit will put the economy on a sustainable path of faster growth, an argument that has been dismissed by economists as flawed given constraints such as low productivity and slow population growth.
The United States and China have slapped retaliatory tariffs on a combined US$100 billion of products since early July, with more in the pipeline, posing risks to both domestic and global economic growth.
The trade gap narrowed in April and May as farmers front-loaded soybean exports to China before Beijing's retaliatory tariffs came into effect in early July.
US financial markets were little moved by the data. The deterioration in the trade deficit was flagged in an advance report published last month.
RECORD HIGH IMPORTS
When adjusted for inflation, the trade gap increased to a five-month high of US$82.5 billion in July from US$79.3 billion in June. July's so-called real trade deficit is above the second-quarter average of US$77.5 billion.
If that trend continues in August and September, trade could subtract from third-quarter gross domestic growth. Trade contributed 1.17 percentage points to the economy's 4.2% annualized growth pace in the second quarter, which was almost double the 2.2% rate notched in the January-March period.
The goods trade deficit with China surged 10% to a record US$36.8 billion in July. The trade gap with Mexico narrowed 25.3% to US$5.5 billion while the shortfall with Canada shot up 57.6% to US$3.1 billion.
The trade deficit with the European Union soared 50% to a record high of US$17.6 billion.
In July, exports of goods and services fell 1.0% to US$211.1 billion. Soybean exports dropped US$0.7 billion and shipments of civilian aircraft decreased US$1.6 billion. Petroleum exports, however, were the highest on record.
Imports of goods and services increased 0.9% to a record US$261.2 billion in July. They were boosted by imports of computers and computer accessories. The import bill was also inflated by petroleum imports, which were the highest since December 2014. The surge reflected higher oil prices.
The price of imported crude oil averaged US$64.63 per barrel in July, the highest since December 2014 and up from US$62.42 in June. There were also increases in imports of automobiles and parts as well as other goods. Pharmaceutical preparations imports, however, fell US$1.3 billion.