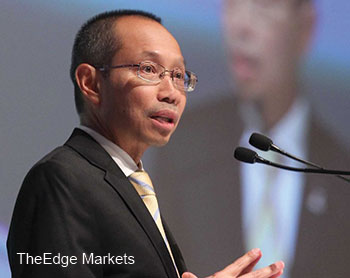 PETALING JAYA (Oct 16): Minister in the Prime Minister's Department Datuk Seri Abdul Wahid Omar today downplayed criticisms by the opposition on the level of government's debt, saying that Malaysia has actually moved into a fiscal "safe zone".
"If you look at the matrix, we have moved into the safe zone, meaning that our combined direct obligations and contingent liabilities is below 70% [of the gross domestic product (GDP)] and our fiscal deficit this year is at 3.5% and moving towards 3% (next year)," he told reporters yesterday.
"Our debt is also being kept well below 55% [of GDP]. If you look at the government's announcement in last Friday's budget, the level of government debt is below 53%. If you include the contingent liabilities at 15%, so all in, it does not exceed 70%," he added.
He was speaking to reporters after witnessing the signing of a memorandum of understanding (MoU) between KPJ Healthcare Bhd (KPJ), Pelaburan Hartanah Bhd (PHB) and Nadayu Properties Sdn Bhd (Nadayu) for the development of the KPJ Damansara Specialist Hospital II.
Meanwhile, according to Minister in the Prime Minister's Department Datuk Seri Idris Jala in a statement on the Economic Transformation Programme webpage, a fiscal safe zone - a matrix developed by the Boston Consulting Group - is achieved if, as a percentage of the GDP, public debt is below 75% and deficit is at 4%, or below.
He said a danger zone is characterised by the public debt equalling or hitting above the GDP, with a deficit of 8% and above.
Malaysia's legislated debt ceiling or self-imposed ceiling for public debt is 55% of the GDP. Last year, Malaysia's government debt had pared down from 55% to 53% of the GDP.
Petaling Jaya Utara MP and DAP publicity chief Tony Pua had raised a red flag last Friday over the government's debt, saying Prime Minister Datuk Seri Najib Razak had not been forthright on the matter.