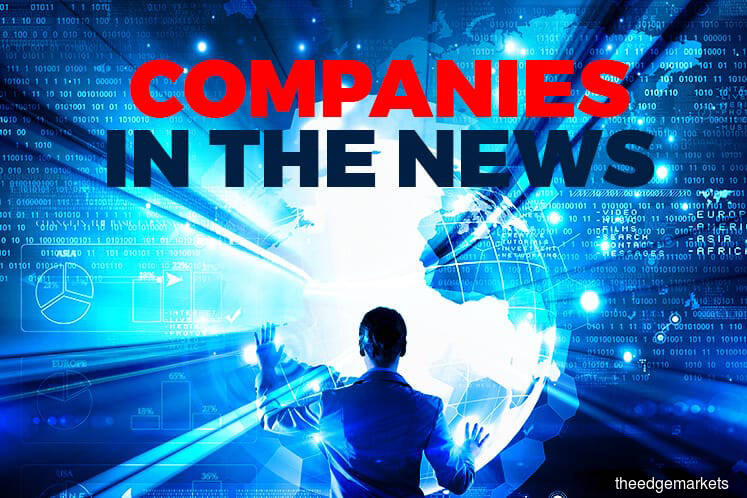 KUALA LUMPUR (Dec 14): Based on corporate announcements and news flow today, stocks in focus on Friday (Dec 15) may include: VS Industry Bhd, Eco World Development Group Bhd, Tiger Synergy Bhd, AmanahRaya Real Estate Investment Trust (REIT), Xin Hwa Holdings Bhd, Bioalpha Holdings Bhd, Country View Bhd, Hovid Bhd, OldTown Bhd and NTPM Holdings Bhd.
V.S. Industry Bhd's net profit rose 37.3% to RM46 million in the first financial quarter ended Oct 31, 2017 (1QFY18) from RM33.51 million a year ago, due to higher contributions from key markets, particularly at home market.
Its earnings were also boosted by a net foreign exchange gain of RM2.5 million, compared with a net foreign exchange loss of RM400,000 a year ago. Earnings per share also came in higher at 3.51 sen against 2.86 sen a year ago.
Quarterly revenue hit a record high of RM1.09 billion, up nearly 60% from RM680.02 million in 1QFY17.
The company, whose share price soared to a record high of RM3.16 on Nov 30, also declared a dividend of 1.5 sen amounting to RM18.6 million for the financial year ending July 31, 2018 (FY18), payable on March 12, 2018.
Eco World Development Group Bhd (EcoWorld) shares will be suspended from trading tomorrow, pending a material announcement by Eco World International Bhd (EWI).
In a filing with Bursa Malaysia, EcoWorld said all its structured warrants will be suspended at the same time.
EcoWorld said the announcement is related to the heads of agreement entered into by EWI on Nov 8 with UK construction firm Willmott Dixon to jointly develop 12 sites in Greater London and the south-east of England.
EWI intends to acquire a 70% equity interest in 11 project sites, which collectively has a capacity of 6,700 residential units, with a potential gross development value of at least £2.5 billion (RM13.86 billion) — over 5.54 times the developer's market capitalisation of RM2.5 billion.
Property developer Tiger Synergy Bhd has won a RM1 billion contract to build affordable homes in Seremban.
In a filing with Bursa Malaysia, the group said the contract, awarded by Elite Community Sdn Bhd, involves the development of 5,000 apartment units on a 123-acre (49.7ha) leasehold land.
The building will comprise 15 blocks of 21-storey apartments, with three different built-up areas.
AmanahRaya Real Estate Investment Trust (REIT) has proposed to sell a piece of freehold land in Shah Alam to Nippon Express (M) Sdn Bhd for RM105 million.
AmanahRaya REIT said proceeds from the disposal will be used to partly settle existing loads from Affin Bank Bhd. 
The balance of the proceeds will be used for working capital or to part finance the group's future potential acquisition, the group said in a filing with Bursa Malaysia.
Xin Hwa Holdings Bhd has bagged a contract worth up to RM16.8 million to deliver precast viaduct and other related products for the Bandar Utama-Klang LRT line (LRT3). 
Xin Hwa said the 24-month contract, awarded by Reaplite Industry Sdn Bhd, commences at the end of this month. 
It said the contract will contribute positively to its books for the financial year ending March 31, 2018 (FY18) and FY19.
With this contract, Xin Hwa's total contract sum secured from September to-date is at an estimated RM52 million, its managing director Ng Aik Chuan  saidin a statement.
Bioalpha Holdings Bhd is optimistic that its export sales will continue to expand at a double-digit growth rate, as the group intends to leverage off existing export opportunities in China to reach neighbouring countries.
The group sees Xinjiang as a hub to penetrate neighbouring countries with Muslim population such as Mongolia, India, Kazakhstan and Pakistan.
To recap, the group has identified a niche opportunity to supply Halal-certified health supplements to the Muslim-populated provinces in Xinjiang, Qinghai, Shaanxi and Gansu.
It had also recently launched a series of new health supplement products in China during the second half of the year.
Country View Bhd is disposing of 139 pieces of land in Kulim, Kedah for a combined RM119.95 million, in order to pay for a proposed land acquisition in Pulai, Johor Baru.
The lands entail a 792,251 sq m piece of land at Pekan Sungai Karangan and 138 plots with an aggregate net land area of 944,103 sq m at Padang Meha, all in Kulim. 
The lands are located along the East–West Highway, opposite Taman MBI Desaku in Padang Meha, about 20km due north-east of the Kulim town centre.
Country View said the proposed land disposal provides an opportunity for it to unlock the value of the lands – which have increased since its acquisition in 2000 — without having to develop the lands and also provides immediate cash flow to the group.
The disposal price is more than four times that of Country View's original cost of investment in the lands of RM28.96 million.
Country View said the proposed land disposal is expected to improve the group's earnings and earnings per share for the financial year ending Nov 30, 2018 (FY18) as a result of the RM74.67 million gain on disposal.
Hovid Bhd's managing director David Ho and Fajar Astoria Sdn Bhd have once again lowered the acceptance condition threshold for their takeover offer, to 67% this time.
This came after their combined shareholding stood at only 62.32% as at market close today.
In a filing with Bursa Malaysia, the joint offerors said the closing date remains on Dec 29, and all other terms and conditions remain unchanged.
Since the conditional voluntary takeover offer was announced, Ho and Fajar Astoria have revised the acceptance level downwards from 90% originally, to 75%, before a second round of adjustment today.
They have also extended their closing date three times, from Nov 20 originally to Dec 4, and subsequently Dec 7, and then to Dec 29.
OldTown Bhd, which is in the midst of a RM1.47 billion takeover bid by global coffee maker Jacobs Douwe Egberts BV, is expanding its Oldtown White Coffee restaurant chain to Cambodia.
Oldtown said its wholly-owned subsidiary Kopitiam Asia Pacific Sdn Bhd has entered into a master licence agreement with Cambodia-based Biniton Food & Beverage Co Ltd and its chairman Bun Khang, granting them the exclusive right to operate the restaurant business there.
The term of the agreement is for five years, commencing Dec 14, 2017, with an option to renew for two consecutive terms of five years each.
NTPM Holdings Bhd's net profit fell 60.3% to RM6.36 million in the second financial quarter ended Oct 31, 2017 (2QFY18) from RM16.04 million a year ago, due to higher costs incurred. 
Quarterly revenue however, grew 3.08% to RM169.27 million, from RM164.21 million in 2QFY17.
For the cumulative six months of FY18 (6MFY18), NTPM turned in a net profit of RM18.48 million, down 27.3% from RM25.43 million a year ago, while revenue increased 9.4% to RM345.42 million, from RM315.64 million in 6MFY17.
In a filing with Bursa Malaysia, the consumer goods and paper company attributed the lower profit to higher raw material and labour costs.
Revenue was higher in 6MFY18, mainly due to increase in sales of tissue and personal care products, especially the tissue segment.