This article first appeared in The Edge Financial Daily, on January 22, 2018.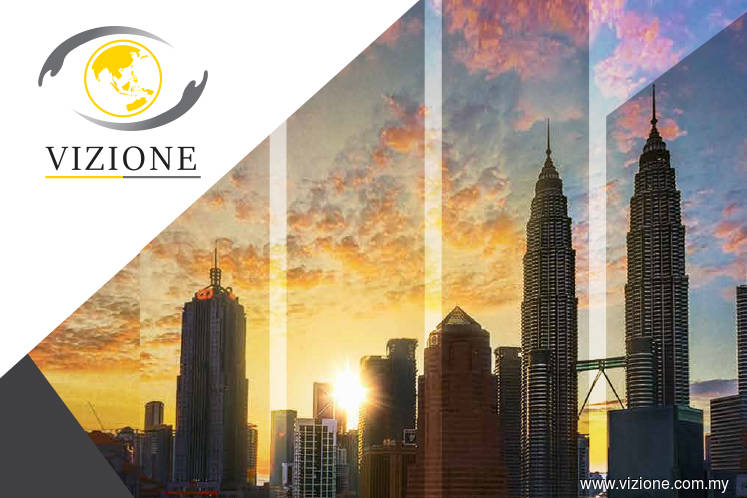 KUALA LUMPUR: Last week was an eventful one for Vizione Holdings Bhd. A day after releasing its quarterly earnings last Monday, its share price surged to 20 sen — the highest level since the group announced its capital reorganisation plan in 2016.
The price rise could be a positive reaction by the market to the group's results for the second quarter ended Nov 30, 2017 (2QFY18), which saw net profit jump by more than 46 times to RM6.54 million from RM141,000 in 2QFY17. Revenue increased by almost 15 times to RM147.3 million.
The reason for the big rise in profit and revenue is the inclusion of the earnings of Wira Syukur (M) Sdn Bhd, a construction firm which was injected into Vizione as part of a RM280 million reverse takeover exercise that was completed on Oct 9 last year.
Last Wednesday, Vizione — formerly known as Astral Supreme Bhd — proposed a private placement of up to 406.71 million shares. Based on an assumed price of 16.5 sen per share, the placement is expected to raise up to RM67.11 million in gross proceeds, part of which will be used to fund construction projects.
To put things into perspective, Vizione's net cash position (minus borrowings and finance lease liabilities) stood at RM25.9 million as at Nov 30, 2017, while its gearing ratio was at 0.06 times.
Since the placement was announced, Vizione saw a reversal of its post-results positive sentiment. Its shares dropped as much as 17.5% to 16.5 sen last Friday, from its earlier high of 20 sen.
Nevertheless, Vizione managing director Datuk Ng Aun Hooi is positive about the group's prospects for financial year 2018 (FY18) onwards. He said the group is projecting a revenue of about RM800 million for FY18.
"Our order book at present stands at RM3.3 billion, and out of this we are expecting to recognise RM800 million as revenue for FY18. We have a target to replenish our order book by at least RM1.2 billion this year," Ng told The Edge Financial Daily.
Projects making up this order book include jobs awarded by KL Northgate Sdn Bhd for the construction of apartments, shops and offices worth RM1.12 billion, the construction of office suites for Paragon Hemisphere Sdn Bhd worth RM401 million as well as a RM465 million contract awarded by Hektar Aneka Sdn Bhd for the construction of Rumah Mampu Milik Wilayah Persekutuan.
Also making up its order book are contracts awarded by the federal government for the development of public housing schemes in states such as Kelantan, Kedah, Sabah and Terengganu which amount to about RM947 million.
Government jobs are not unchartered waters for Ng. They in fact formed the majority of jobs taken up by Wira Syukur, a company which he formed with two other partners in 1996.
Building affordable homes, including in government housing schemes, have proven to be a recession-proof model, said Ng, pointing out that Wira Syukur had managed to pull through economic downturns such as 1997 to 1998 Asian financial crisis.
"It all comes down to the type of product … as long as you are producing the right product, you will be able to sell," he said.
With Wira Syukur integrated into Vizione, Ng said Vizione would continue its bid for government jobs, though he would like to see the group increase its focus on infrastructure construction jobs rather than property construction jobs.
"Infrastructure jobs have better margins than property construction. So in future we hope to get more of this kind of jobs. We are also exploring the opportunity of potentially going into the concession business," he said.
The group at present is tendering for both property and infrastructure jobs in Sabah, Kuala Lumpur and Negeri Sembilan. According to Ng, the group's tender book size is about RM2.9 billion.
Ng said he is cognizant of the challenges facing construction players amid rising costs.
"Steel prices are quite high at the moment but at the same time cement prices have been dropping. But at the end of the day it is about value engineering — we are a hands-on contractor in the sense we don't outsource jobs. So we have the in-house efficiency when it comes to reducing wastage and controlling costs," he said.
He added that the fact that Wira Syukur's — and now Vizione's — forte is in the construction of affordable homes would eliminate the need for imports of materials which are usually needed for high-end housing projects.
Looking at Vizione's 2QFY18 financials, the net profit excluding one-off expenses such as corporate exercise and employee share option scheme expenses amounts to RM9.17 million, resulting in a net profit margin of 6.2%.
Imputing an expected revenue of RM800 million for FY18 and a net profit margin of 6.2%, and assuming a maximum enlarged share capital of 4.47 billion shares post placement, Vizione could be looking at a projected FY18 forward price-earnings (PE) of 14.9 times based on its closing price of 16.5 sen last Friday.
The FY18 forward PE valuation is higher than that of some construction players such as Pesona Metro Holdings Bhd (nine times) and Mitrajaya Holdings Bhd (6.3 times), but lower compared with others like Gabungan AQRS Bhd (17.5 times).
In terms of its order book size, Vizione's RM3.3 billion as at last Tuesday seems to be on a par with, or higher than, its peers.
Based on the latest available information on Bursa Malaysia, Pesona Metro's order book stood at RM1.6 billion as at Sept 30, 2017. Mitrajaya reported an order book of RM1.69 billion as at Sept 30, 2017 and Gabungan AQRS's order book amounted to RM2.58 billion as at Nov 16, 2017.
Vizione shares have already sparked some interest among analysts. It is understood that the group held a briefing for analysts of major research firms last week.
If Vizione can deliver on its earnings and keep its margins in check, it could be one of the construction stocks to look out for in 2018.