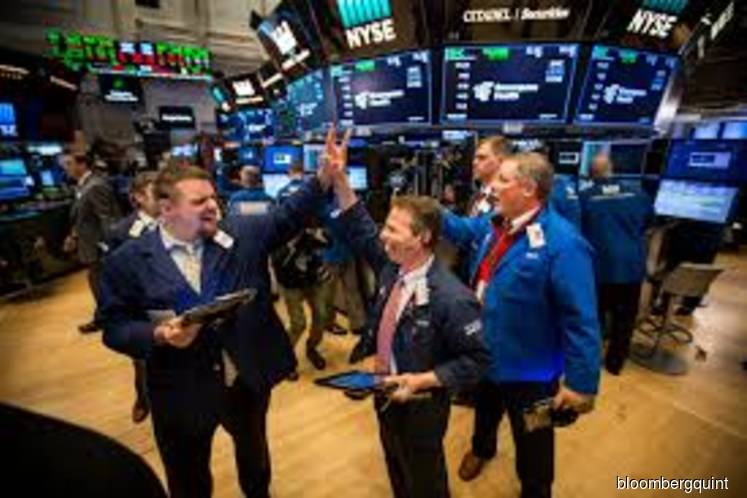 NEW YORK (Jan 4): U.S. stocks rebounded from Thursday's rout, the dollar surged and Treasuries fell as a risk-on mood spread across financial markets after American hiring data underscored labour-market strength.
The S&P 500 held advances above 1% after data showed a surge in hiring last month that was accompanied by faster wage growth and an increase in participation. Stocks plunged a day earlier on concern growth was slowing. The 10-year Treasury yield rose back above 2.6% and the dollar firmed against major peers, with investors paring back bets that the Federal Reserve will rush to stop its tightening efforts.
The strong jobs report will likely rekindled the debate over whether the Fed should adopt a full-on dovish stance just a day after factory data weakened by the most since the recession — fueling speculation the central bank might actually cut rates this year. While the jobs report may ease immediate concern that the world's biggest economy is careening toward a recession, investors are also keeping an eye on a host of other risks.
Trade remains in focus, with mid-level officials from the U.S traveling to China for talks next week just as tariff effects have started to show up in corporate profit warnings. China moved to secure liquidity for its slowing economy, and political drama in Washington persists, with the shutdown showing no signs of resolution.
"The strong December jobs report is a net positive for stocks because investors' biggest concern has been slowing growth," said Alec Young, managing director of global markets research at FTSE Russell. "December's strong job gains help ease that concern. It's hard to square recession worries with the strongest job growth we've seen in years."
Friday's optimism over the economy and trade did little to dent the rout that's hit global equities in the past month, with major averages off well over 10% from previous highs. Treasury yields that topped 3.2% in November now sit 60 basis points lower as investors reassess the prospects for growth in 2019. Gold has surged to multimonth highs and crude has plunged, adding to angst that demand is flagging.
Here are some events investors may focus on in coming days:
Fed Chair Powell is interviewed with predecessors Janet Yellen and Ben Bernanke at the annual meeting of the American Economic Association Friday. Atlanta Fed President Raphael Bostic joins a panel on long-run macroeconomic performance.
And these are the main moves in markets:
Stocks
The S&P 500 Index climbed 1.4% as of 9:32 a.m. New York time. The Stoxx Europe 600 Index rose 2% to the highest in more than two weeks on the biggest advance in a week. Germany's DAX Index surged 1.8% to the highest in two weeks on the biggest jump in more than a month. The MSCI Asia Pacific Index fell 0.2%. The MSCI Emerging Market Index rose 0.9%, the biggest advance in a week.
Currencies
The Bloomberg Dollar Spot Index rose 0.3%. The euro fell 0.4% to US$1.1353. The British pound was flat at US$1.2626. The Japanese yen decreased 0.8% to 108.483 per dollar.
Bonds
The yield on 10-year Treasuries climbed eight basis points to 2.64%, the largest increase in more than a week. The two-year rate jumped nine basis points to 2.47%. Germany's 10-year yield climbed four basis points to 0.196%. The spread of Italy's 10-year bonds over Germany's fell two basis points to 2.683 percentage points.
Commodities
West Texas Intermediate crude climbed 2.3% to US$48.16 a barrel, hitting the highest in more than two weeks with its fifth consecutive advance. Gold futures plunged 0.8% to US$1,284.60 an ounce, the first retreat in more than a week and the biggest dip in two weeks.
U.S. stocks have been choppy, following the worst December since 1931.