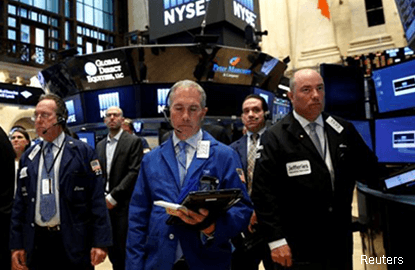 NEW YORK (March 22): Investors piled into US-based domestic stock funds at the fastest pace in a month before Wall Street's biggest one-day fall since the November US presidential election, Investment Company Institute data showed on Wednesday.
US-based stock funds attracted nearly US$11 billion during the week through March 15, and about US$9 billion of that cash went to funds that buy domestic shares, the trade group's data showed.
It was the funds' seventh straight week of inflows and came in the days before Wall Street's selloff on Tuesday, when the S&P 500 and Dow Jones Industrial Average indexes sank by more than one percent.
Markets, which have been peppy since President Donald Trump's election victory, have grown more cautious ahead of a test in the House of Representatives of a bill he supports to dismantle Obamacare.
The success or failure of that effort could signal the likelihood that tax and regulation cuts touted by Trump and anticipated by markets will gain support.
"Investors have been bullish this year, due in part to the improving US economy, and continued to be so even as the Federal Reserve raised rates last week," said Todd Rosenbluth, director of ETF and mutual fund research at CFRA.
"As the market has sold off in recent days, we think going forward investors will further seek out the relative safety of bond products."
Bond funds attracted US$2.8 billion during the week, their 12th straight week of inflows, even as the Fed hiked rates on March 15 for the second time in three months.
Rate-sensitive municipal bonds posted US$203 million in their first week of withdrawals since January.