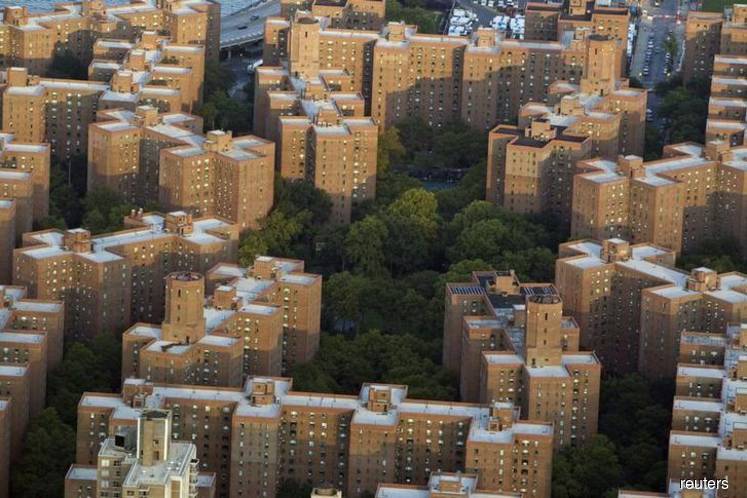 WASHINGTON (Sept 26): Sales of new US single-family homes rebounded in August after two straight monthly declines, but the underlying trend still pointed to a weakening housing market against the backdrop of rising mortgage rates and higher home prices.
The Commerce Department said on Wednesday new home sales rebounded 3.5% to a seasonally adjusted annual rate of 629,000 units last month. July's sales pace was revised down to 608,000 units from the previously reported 627,000 units.
Sales in June were also much weaker than previously reported. Economists polled by Reuters had forecast new home sales, which account for about 11% of housing market sales, rising 0.5% to a pace of 630,000 units in August.
New home sales are drawn from permits and tend to be volatile on a month-to-month basis. They increased 12.7% from a year ago. While economists expect small gains in new homes sales in the coming months, many believe the overall housing market has probably peaked.
The housing market is lagging a robust economy, with data last week showing sales of previously owned homes flat in August and building permits plunging to a more than one-year low.
Economists blame the weakness in the housing market on rising borrowing costs and house prices, which have outstripped wage growth, making home purchasing unaffordable for some first-time buyers.
The 30-year fixed mortgage rate has increased more than 60 basis points this year to an average of 4.65%. House prices rose 5.9% in July from a year ago, data showed earlier this week.
In contrast, annual wage growth has been stuck below 3%, though it has recently shown signs of picking up. With the Federal Reserve expected to raise interest rates later on Wednesday for the third time this year, mortgage rates are likely to rise further.
Residential investment contracted in the first half of the year and is expected to decline further in the third quarter.
US stocks were trading higher and the dollar firmed against a basket of currencies. Prices for US Treasuries rose.
New home sales in the South, which accounts for the bulk of transactions, fell 1.7% in August. Sales jumped 9.1% in the West and climbed 2.7% in the Midwest. They soared 47.8% in the Northeast, which is the smallest segment of the new housing market.
The median new house price rose 1.9% to US$320,200 in August from a year ago. There were 318,000 new homes on the market in August, the most since February 2009 and up 1.6% from July. Supply is, however, just over half of what it was at the peak of the housing market boom in 2006.
A survey last week showed confidence among single-family homebuilders steady in September. While builders welcomed a decline in lumber prices from record highs earlier this year, they said they "still need to manage construction costs to keep homes competitively priced."
At August's sales pace it would take 6.1 months to clear the supply of houses on the market, down from 6.2 months in July. Nearly two-thirds of the houses sold last month were either under construction or yet to be built.