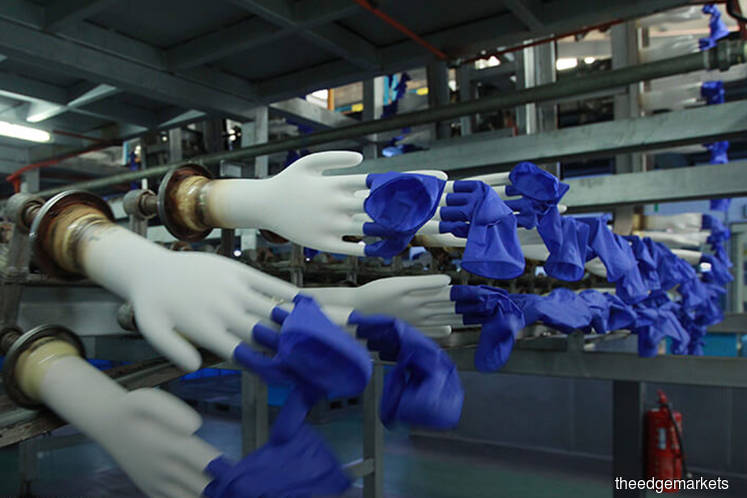 SINGAPORE (Aug 30): More stringent hygiene in US hospitals and labs could boost sales for Malaysian rubber glovemakers who produce three out of every five pairs used in the world.
Demand for medical gloves is expected to increase ahead of guidelines from the US Pharmacopeia (USP) Convention that come into effect December 2019. Known as the USP 800, the best-practices standard for pharmacies and hospitals will recommend health workers don two pairs of gloves to handle hazardous drugs.
As the US accounts for a third of global demand for medical gloves, the new standards — if widely enforced — could push demand from that market well above its "normal" 8% to 12% annual growth rate, said Malaysian Rubber Glove Manufacturers Association (Margma) Vice President Supramaniam Shanmugam.
"If it's mandatory — then boom! I know the amount of gloves that we export is going to be double now," Supramaniam said in an interview in Kuala Lumpur last Thursday. "But we're still studying how the implementation is going to be like."
Top Glove Corp Bhd, the biggest of Malaysia's 10 publicly listed rubber glove-makers by revenue, derived 31% of financial year 2017 revenue from North America, while rival Hartalega Holdings Bhd sits at about 59%. The region accounts for about a fifth of sales at Riverstone Holdings Ltd and UG Healthcare Corp, both Singapore-listed but Malaysia-based producers.
In a market update this week, Singapore Exchange Ltd noted that the three glovemakers on its bourse — Riverstone and UG Healthcare along with Top Glove's secondary listing — averaged a 12-month total return of 35%. The exchange said prospects for the global rubber glove industry were robust given expanding health-care demand.
Priced In?
David Smith, the head of corporate governance at Aberdeen Standard Investments Ltd, which owns Riverstone shares, said it's hard to say how much the expected demand boost from the forthcoming guidelines has been priced in.
"It's true that USP 800 might drive some incremental demand for gloves, although the quantum of that additional demand may not be material in the context of current global glove demand," Smith said in an email.
Still, Singapore-listed Riverstone sees its customers buying more gloves from the third or fourth quarter of 2019. "It's an additional 3.5 billion pair of gloves every month," said Chief Executive Officer Wong Teek Son. The company, which expands capacity annually by 1 billion to 1.5 billion gloves, will need to step up production further, he said.
Margma's Supramaniam says Malaysian producers can step up production if required as the utilization rate at the country's 100-odd factories stands now at about 75%.
"The industry is absolutely prepared," he said. "By simply tweaking the manufacturing process a little bit, we're home and dry."