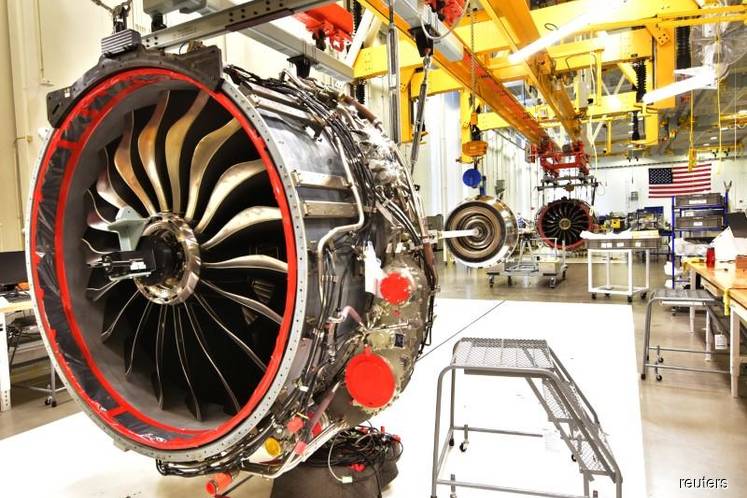 WASHINGTON (Sept 27): New orders for key US-made capital goods fell in August after four straight months of strong gains, while shipments barely rose, but that will probably not change expectations of solid growth in business spending on equipment in the third quarter.
Other data on Thursday showed the goods trade deficit widening sharply last month, driven by declining exports and rising imports. But wholesale and retail inventories increased strongly, which should help to offset some of the anticipated drag from trade on economic growth in the third quarter.
The Commerce Department said orders for non-defense capital goods excluding aircraft, a closely watched proxy for business spending plans, dropped 0.5% last month as demand for computers and electronic products as well motor vehicles ebbed.
The so-called core capital goods orders rose 1.5% in July. Economists polled by Reuters had forecast orders for these goods rising 0.4% last month. Core capital goods orders increased 7.4% on a year-on-year basis.
Shipments of core capital goods edged up 0.1% last month after jumping 1.1% in July. Core capital goods shipments are used to calculate equipment spending in the government's gross domestic product measurement.
With business confidence at multi-year highs, in part buoyed by a US$1.5 trillion tax cut package, August's surprise drop in core capital goods orders is likely to be temporary. There are, however, fears that an escalating trade war between the United States and China could hurt confidence and undercut both consumer and business spending.
Washington on Monday slapped tariffs on US$200 billion worth of Chinese goods, with Beijing retaliating with duties on US$60 billion worth of US products. The United States and China had already imposed tariffs on US$50 billion worth of each other's goods.
While manufacturers have expressed concerns about the tariffs, which are contributing to bottlenecks in the supply chain, there are so far no indications that the trade tensions are having a big impact on the economy.
The Federal Reserve raised interest rates on Wednesday for the third time this year. Chairman Jerome Powell told reporters that this was "a particularly bright moment" for the economy.
The dollar was trading higher against a basket of currencies, while US Treasury yields were little changed.
EXPORTS DECLINE
The Commerce Department confirmed in a second report on Thursday that the economy grew at a 4.2% annualized rate in the second quarter. That was the fastest in nearly four years and almost double the 2.2% pace set in the first quarter.
Growth forecasts for the July-September quarter are above a 3% rate. A third report from the Commerce Department showed the goods trade deficit rose US$3.8 billion to US$75.8 billion in August.
Exports of goods fell 1.6% to US$137.9 billion, weighed down by a 9.5% plunge in shipments of food, feeds and beverages. There were also declines in exports of industrial supplies and motor vehicles last month.
Imports of goods increased 0.7% to US$213.7 billion in August, driven by motor vehicles, consumer and other goods.
The expected drag from the trade deficit could be partly offset by increased investment in inventories. Wholesale inventories jumped 0.8% in August and stocks at retailers rose 0.7%.
Other data on Thursday from the Labor Department showed the number of Americans filing for unemployment benefits increased more than expected last week likely as Hurricane Florence temporarily displaced some workers. The underlying trend, however, continued to point to a tightening labor market.
Initial claims for state unemployment benefits rose 12,000 to a seasonally adjusted level of 214,000 for the week ended Sept 22. Claims fell to 202,000 during the week ended Sept 15, which was the lowest level since November 1969.
Economists polled by Reuters had forecast claims rising to 210,000 in the latest week. Hurricane Florence lashed parts of the South last week, causing flooding and sending people into emergency shelters.
The Labor Department reported an increase in unadjusted claims for South and North Carolina last week. The four-week moving average of initial claims, considered a better measure of labor market trends as it irons out week-to-week volatility, rose only 250 to 206,250 last week.
The labor market is viewed as being near or at full employment. It continues to strengthen, with nonfarm payrolls increasing by 201,000 jobs in August and annual wage growth notching its biggest gain in more than nine years. Job openings hit an all-time high of 6.9 million in July.