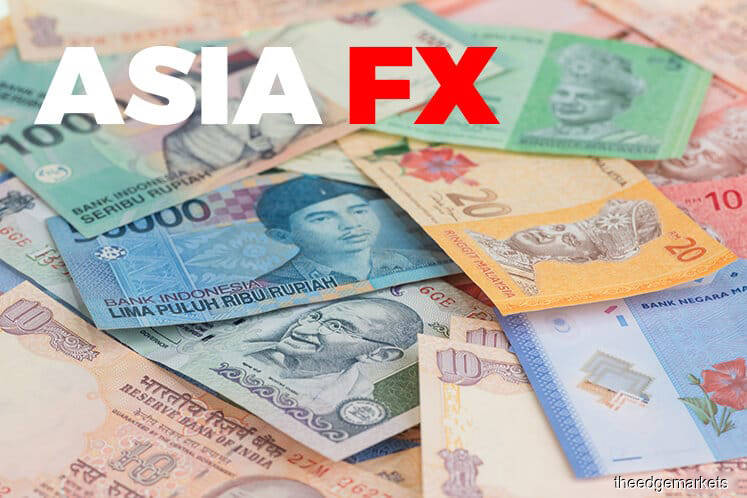 (Oct 10): Most Asian currencies turned firmer on Tuesday with the Korean won coming back well-refreshed from a week's holiday and China's resurgent yuan bolstering its regional peers.
The Korean won rose to levels unseen in about two weeks in its first day of trade in the month, while Seoul's Kospi Index was on a tear, attracting large flows into the currency.
Geopolitical tensions resurfaced over rumours that North Korea may be planning a provocative missile test but countervailing views that further escalation was unlikely added appeal to the currency.
"When they start threatening to fire off rockets at each other, we know its really not going to come into fruition. But investors are gradually sidestepping that risk aversion that came to the market," said Stephen Innes, senior trader at FX broker OANDA.
The regional currencies were buoyed up by China's yuan heading for its best day in more than a month.
The currency gained over half a percent against the greenback as the central bank set stronger-than-expected official guidance, suggesting authorities are stabilising the currency before the all-important national leadership congress next week.
"The strength in Asia ex-Japan currencies is driven by the stronger yuan as the People's Bank of China fixed a firmer Chinese yuan," said Christopher Wong, senior FX strategist for Maybank in Singapore.
The Thai baht edged up for the fourth session out of five and the Malaysian ringgit rose marginally.
"Investors are looking at the fact that the Thai baht and the Malaysian ringgit are underpositioned right now after the recent sell-off and they are providing opportunities to pick up," said Oanda's Innes.
He noted, however, that there was some uncertainty around the Indonesian rupiah and the Indian rupee, owing to jitters over US Federal Reserve's monetary policy and balance sheet reduction plans.
Expectations for the Fed to raise rates later this year have heightened on the back of improved prospects for the US economy.
The dollar's index against a basket of six rivals edged lower.
Bucking the regional trend, the Philippine peso inched lower after news that the Philippines' trade deficit widened in August from July.
Taiwan was closed for a national holiday.
KOREAN WON
The Korean won reopened after a week-long holiday, headed for its best day in over six weeks.
Market participants expected that Pyongyang might make a dramatic gesture to mark the anniversary of the founding of North Korea's Communist Workers party, but a contrasting view that the situation would not escalate lifted the currency.
"Geopolitical tensions may have subsided but it still warrants caution as the risk remains," Maybank's Wong said.
The following table shows rates for Asian currencies against the dollar at 0515 GMT.
CURRENCIES VS US DOLLAR
Change on the day at 0515 GMT
| | | | |
| --- | --- | --- | --- |
| Currency | Latest bid | Previous day | % move |
| Japan yen | 112.630 | 112.66 | +0.03 |
| Sing dlr | 1.359 | 1.3634 | +0.32 |
| Korean won | 1138.000 | 1145.4 | +0.65 |
| Baht | 33.323 | 33.38 | +0.17 |
| Peso | 51.310 | 51.245 | -0.13 |
| Rupiah | 13498.000 | 13515 | +0.13 |
| Rupee | 65.240 | 65.35 | +0.17 |
| Ringgit | 4.222 | 4.23 | +0.19 |
| Yuan | 6.598 | 6.6248 | +0.41 |
Change so far in 2017
| | | | |
| --- | --- | --- | --- |
| Currency | Latest bid | End 2016 | % move |
| Japan yen | 112.630 | 117.07 | +3.94 |
| Sing dlr | 1.359 | 1.4490 | +6.62 |
| Korean won | 1138.000 | 1207.70 | +6.12 |
| Baht | 33.323 | 35.80 | +7.43 |
| Peso | 51.310 | 49.72 | -3.10 |
| Rupiah | 13498.000 | 13470 | -0.21 |
| Rupee | 65.240 | 67.92 | +4.11 |
| Ringgit | 4.222 | 4.4845 | +6.22 |
| Yuan | 6.598 | 6.9467 | +5.29 |