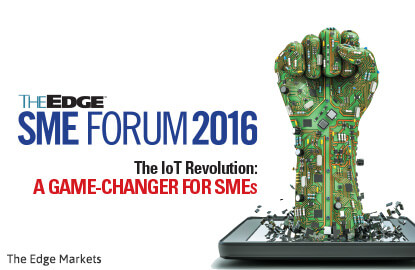 This article first appeared in
Unlisted & Unlimited, The Edge Malaysia Weekly
, on September 12 - 18, 2016.
THE ecosystem for the Internet of Things (IoT) is slowly taking shape and local entrepreneurs should start looking for opportunities to participate in the industry, says Dr Yeong Che Fai, managing director of DF Automation & Robotics Sdn Bhd.
A pioneer in the IoT industry and a serial entrepreneur, Yeong has started no fewer than four IoT companies, the combined revenues of which run into the millions. He says Malaysia was lagging behind as recently as two years ago, but is catching up now with the government and multinational corporations (MNCs) providing funding and other forms of support for IoT-related start-ups.
The government agencies include Cradle Fund Sdn Bhd, Collaborative Research in Engineering, Science and Technology (Crest) and the Ministry of Science, Technology and Innovation (Mosti). Meanwhile, MNCs such as Microsoft provide IoT players with free training.
"We got RM500,000 from Cradle Fund. When the companies from overseas heard this, they said it was one of the best offers in the world. If they wanted to get even US$50,000, they would have to give away equity. So, you are in the best place in the world to have a start-up in terms of getting funding," Yeong told the audience at The Edge SME Forum 2016 in Kuala Lumpur recently. He also managed to secure about RM1 million from Mosti's TechnoFund and Crest.
However, local entrepreneurs lack the initiative when it comes to approaching these entities, which could provide them with both assistance and funding, he says. Local IoT players are also not doing enough to get their products and brands out there by participating in competitions and engaging with business mentors. 
"If you want to be successful in business, you have to join competitions and talk to mentors who have extensive experience in doing business. I was an academic before setting up my company. But when I decided to venture into business, I participated in competitions and talked to all the top entrepreneurs, including Tan Sri Liew Kee Sin. I also talked to Cheryl Yeoh, the previous CEO of Malaysian Global Innovation & Creativity Centre," says Yeong.
Initiative and determination are key
Yeong says initiative and determination are the keys to success. "Many people ask me, 'How is it that you have won so many competitions and I have not? The first thing I ask them is whether they had joined any of the competitions. Then they ask me how I established four companies and achieved seven figures in revenue. So, I ask them whether they have founded and registered their own companies."
During his speech, he also shared how he transformed himself from an academician to an entrepreneur and how he secured funding from friends and family. Yeong was a lecturer at Universiti Teknologi Malaysia before starting his companies. Together with his students, he won numerous innovation awards and got his name out there. Several local and international companies approached him to commercialise his projects. But he never accepted those invitations as he was first and foremost an academician, he says.
It was not until he read an article that he changed his mind. The article, published many years ago, had quoted a study saying that RM600 million was being poured into R&D in Malaysia but very few projects were being commercialised. "The article struck me. Why wasn't our R&D being commercialised? What was the problem?"
Yeong says many factors contributed to this, including the lack of a proper ecosystem. So, he decided to start something himself. He registered his company and reached out to friends and family for funding. But all this was not as easy as it sounds.
"We needed RM5 million. But we could not rely on just the founders for this money. So, we asked our families. It was tough. We were not sure whether our business could give us returns in the next three to four years. And by the second year, our families were already asking for their money back. It got to such a point that we were afraid to go back for Chinese New Year gatherings," he laughs.
"Yes, you can ask the banks for loans. But they will ask you for three years of audited accounts. If you only have two years, they will ask you to wait a year." 
In the later stage of his business, Yeong spent a lot of time mastering the techniques of pitching his ideas to venture capitalists and judges in business innovation competitions. "That was when I first heard about pitching. They told me that I had to talk to investors for five minutes. I said, 'What? Five minutes?' I am not very fluent in English, how could I do that?"
So, he watched YouTube videos to see how people presented their ideas, including those from the prestigious Massachusetts Institute of Technology (MIT). He also learnt that he would have to participate in more business innovation challenges to hone his skills. Luckily, he was no stranger to this.
"To learn to pitch, you have to join competitions. So, I did. This was where I met my mentors, who are all successful entrepreneurs and businessmen. It allowed me to engage with the business community," says Yeong.
Today, his four companies have rolled out several IoT-related products to the market. His first company was DF Automation & Robotics, which manufactures automated guided vehicles (AGVs) and provides universal robots to help automate manufacturing processes.
The company had come about through a simple enquiry. A Multimedia Super Corridor company approached him to ask if his company could manufacture an AGV. As the vehicles have been around for a long time, Yeong asked why they did not just buy one from a Japanese or German company. 
"They said it wasn't that they didn't want to buy from Japan, but the companies there did not want to sell this product to Malaysia. And even if they did, it would be a bond. For them to send their support team, maybe two people would have to be put up in a five-star hotel for five days … this is all chargeable to the company," he says.
So, DF Automation designed an AGV and the company bought 10. "That is why we started the company back then and along the way, we have improved our technology and are now looking at smarter and more flexible products and solutions. The company generated RM5 million in revenue last year and plans to double that in the next two years."
Yeong's second company was TechCare Innovation Sdn Bhd, which develops the Mini Heartcatcher. The device monitors the heart rhythm of patients with cardiovascular disease and sends the information to the cloud. Patients are notified if there are any irregularities in their heart rhythm, which could signal a possible cardiac arrest. His other companies are involved in technical consultancy and training and multimedia solutions.
Opportunities in property and insurance sectors
Yeong says IoT has been gaining traction in the last two years, but it will need another four years for it to really take off. "Things were slow two years ago. But this year, things have started to move. The government is pushing for it and a lot of companies have started to look into it. It has now become a buzzword and people want to be involved."
He says labour costs are still low here compared with the developed countries so there is no real push for automation. But once Malaysia achieves high-income nation status, it will spur innovation.
Yeong says pockets of opportunity can be found in the property and insurance sectors. Smart home devices and sensors that can detect driving behaviour (for motor insurance companies) are some of them.
"The smart home concept is the first thing that pops into people's minds. Let's say when you buy a fridge, you want the fridge to tell you how many eggs you have left through your smartphone. Ultimately, they would want the data to be connected to the supermarket, and the supermarket would know how many eggs you want when you arrive there."
Yeong says property developers have started to look into smart home devices for their future projects, so this is a potential market for entrepreneurs to tap. Meanwhile, sensors that can detect driving behaviour will become more popular after the detariffication of the general insurance sector. 
"People's cars will be connected to the internet and the data the companies collect could be used to predict the likelihood of them having an accident [which could be used to evaluate the risk and decide on the premium they should pay]. There are already companies looking into this area," he says. 
IoT in the transport sector, typically the driverless car launched by Tesla Motors Inc in the US and the Singapore government most recently, would not be a viable business for small and medium enterprises in Malaysia because the R&D cost is extremely high, says Yeong. There are also many challenges in mass-producing these highly sophisticated cars and gaining acceptance by the market, which has yet to be seen even in developed countries like the US. 
"Even big companies such as Tesla and Google have difficulties putting electrical and driverless cars on the US market. Even though it is the way to go in the future, it is a very risky business for start-ups and SMEs to go into," he adds.