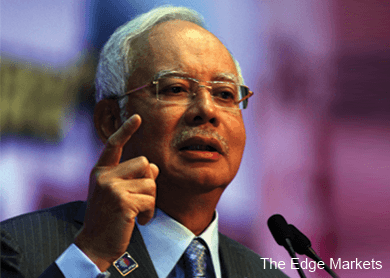 (June 26): Umno's elections which was scheduled for next year will be postponed for 18 months to allow the party to focus on strengthening Barisan Nasional (BN) ahead of the 14th general election, Datuk Seri Najib Razak said today.
The Umno president told a press conference after chairing the party's supreme council meeting today that the postponement was "not unusual" and had been done during his predecessors' time.
"After discussing this thoroughly, the supreme council decided that the election scheduled for 2016 will be postponed for 18 months, in accordance to Article 10.16 of the party constitution that gives the supreme council the right to postpone the election at the supreme council, areas and divisions.
"The election cannot be postponed for more than 18 months after its scheduled date. The supreme council feels that it is important that we place importance on the people's interests.
"We must prioritise our service to the public, focus on all their needs and on strengthening the party, and any work that must be done so that Umno and our partners are stronger in facing the coming election," said Najib, who is also prime minister.
Its previous party elections were held in 2013.  The next party polls would most likely be held sometime in the middle of 2018.
Najib denied that the postponement was a sign that the party was undemocratic, adding that when the right time came, everyone in Umno would have the chance to vote.
"This is not something unusual, because during Tun Dr Mahathir Mohamad and Tun Ahmad Abdullah Badawi's time there were similar postponements."
Najib's announcement today comes less than a year after Umno deputy president Tan Sri Muhyiddin Yassin urged the party not to postpone its election.
The prime minister is also under fire from the opposition as well as former prime minister Dr Mahathir over his administration's policies and especially controversies surrounding government-owned strategic investment firm, 1Malaysia Development Bhd (1MDB).
Dr Mahathir has even called for Najib's resignation over his handling of the fund, which has incurred RM42 billion in debt in six years of operations, and which is being investigated by the Public Accounts Committee and the national auditors.
Najib has rebuffed Dr Mahathir's criticisms and maintained that he will not resign because he has Umno's support. But observers have also warned that the Najib-Mahathir spat is also weakening Umno. – The Malaysian Insider