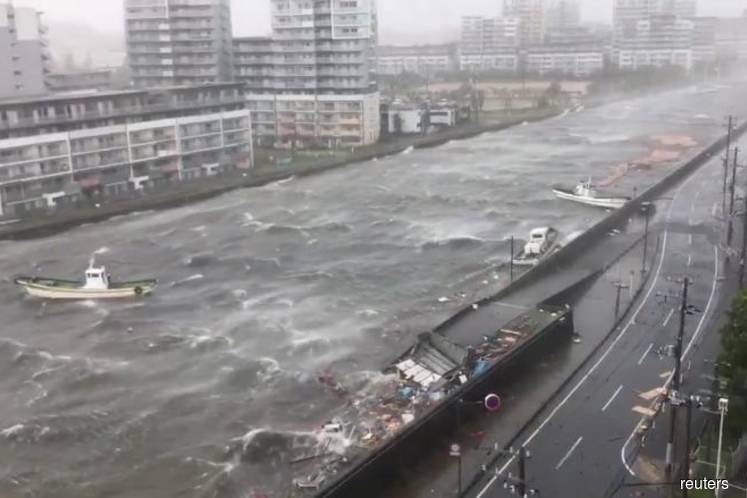 (Sept 5): Western Japan was struggling to recover on Wednesday in the wake of Typhoon Jebi, which left multiple fatalities, more than a million buildings without power and the area's main airport closed.
The strongest tropical cyclone to come ashore in 25 years struck near Japan's second-biggest economic center of Osaka around midday Tuesday, leaving at least 9 people dead and 229 injured, according to national broadcaster NHK.
Kansai International Airport, a key transport and cargo hub that lies on an artificial island in Osaka Bay, lay almost directly in the path of the typhoon. It remains shut after experiencing extensive flooding, as well as a tanker that smashed into the road and rail bridge connecting the airport to the mainland in high winds.
About 5,000 people were stranded at the airport overnight, and 3,000 remained as of 8:45 a.m. as passengers are moved to a nearby airport by boat. Kansai airport will remain closed today, with all flights canceled, and spokeswoman Izumi Arita said she doesn't know when the airport can resume operations.
The airport is Japan's third-biggest by passenger numbers after Tokyo's Haneda and Narita. It's a key cargo hub for the region, with semiconductor parts the biggest export.
Toshiba Memory Corp. spokesman Kota Yamaji said it uses Kansai airport as well as nearby Chubu airport to export from its Yokkaichi facility. The company will decide whether to use other airports after examining the impact to Kansai, he said, adding that as customers have inventory there will be no immediate impact.
Power Offline
About 1.04 million buildings remained without power in Kansai Electric Power Co.'s service area as of 7 a.m. As many as 2.1 million buildings lost power at the height of the storm. The utility dispatched 8,000 workers overnight to bring power back to households and businesses. President Shigeki Iwane is scheduled to speak before the press later in the morning.
Utilities covering Chubu and Shikoku regions said more than 169,000 homes and offices are still without power on Wednesday morning.
Local trains serving Kobe and Nara as well as Kansai airport remained halted as of 7:55 a.m., West Japan Railway Co. said, while lines in the rest of the region were running reduced services. Part of the Shinkansen high-speed line between Kyoto and Maibara to the east was closed due to fallen trees. - Bloomberg