This article first appeared in The Edge Financial Daily, on August 21, 2018.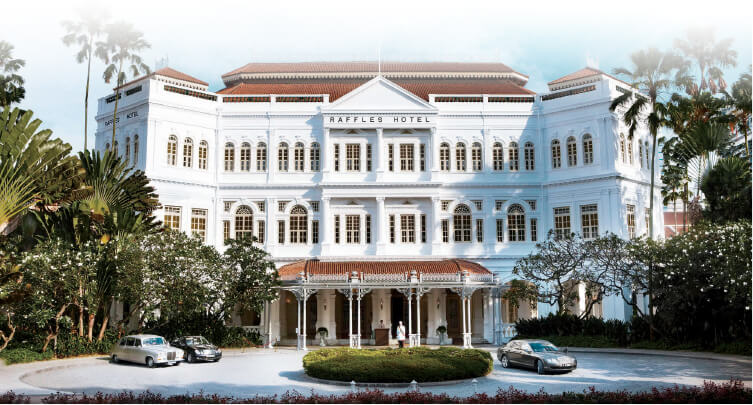 The new Raffles emphasises food and drink so much that, with 10 food and beverage spaces that represent more than 1,100 seats for just 115 suites, it can claim far more tables than beds. Photos by Raffles Hotel
Anne-Sophie Pic and Alain Ducasse represent a pile-up of Michelin stars at the renovated hotel
Raffles Hotel Singapore closed its doors in December for its first renovation in almost 30 years. The work updates the entire 130-year-old property, even adding new buildings. So important to the high-class social fabric of Singapore is the hotel that a starring role in the soon-to-open summer blockbuster Crazy Rich Asians was non-negotiable. "We got in there soon enough that they were able to hold off in one little wing before the whole thing shut down," director Jon M Chu told Bloomberg.
Whatever the cost — hotel owner Katara Hospitality said only that it is a "significant amount" (the last major renovation was estimated at over US$280 million) — the outcome will be astonishing, particularly the line-up of culinary talent.
New chefs include Anne-Sophie Pic, of the three-Michelin-star Maison Pic in Valence, France; venerable French master chef Alain Ducasse; and Jereme Leung, who has garnered accolades for his groundbreaking Chinese cooking. The Singapore Sling will continue to be a house specialty served at the hotel's refurbished Long Bar, where guests will still be able to toss peanut shells on the floor.
The new Raffles emphasises food and drink so much that, with 10 food and beverage spaces that represent more than 1,100 seats for just 115 suites, it can claim far more tables than beds.
For Singaporean food lovers, the timing is good.
When recently deceased chef Joël Robuchon closed his eponymous French restaurant, the city lost its only three-Michelin-star restaurant. The city's famous food scene was taken down farther with the release of the latest Michelin results in June. Some local chefs worried that travellers seeking best-in-the-world restaurants might start looking elsewhere.
"We are catapulting our property to the front of the culinary world again," said Raffles' general manager Christian Westbeld.
La Dame de Pic
Chef Pic has a personal connection to the hotel: She stayed there on her honeymoon. This is her first restaurant in Asia; when the hotel offered her a partnership, she saw it as an opportunity to be part of a legendary property, as well as the city.
"Singapore appears to me as a real dynamic and inspiring,  multicultural city," she told Bloomberg. "It reminds me a little bit of London, with its diversity of kitchen horizons that allows me to create a great culinary symbiosis."
The chef is known for transforming underappreciated ingredients, such as cabbage, and incorporating a battery of spices and herbs like cardamom, star anise, and shisho with traditional French technique.
"The common thread of my cuisine will remain in the menus but will be imbued with market products. I have always been attracted to Asian ingredients … creating new flavours will represent a full-time job for me and my team," she said.
One dish she has promised to serve is her signature berlingots: cheese-stuffed pasta shaped into pyramidal packets, like the old-fashioned French hard candies she grew up with.
La Dame de Pic's drinks pairing menu will be notably ambitious, with options from wine and sake to whiskey, dashi, and consommé. The wine list will be geared toward France, particularly Pic's native Rhône Valley.
Alexandra Champalimaud, whose self-titled design firm is handling the redo, described the vibe of the pastel-toned dining room as "exquisite, like wearing a beautiful, simple stone on your finger", with lots of space between tables. Because the chef loves peonies, they designed plaster renditions of the flower for the walls and ceilings. Even the chef's name figures in the design: Because pic translates into "spade", the light fixtures were designed to highlight the curved shape.
BBR by Alain Ducasse
At Bar & Billiard Room (BBR), chef Ducasse will introduce a concept he has not done before (no small feat considering he currently has more than 40 locations on three continents): shared plates that highlight the cooking of Spain, Italy, Portugal, and France. Ducasse is planning to serve charcoal-grilled meats and fish, as well as wood-fired pizza. There will also be a big bar programme with a wide range of beer, wine, and cocktails.
"Working with someone with that worldwide reputation for excellence and a Mediterranean concept in a very large space, we will probably see 300 to 500 guests per day," said Westbeld.
Yì by Jereme Leung
The celebrity chef returns to Singapore in Raffles's renovated Arcade. He will offer modern Chinese cuisine, although he said he will also serve Cantonese classics, as well as his versions of time-honoured delicacies.
"These dishes reflect what I believe the future of Chinese cuisine should be 20 years from today," said Leung in a statement. — Bloomberg