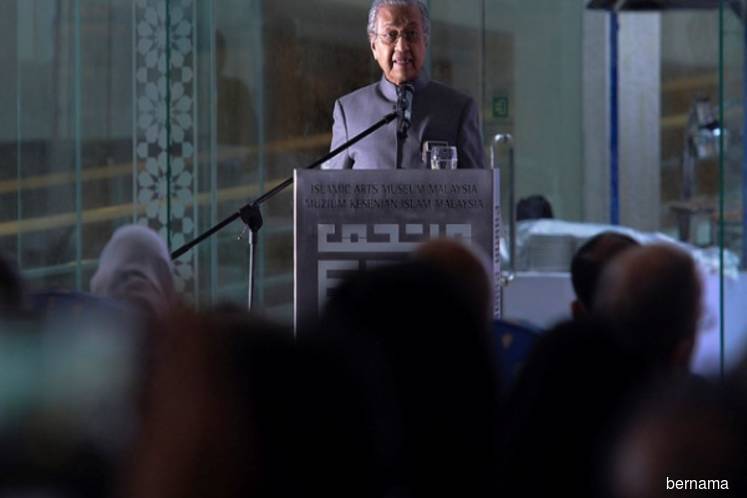 KUALA LUMPUR (Dec 14): Prime Minister Tun Dr Mahathir Mohamad has defended his move to accept former UMNO leaders to join Parti Pribumi Bersatu Malaysia (Bersatu), although it is seen as quite unacceptable by component parties of Pakatan Harapan.
Dr Mahathir, who is also Bersatu chairman, said however the party would first of all evaluate their applications before accepting them into the party.
"There are good people in UMNO, and there are also bad ones. The bad ones, we won't accept. I was also an UMNO member (previously).
"They accepted me. (DAP advisor) Kit Siang accepts me," he told reporters after attending the 20th anniversary celebration of Muzium Kesenian Islam (Islamic Cultural Museum) here, today.
He was asked to comment on the move by several UMNO leaders who had left the party this week.
On Wednesday, five Members of Parliament (MPs), nine State Assemblymen and two Sabah UMNO senators had declared that they had left the party.
This was followed by six more MPs including Hulu Terengganu MP Datuk Rosol Wahid, Larut MP Datuk Seri Hamzah Zainuddin and Tanah Merah MP Datuk Seri Ikmal Hisham Abdul Aziz.
Asked on his decision which was not readily accepted by PKR and DAP, Dr Mahathir said there were also others in Pakatan Harapan who did not agree with the move, but he described the matter as something 'personal'.
He pointed out that UMNO MPs and State Assemblymen who wished to join Bersatu must meet the conditions stipulated.
These included leaving their present political parties and becoming Independent elected representatives besides stating their support for the Pakatan Harapan government.
"After that, we will make an assessment individually, only then they can join," he said.
He said those wishing to join Bersatu must also be free from having any criminal record.
Meanwhile, Dr Mahathir said his political secretary Muhammad Zahid Md Arip, who was linked to the corruption charge involving former Felda chairman Tan Sri Mohd Isa Abdul Samad, was still in service as he had yet to be found guilty.
Muhammad Zahid, who was linked to nine of the 10 charges of corruption faced by Isa, was named as the middleman to assist in approving the purchase of Merdeka Palace Hotel & Suites in Kuching by Syarikat FIC Sdn Bhd valued at RM160 million.
Mohd Isa was today charged in the Sessions Court here with one count of criminal breach of trust and nine charges of receiving bribes totalling more than RM3 million for the approval of the purchase of a hotel in Kuching, Sarawak by Syarikat Felda Investment Corporation (FIC) Sdn Bhd.