This article first appeared in The Edge Financial Daily, on July 9, 2018.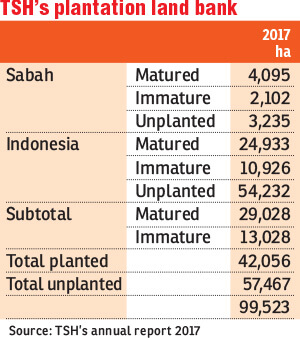 KUALA LUMPUR: TSH Resources Bhd's large exposure to Indonesia puts it in good stead as the republic ramps up its biodiesel mandate to B25 in 2019.
With the Indonesian government's push to make it mandatory for biodiesel to have a bio-content of at least 25% beginning 2019, the consumption of palm oil in the highly populated country is only going to grow, according to TSH group managing director Datuk Tan Aik Sim.
Indonesia has planned to increase its biodiesel mandate from its current rate of 20% to 25% from 2019. The B25 could double Indonesia's consumption of palm oil — the raw ingredient for fatty acid methyl ester — to between 5.5 million and six million kilolitres in 2019, according to a news report citing Indonesia's New and Renewable Energy director Rida Mulyana.
This bodes well for TSH's long-term growth strategy, as the group has strategic land bank in the country suitable for the cultivation of oil palm.
"Many are saying that Kalimantan has millions of hectares (ha). But the truth is, Kalimantan has vast land area, but the ones that are strategic for plantation are not easy to come by now. But for TSH, we have the avenue to do it (plant)," said Tan.
The group has a total plantation land in Kalimantan and Sumatera in Indonesia and Sabah in Malaysia measuring 99,523ha. A total of 54,232ha are unplanted estates in Indonesia.
Of the group's total hectarage, some 42.3% are planted and spread out with a weighted average age of 8½ years.
It operates seven palm oil mills after the latest one in Sumatera started commercial run early this year, with a total production capacity of 2.4 million tonnes and an average utilisation rate of 80%, Tan guided.
"We had bought these land [earlier], with the long-term view of developing it progressively. We plan to plant in line with the [progress of us obtaining the] Roundtable on Sustainable Palm Oil (RSPO) certification," said Tan, adding that the group will speed things up when the market recovers.
TSH is unfazed by the near-term pressure on crude palm oil (CPO) prices. In fact, Tan acknowledged that prices could remain under pressure in the near term — partly due to higher production and negative sentiment resulting from the European Parliament (EP)'s proposed ban on palm oil — but believes "there is light at the end of the tunnel".
On June 14, the EP deferred its proposed total ban on palm biofuel to 2030, from the earlier deadline of 2021. The palm biofuel directive was part of the European Union's goal to increase the use of renewable energy by 2030.
"We do not like the policy. Sustainability is good for the environment, but it is discriminatory against palm oil," said Tan.
"However, over the time frame of 12 years [from now], we think the impact is not going to be that significant [on the industry]," he said, adding that the ban will not completely displace demand for palm oil.
"The demand for and consumption of palm oil from other regions — especially Asia and Africa — would have grown tremendously by then. We are looking at growing wages and employment numbers, giving rise to higher disposable income, and that has got a strong correlation with the consumption of vegetable oils," Tan explained.
Price-wise, according to Tan, the industry may see a CPO price boom post-2021, as the historical expansion and replanting patterns suggest a decrease in palm oil production in Indonesia and Malaysia by then.
This is in line with Rabobank's research report, which said that producers should make plans to have sufficient palm oil supplies by 2025 to enjoy a bullish palm oil price environment, as the global scene is expected to face a palm oil deficit post-2025.
Last Friday, the CPO third month futures ended at RM2,270 per tonne, down 10.45% year-on-year.
To date, about 20% of TSH's plantation land are RSPO-certified. It expects to bring this figure up by another 10% by year end.
The group also hopes to maintain an average oil extraction rate of 22% this year, and to sustain FFB production growth, as more of its oil palm trees reach optimum yield besides more planted areas coming into maturity. In the first five months of this year, TSH's FFB production grew 22% year-on-year.
For the first quarter ended March 31, 2018 (1QFY18), TSH turned in a net profit of RM17.83 million, down 39% from RM29.26 million in the year-ago quarter. Revenue stood marginally lower at RM226.14 million during the quarter under review, compared with RM228.50 million in 1QFY17.
Eight of the analysts covering TSH have a "hold" call on the stock, two with a "buy" call, and two others rating it a "sell".
"Given TSH's relatively high net gearing of 94% (as at March 31) post adopting the new MFRS 116 and 141, this will hamper immediate growth potential as TSH will likely focus on managing and reducing its debt level," analysts of Maybank Investment Bank Research guided in a note dated June 8.
At its closing price of RM1.17 last Friday, TSH had a market capitalisation of RM1.6 billion. On a year-to-date comparison, the stock has lost some 28% of its value, from RM1.65 on Dec 29, 2017.