This article first appeared in The Edge Financial Daily, on July 3, 2018.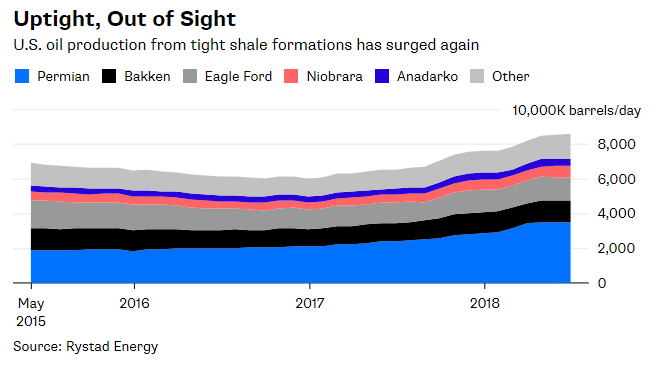 IF oil prices are "to high", as US President Donald Trump tweeted over the weekend, there is one obvious culprit — a supply side of the global market that is looking, um, too tight: Consider the position of King Salman Abdulaziz, for instance. Saudi Arabia likes to have around 1.5 million to two million barrels of capacity a day of crude production spare to help balance out kinks in the oil market — probably one reason the US president hit on that figure.
It is debatable whether so much is really on hand, however. While there is a certain amount of smoke and mirrors around exactly how much the kingdom can produce, output of 10.15 million barrels a day at present is only 500,000 barrels or so below the record figure struck in mid-2016.
True export capacity will be around 11.5 million barrels daily until a new port on the Red Sea lifts it to a total 15- million-barrel figure, Reuters quoted Saudi Aramco's senior vice president for upstream as saying last year.
That pretty much matches the numbers collated by a monthly Bloomberg survey of oil market players, which reckons spare capacity in May was already below the 1.5-million-barrel buffer — a figure that is only likely to fall as the country and Russia take up the burden of increasing output by somewhere between 700,000 and one million barrels a day after last month's meetings of Opec and its allies.
That is the least of it.
With Trump also pressing countries to end purchases of Iranian crude, another two million barrels of Opec production will probably go offline even assuming the likes of China thumb their nose at the US, as my colleague Julian Lee has written. In Canada, the outage of Suncor Energy Inc's syncrude facility will be taking 350,000 barrels off the market through this month.
As a whole, spare capacity within Opec is already below three million barrels a day for the first time since 2008, putting that part of the supply side in the tight ranges seen during crude's run-up to US$150 a barrel between 2003 and 2008. The drop from here could be precipitous, according to the Energy Information Administration's forecasts, falling below one million barrels a day by the end of next year for the first time since 2005.
In theory, the solution to Trump's problems is staring him in the face. The giant change since the 2003-to-2008 period has been the boom in onshore US petroleum, which has gone from nothing to a Saudi Arabia-or-Russia-sized 8.6 million barrels a day, according to Rystad Energy (see chart — Uptight, Out of Sight).
As we have written, this part of the market in some ways more closely resembles a glut than a drought. In contrast to Brent prices that are up 19% so far this year, West Texas Intermediate (WTI) crude in the Midland basin at the heart of the booming Permian has risen just 1.53%.
The problem is how to get all that oil to market.
Refineries in the US are running flat out, with no plants idled in January for the first time since data began being collected in 1982. Exports from the Gulf coast appear to be butting up against levels short of 2.5 million barrels a day, due both to the lack of pipeline capacity that is keeping Midland crude at a discount to the benchmark Cushing WTI sample, and to a shortage of port berths that means the majority of giant Very Large Crude Carriers must be expensively filled offshore from smaller ships.
For the moment, the US oil patch does not look like it is heading to the rescue of American drivers. The number of horizontal rotary rigs used by shale oil drillers has fallen for three consecutive weeks.
While the number is still relatively elevated, that is an indication producers are responding to infrastructure bottlenecks by throttling back supply.
Indeed, the best hope for the market is a gloomier one. The surge in prices over the past year is already starting to resemble an oil shock.
Add in the worries over a trade war ahead of tariffs that will start being levied this week, plus the weakness in recent measures of forecast exports, and the solution to the oil market's woes look more likely to come from the demand than the supply side.
Trump wants oil prices to be lower.
He should be careful what he wishes for. — Bloomberg