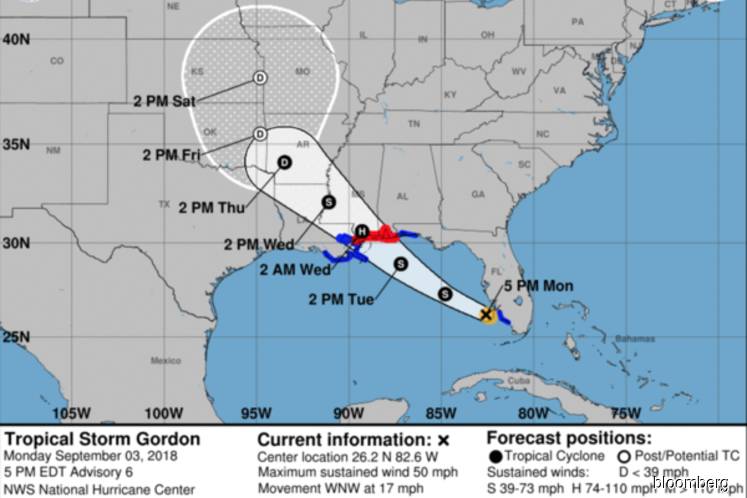 (Sept 4): Tropical Storm Gordon will grow into a hurricane as it grazes offshore natural gas and oil fields, where it has already sparked evacuations, before coming ashore over the lower Mississippi Valley Wednesday.
Gordon, with top winds of 65 miles (100 kilometers) per hour, was about 280 miles of the mouth of Mississippi River, and the centre of the tropical storm will move across the eastern Gulf of Mexico Tuesday, according to a National Hurricane Center advisory at 2 a.m. New York time.
"Additional strengthening is expected today, and Gordon is forecast to be a hurricane when it makes landfall along the north-central Gulf Coast," according to the NHC advisory. "Rapid weakening is expected after Gordon moves inland."
On Monday, New Orleans Mayor LaToya Cantrell declared a state of emergency for the city to prepare for Gordon, according to an emailed statement from her office. She also ordered city hall and city government offices to be closed on Tuesday and only for the emergency personnel to be on hand.
Storm Surge
A hurricane warning has been posted for the Gulf Coast from eastern Louisiana to the Florida-Alabama state line. In addition, a tropical storm warning covers much of south Florida. A storm surge watch is in place along the coastline as Gordon could push water as much as 5 feet above ground depending on the tides.
Gordon, the Atlantic's seventh storm, could graze the eastern edge of the off-shore oil and natural gas platforms. The region produces about 5% of U.S. natural gas and 17% of crude oil, according to the Energy Information Administration. In addition, onshore facilities account for about 45% of U.S. refining capacity and 51% of its gas processing.
Crews were pulled off two platforms by the Anadarko Petroleum Corp, according to its website. The Louisiana Offshore Oil Port said it is watching Gordon closely, but there currently are no disruptions.
"Any time you get a tropical cyclone in the Gulf production region there could be some disruption,'' said Steve Silver, a senior meteorologist at Radiant Solutions in Gaithersburg, Maryland. "I do think we will see some strengthening."
U.S. West Texas Intermediate crude rose as much as 41 cents to US$70.21 a barrel on the New York Mercantile Exchange from Friday's close, and traded at US$70.10 at 2:13 p.m. Singapore time. All trades Monday will be booked Tuesday, due to the U.S. Labor Day break.
Flood Warnings
Gordon could cause about US$300 million in damage, mainly due to flooding along the Gulf coast, said Chuck Watson, a disaster modeler with Enki Research in Savannah, Georgia. There are already flash flood warnings out in the region due to another weather system.
The storm may gain strength as it crosses the warm waters in the Gulf, Stewart said. In addition, wind shear that has been hampering it, should fall away as it moves northwest.
In addition to wind and storm surge, Gordon could drop as much as 8 inches of rain across Louisiana and Mississippi. Its winds could peak at 75 mph.
Gordon will probably break up later in the week and its remnants could bring rain to the Great Plains, as well as the Midwest.