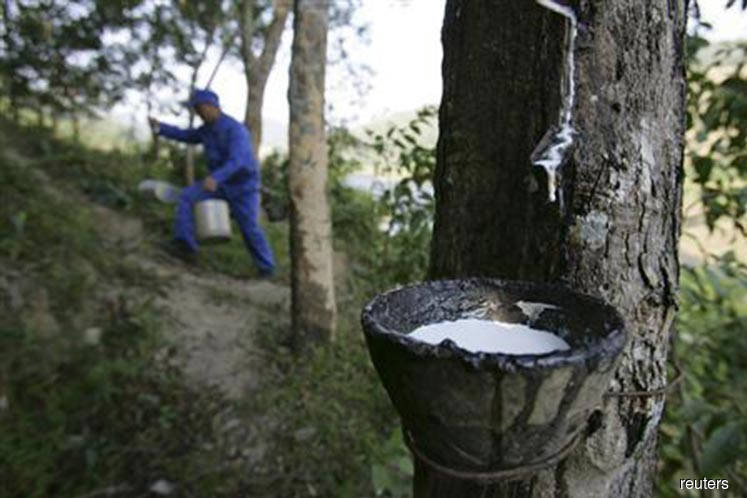 TOKYO (Dec 6): The benchmark Tokyo Commodity Exchange (TOCOM) rubber contract for May delivery rose 0.4 yen or 0.2% to 163.9 yen (US$1.45) per kg by 0031 GMT, helped by an overnight gain in Shanghai futures
TOCOM's technically specified rubber (TSR) 20 futures contract for June delivery was down 0.6% at 144.8 yen per kg.
Key Shanghai futures ended overnight trading 1% higher at 11,255 yuan (US$1,642) per tonne.
Top rubber producers Thailand, Malaysia and Indonesia will meet on Dec 16 to discuss ways to prop up distressed prices, including potentially curbing exports, a senior Indonesian trade official said on Wednesday.
The U.S. dollar was quoted around 112.99 yen on Thursday, compared with around 113.05 yen on Wednesday afternoon.
Oil prices dipped on Wednesday, ahead of a meeting of the world's biggest exporters, who will discuss cutting output to help shore up prices and curb excess supply.
Japan's benchmark Nikkei stock average was down nearly 1%, after U.S. stock futures tumbled on Thursday.
The front-month rubber contract on Singapore's SICOM exchange for January delivery settled at 124.3 U.S. cents per kg on Wednesday, up 0.4 cent from the previous session 
(US$1 = 6.8546 Chinese yuan) 
(US$1 = 112.9800 yen)