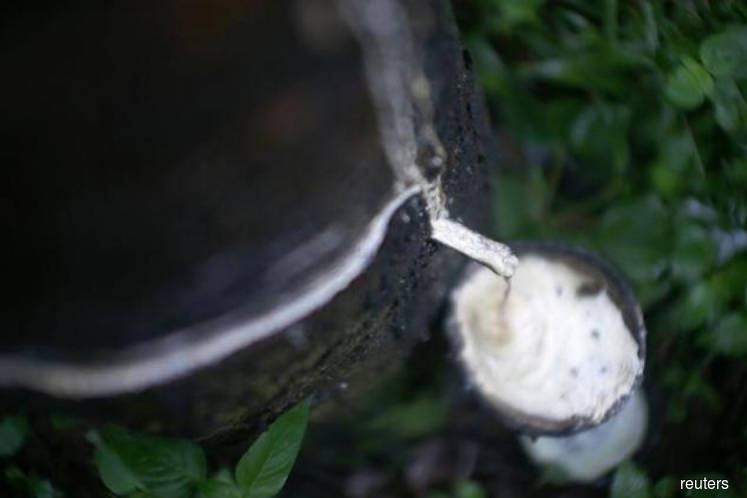 TOKYO (Dec 17): Benchmark Tokyo rubber futures surged to their highest in more than two months on Monday, backed by technical buying and amid hopes that rubber producers may come up with some measures to help shore up prices, dealers said.
"There were no fresh news, but some investors may be expecting that top producers would agree on some specific measures, such as curbing exports, to bolster prices," said Toshitaka Tazawa, an analyst at commodities broker Fujitomi Co.
Representatives from top rubber producers Thailand, Malaysia and Indonesia, which comprise the International Tripartite Rubber Council (ITRC), met on Dec. 12-13 in Malaysia to talk about low rubber prices, the Council said in a statement last week.
It added that they would meet again before the year-end to finalise measures to improve the market, that would be implemented early in 2019.
The Tokyo Commodity Exchange (TOCOM) rubber contract for May delivery finished 3.0 yen or 1.8% higher at 171.6 yen (US$1.51) per kg.
The TOCOM benchmark, which sets the tone for rubber prices in Southeast Asia, rose to as high as 172.9 yen, the highest since Oct 11, earlier in the session.
Investors are also focusing on a speech by Chinese President Xi Jinping to mark the 40th anniversary of China's reform and opening up on Tuesday, after which a two-day Federal Open Market Committee meeting begins in the United States.
TOCOM's technically specified rubber (TSR) 20 futures contract for June delivery rose 0.5% to close at 148.4 yen per kg.
The most-active rubber contract on the Shanghai Futures Exchange for May delivery rose 60 yuan to finish at 11,340 yuan (US$1,644) per tonne, despite rising stocks.
Rubber inventories in warehouses monitored by the Shanghai Futures Exchange rose 4.9% from the previous Friday, the exchange said on Friday.
The front-month rubber contract on Singapore's SICOM exchange for January delivery last traded at 125.4 U.S. cents per kg, up 1.0 cent.
(US$1 = 113.3800 yen)
(US$1 = 6.8984 Chinese yuan)